Das Boot, Series 2 Finale, Sky Atlantic review - deeper and darker |

reviews, news & interviews
Das Boot, Series 2 Finale, Sky Atlantic review - deeper and darker
Das Boot, Series 2 Finale, Sky Atlantic review - deeper and darker
The casualties mount as the waters keep getting rougher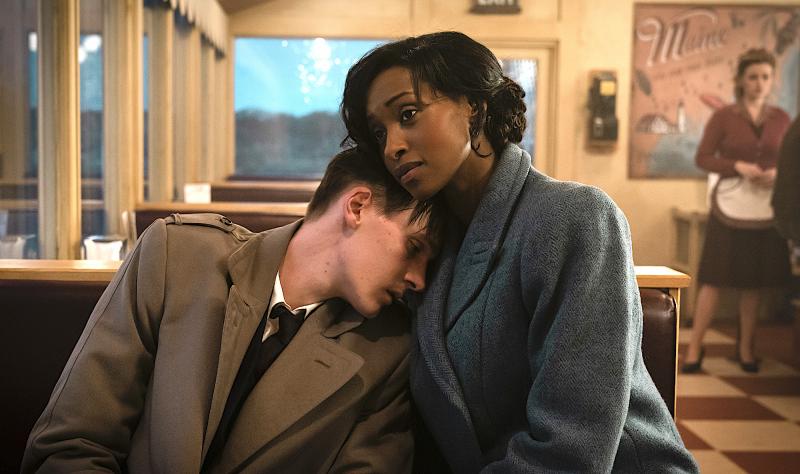 Unlikely lovers Klaus (Rick Okon) and Cassandra (Rochelle Neil)
The second series of Das Boot (Sky Atlantic) began strongly, and by the time we reached this last pair of episodes it was almost too agonising to watch.
You could argue that it sometimes overreached by stretching the scope of the
narrative
to breaking point, but at its core it's a study of human values under impossible pressure. Many have been found wanting, but others have discovered something fine within themselves.
As it sped towards a conclusion – although not one so conclusive that it didn't leave plenty of potential for series 3 – the horror of total war continued to exert crushing force. In occupied France, Margot (Fleur Geffrier) had been battling desperately to save a Jewish family fleeing the Germans by guiding them to Spain, only to find herself betrayed by the Catholic priest she'd been forced to trust. As for the bold plan by French resisters to free prisoners being shipped off to a concentration camp by staging a fake railway breakdown, the gruesome torture of police chief Pierre Duval (Thierry Frémont) gave the Nazis the information they needed.
But perhaps there was a premonition of future events when Margot pleaded with Gestapo man Forster (Tom Wlaschiha) – now promoted to a top job supervising the Final Solution – to show "pitié pour les enfants", and a momentary flash of anguish seemed to cross his face. Nazi butcher suddenly discovers he has a heart? There will not be laughter in Berlin.
One problem looming increasingly large for the Das Boot team is how to keep the submarine warfare strand connected to the increasingly diverse activities going on elsewhere. The American angle, featuring US Nazi sympathisers and business tycoon Jack Greenwood's treasonous relationship with the Third Reich, could easily evolve into a series of its own. Less compelling is the storyline about U-boat captain Klaus Hoffman (Rick Okon), washed up in New York after being cast adrift on the Atlantic, and now involved in a love affair with Harlem jazz singer Cassandra Lloyd (Rochelle Neil). It's a shame that Cassandra's languid crooning at Minton's jazz club doesn't bear much resemblance to the bebop revolution that was erupting there at the time.
Not that we didn't get plenty of action at sea as fanatical Captain Wrangel (Stefan Konarske) engaged in a devious tactical battle with the soul-sick von Reinhartz (Clemens Schick, pictured above with Konarske), as the latter strove to reach the American coast and leave the Führer's madness behind him. But, in this war of ambiguous grey areas – and, it should be pointed out, too many men with very similar beards – it was too much to expect a clear-cut victory. Though for some of the cast at least, the war is over.