Pete Versus Life, Channel 4 |

reviews, news & interviews
Pete Versus Life, Channel 4
Pete Versus Life, Channel 4
Low-fi sitcom melds farce, spoof and slackerdom to pleasing effect
Saturday, 29 October 2011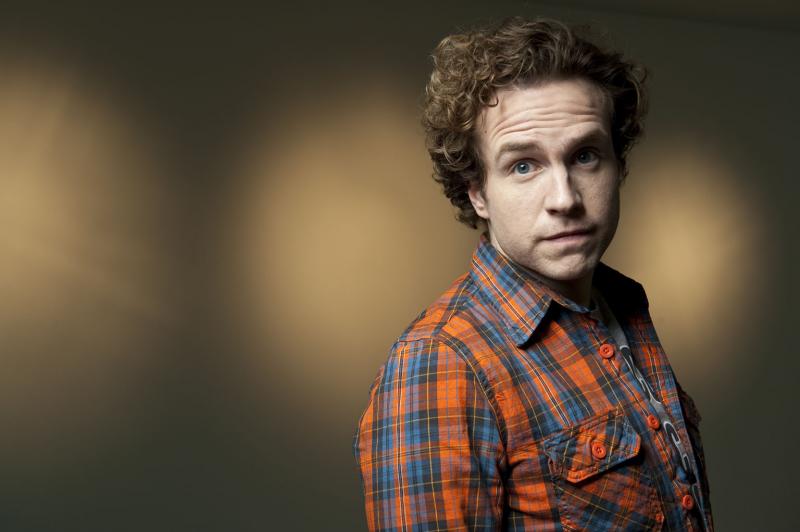 Rafe Spall as gormless sports journalist Pete, who always says the wrong thing
Pete Versus Life, being a bit of a departure from the sitcom norm, wasn't to everyone's taste when the first series was screened last year; but I'm very glad that Channel 4 commissioners kept faith with it and have now brought it back for a longer second season - and that its occasional weak points have been tweaked to great effect.
Its titular hero (Rafe Spall) is a sports journalist who, in any given situation, will say the wrong thing. It's not that he is mean, more that he doesn't have much of a brain to think with, which gives him an astonishing capacity to make a mildly embarrassing situation into a majorly cringeworthy one.
Lots of comedy-of-embarrassment potential there, of course, but the show's USP is the two commentators who appear intermittently to explain Pete's thought processes (or lack of them), or a bit of his biography, or to talk us through replays of what just happened, using on-screen graphics, split screens and stop- and slow-motion action - the equivalent of the internal monologues of Peep Show. It presents Pete's life as if it were a televised sports event.
I thought this wonderfully original idea wasn't used to its best in the first series, but it's one of the things that writers George Jeffries and Bert Tyler-Moore and director Becky Martin have now fine-tuned, and the two commentators get most of the laugh-out-loud lines. Anchorman Colin (Simon Greenall) and the Geordie - what else? - ex-footballer Terry (Ian Kirkby, pictured below on the left, with Greenall) supply a commentary complete with clichés and unPC gaffes. If you have ever watched even just 10 minutes of Sky Sports, you will recognise how well written and performed these two characters are.
The show itself is a game of two halves - perfectly normal situations in Pete's life that quickly descend into wonderfully, absurdly farcical events as he tries unsuccessfully to bluff his way through, and the more subtle evocation of a slacker who lets life happen to him, rather than go out and grab its opportunities. Making an essentially unlikeable man a sympathetic character is a difficult trick to pull off, but the writers and Spall manage it - and manage also to make him very funny.
Last night Pete acted against type as he chased after ex-girlfriend Chloe (Susannah Fielding), who dumped him at the end of the first series. I say chased, but this being Pete, that isn't the right word - he had, as Colin and Terry informed us with some graphics, stalked her on Facebook. When Chloe posted that she was going to a concert, Pete managed to "bump into her there" as he later lied to her right-on, vegetarian, oatmeal-eating parents, who were appalled that their daughter was back with this meat-eating oaf. So Pete and Chloe were a couple again, but the downside was, Terry and Colin informed us, that he had to pretend to like Eva Cassidy's music - and buy three of her CDs to prove it.
Last night's multiple strands, which finally tied up with Pete, as ever, being hated by everyone, involved his dad coming to stay after a falling-out with his mum, a misunderstanding over £100 and a high-class prostitute - Colin: "What's the difference between a high-class prostitute and a normal one?" Terry: "Fifty quid and an STD" - a displaced kneecap, a bottle of rancid milk, and buying condoms late at night from a corner shop. The cast, including Sorcha Cusack and Philip Jackson as Pete's parents, add to the enjoyment by knowing when to underplay a line even in the broadest farce; as all good actors know, the best comedy comes from playing it straight.
Pete Versus Life continues on Fridays on Channel 4
The show's USP is to present Pete's life as if it were a televised sports event
rating
Share this article