Narcos, Season 2, Netflix |

reviews, news & interviews
Narcos, Season 2, Netflix
Narcos, Season 2, Netflix
Thrilling conclusion to the teeming saga of billionaire druglord Pablo Escobar
Saturday, 03 September 2016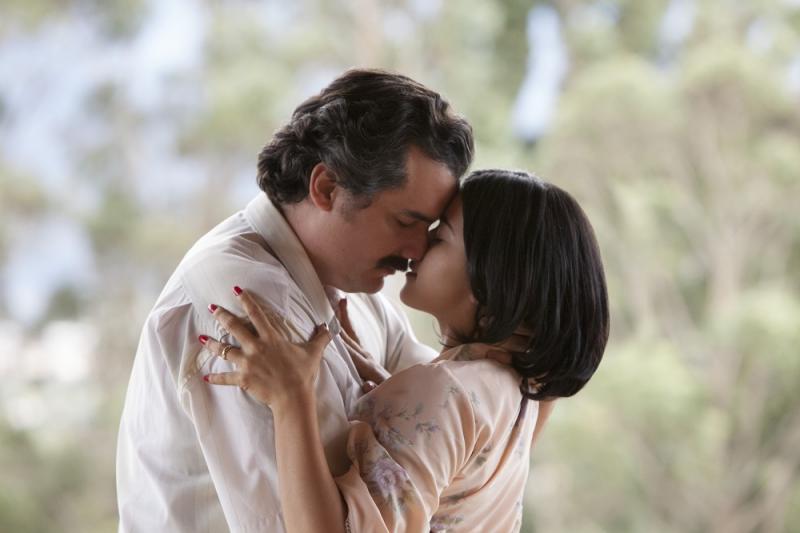 Narcos: pitiless mass murderer Pablo Escobar (Wagner Moura) shows his loving side to his wife Tata (Paulina Gaitán)
Narcos is back for another white-knuckle trawl through Medellín, the murder capital of the planet in the early 1990s. By the end of last year's first series the Colombian cocaine lord Pablo Escobar, the seventh richest man in the world, had negotiated a deal with the government in Bogotá which allowed him to take up residence in La Catedral, a hillside redoubt of his own choosing.
This despite attempting to blow up presidential candidate César Gaviria and accidentally murdering more than 100 of his fellow citizens instead. So what happened/happens next?
The skeletal facts can be located online easily enough, but some may prefer to find out by bingeing on a semi-fictionalised Netflix drama. It suffices to advise it'll be a struggle for him to make it to the third or fourth series, both of which have been announced. At the start of season two, all 10 episodes of which are now available, Escobar breaks out of his gilded cage, soldiers fearful of his monstrous reputation for indestructibility parting like the Red Sea to let him pass. In the words of Steve Murphy (Boyd Holbrook), the DEA foot soldier who supplies the voiceover, his escape constitutes "the biggest law enforcement blunder of all time". It prompts an epic manhunt by both the Colombian government now headed by Gaviria and a DEA eager to stem the flow of cocaine in the USA (at one point Escobar's Medellín cartel supplied 80 percent of American needs, and was trousering $60 million a day).
The only problem, as ever with dramas about gangsters, is you too might find yourself rooting for Pablo
It's quite a conjuring trick that the writers (Chris Brancato, Eric Newman and Carlo Bernard) have pulled off. The action flits between the two cities, the highest echelons of power and the lowliest brothel. In a vast cat's cradle of characters, almost everyone is on someone else's kill list – even Escobar's wife and mother, who think the world of Pablo but, increasingly, rather less of each other as they run to keep ahead of an uneasy alliance of the Colombian miliitary and American law enforcement. Meanwhile, Escobar orders the elimination of rival cartels, which means that he has an extra enemy bent on vengeance in the form of hellcat widow Judy Moncada. "I want everyone in that family dead," she howls beneath a portrait of herself in an armchair with a large pet tiger by her side. (Nice touch from production design.)
The canvas all but explodes at the seams. To help maintain focus, documentary footage and news clips are inserted featuring the real Escobar, Gaviria, George Bush and other participants in a great pan-American drug saga. There's even a cameo for Andres Escobar (no relation), the footballer later executed by a gambling syndicate after he scored an own goal in the 1994 World Cup. Perhaps for legal reasons, the names of some criminal associates have been changed (Escobar's son, who is a mere sprog in this but grew up to become an architect in Buenos Aires, dropped the surname like a stone).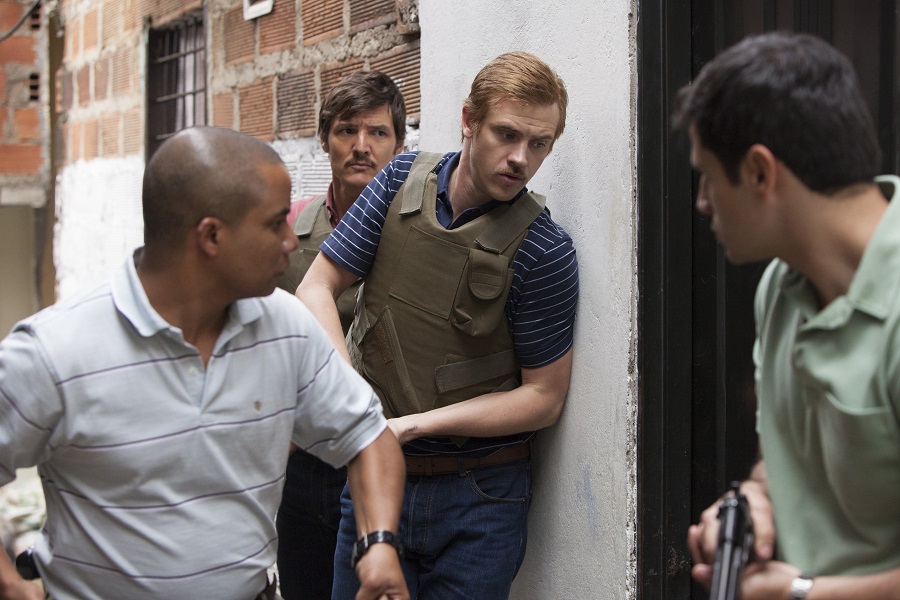 The storyline is sort of held together by the framing device of Murphy's narrative, but while it does a job it's still a bit of a folksy irritant. "We thought of ourselves as the guys who could get shit done," he advises at the start. Happily, the drama of his wife's departure for the safety of Florida is barely allowed elbow room. His more important relationship is with sidekick Javier Peña (Pedro Pascal) and their new female superior (pictured above, Pascal and Holbrook).
At the heart of everything is Escobar himself, who would have been flattered to be played by podgy Omar Sharif lookalike Wagner Moura, a Brazilian who had to learn Spanish for the part. In the role of a psychopathic mass murderer who styles himself a champion of the poor by handing out a few banknotes, Moura has lashings of necessary charisma. The people certainly love him. Offered more than $1million to provide information leading to his arrest, they clam up. "It was like asking Chicago to rat out Michael Jordan," says Murphy.
The only problem, as ever with dramas about gangsters, is you too might find yourself rooting for him. The script – brilliantly paced by director José Padilha – is careful to keep reminding you of this uxorious Robin Hood's repellent side. Episode two is topped and tailed with images of bloodbaths ordered by Escobar – the execution of half a dozen prostitutes, then a pogrom of his uniformed hunters – while he croons in the shower and dances with his lovely wife Tata. Make no mistake, you can't wait for his comeuppance. But the journey towards it, through a teeming inferno of moral compromise and international realpolitik, is fiercely gripping.