Later with Jools Holland: in the studio |

reviews, news & interviews
Later... with Jools Holland: in the studio
Later... with Jools Holland: in the studio
Does the BBC's flagship rock show still have a role as it starts its 36th series?
Welcome to the grown-up rock mothership. I've seen bands play in TV studios plenty of times over the years, but walking into the Later... With Jools Holland recording at BBC Television Centre for the first time, as I did last night, is something else. Studios generally have a disappointing feeling of smallness, or of looking behind the curtain to reveal artifice, but this genuinely was like stepping into the TV screen: the circle of bands and punters exactly as you see it when the camera spins around in the show's intro.
For full disclosure, I should say here that I have never been a fan of the show as such. While it has often hosted great performances, it seemed to stand for a powerful conservatism, a slightly patronising approach to artists outside the standard rock blueprint, and an awful obsession with a concept of "jamming" that has nothing to do with improvisation and surprise and everything to do with old farts going through the motions. So to speak. However, nobody could deny the resilience of the format, which, as it enters its 36th series since 1992, makes it now astonishingly the only dedicated music show on prime-time terrestrial television.

The way the audience is treated is the most relaxed I've ever witnessed in a studio. Last night there was a distinct lack of officious herding and shushing by clipboard-bearers, drinks and mobiles were allowed on the floor, and the artists themselves were lounging within touching distance. In fact the overall "vibe" really was, superficially at least, as relaxed as one could wish for in a rock show – a very strange fusion of being simultaneously backstage, onstage and in the crowd at the most high-class festivals.


But through it all swing the cameras and their attendant cable-carriers, cue-card holders, floor managers and sound technicians with all the gliding efficiency one might expect on a show of 18 years' standing, constantly reminding us that we're not kicking back at a festival but are in the heart of a very slick and seemingly unstoppable machine.

And at the heart of it all was Jools, his slightly stuttery genial everyman persona entirely in evidence at all times even as the tons of technology and swarm of black-clad staff circled him, his warming-up of the crowd with clapping and chanting participation casting him as a kind of adenoidal family-friendly shaman. And so we were swept into the recording of this weekend's show – for which, ambitiously, barely 90 minutes was allotted for a 60-minute show.
Certain acts look so comfortable in this context you realise that it's their natural habitat. The night's headliner Paul Weller's grizzled band of mods have clearly lived the rock life so immersively, and this technologically enhanced onstage/backstage simulacrum complete with runners with trays of beer is so perfectly tuned to making them and their ilk feel at home that I got the sense this is how the rock afterlife might look.

Weller, looking boyishly trim despite his walnut-like complexion, and thankfully returned to his classic Jam haircut after some possibly drink-induced monstrosities of late, was the star turn, and he and his band were in good form – even if their chugging 60s pastiches are rhythmically leaden and Weller's bellow is without subtlety, their playing was full of vim and his melodic gifts have not left him.

When Free/Bad Company's Paul Rogers sat down with Jools for an alleged interview - actually an interminable string of rock platitudes droned in a transatlantic accent - followed by a wink-and-a-grin cabaret turn with a piano, Weller and band all turned and looked on respectfully, watching their bloke-rock forebear do his thing. Relative whippersnappers Hot Chip (above) and Marina & The Diamonds (below) played delightfully, stunning in execution of their songs, even if their poppy sounds got slightly lost in the huge room in contrast to Weller's galumphing riffs, and Weller's sidemen tapped toes, Weller even clapping along to Hot Chip's gorgeous "I Feel Better".

But when global "gypsy punks" Gogol Bordello got up and wigged out, Weller's men drifted off, or – in the case of the bass-player - conspicuously winced at the sound and yawned. It's not surprising, really: a band who look like carny-folk - all moustaches, beards and glittery facepaint, with one percussionist/rapper sporting a long, single dreadlock - are never going to appeal to a sartorially conservative mod band. But it seemed symbolic, too, Weller's guardians of the respectable rock canon that forms the core of Later... showing distaste for a band who, although their traditional music sources are archaic, are far more modern, alive and subcultural than anything Weller has been involved with for some decades.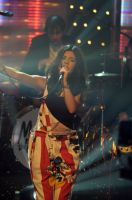 Gogol Bordello's set was by far the most instant of the session, their collision of Pogues-like ragged energy with Balkan, Latin and Caribbean influences vivid and infectious, and the choreographed chaos of spectacularly moustachioed Eugene Hutz and his cohorts' constant movement a joy to behold – even if it did seem odd to have its fearsome festival energy contained in the belly of the high-tech Jools mothership, likes seeing wild animals in a glass case being observed by aliens with an array of scientific instruments.

Polar Bear clattered through a track of their all-right-if-you-like-that-sort-of-thing instrumental jazz rock, but the real shock of the show was newcomer Villagers. This "band" is in fact just one diminutive Irishman, Conor O'Brien, who exhibits the same kind of austere musical precision and love of haunting wordplay as one-off singer-songwriters like Kathryn Williams or King Creosote, although with a charisma and vocal power that suggests the possibility of Damien Rice-style commercial crossover. His songwriting has an almost monastic quality about it, as if every word has been painstakingly crafted, and his delivery, with only sparsely strummed acoustic guitar for backing, was hyper-intense and reduced the cheery crowd to pindrop silence. He clearly has a bright future.
Despite a severe technical fault interrupting Gogol Bordello's first song, the full 65-minute Saturday show was recorded in rather less than an hour-and-a-half. Last night's 30-minute live show was then whisked through without hitch, each act reprising one or two of their songs, after which a solitary one of Jools's links for Saturday had to be re-recorded. This was efficiency the likes of which I've certainly never seen in the entertainment industry outside the biggest stadium shows.

The incorporation of all of the night's acts, the huge programme crew and the – mainly – faultless technical setup into this one slickly operating behemoth of a production is actually quite awe-inspiring to witness up close. The show does remain conservative in its musical outlet (the choice of Weller as headliner of the first show in the series underlining this), but that is not the show's fault; as a microcosm of the musical establishment it functions extraordinarily well. I left with newfound respect for a genuine British broadcasting institution, but slightly fuming at the lack of any music programming on television that can represent other musics in as flattering a light.