How To Start Schools and Influence People |

reviews, news & interviews
How To Start Schools and Influence People
How To Start Schools and Influence People
Author and journalist Toby Young turns educationalist
Wednesday, 29 September 2010
"You do understand you'll have no editorial control? None. The BBC and Channel 4 are very clear about that. Control will rest solely with the broadcaster. There's absolutely no wiggle room." The speaker was Alan Hayling, editorial director of Renegade Pictures. We were sitting in Soho House and he was one of over 40 television producers who approached me last autumn with a view to making a documentary about my group's efforts to set up a Free School in west London.
I liked the fact that Alan was so clear on this point. My biggest anxiety was that the documentary would make us look like a bunch of middle-class tossers and some of the other producers had tried to give the impression that I would have a degree of editorial control. I wasn't so naive as to believe this, so the fact that Alan didn't try and pull the wool over my eyes was appealing.
Alan had another thing going for him. In 2008 my best friend Sean Langan was kidnapped by the Taliban while making a documentary for Channel 4. The production company was Renegade Pictures and Alan had co-ordinated the effort to secure Sean's release. He had to navigate a treacherous minefield that consisted of the Foreign Office, the Secret Intelligence Service, the British Army, Pakistan's Ministry of Foreign Affairs, Pakistan's Inter-Services Intelligence agency, Pakistan's Army, Channel 4, Channel 4's insurance company, the security company the insurance company hired to negotiate with the Taliban and, of course, the Taliban. It was a game of poker in which the stakes could not have been higher. During this period I had been in constant touch with Alan – and was not only impressed by his grasp of this fiendishly complex terrain but by his willingness patiently to explain his strategy to me, someone who wasn't even a member of Sean's family. In the end he prevailed: three months after being kidnapped, Sean was released unharmed.
Not easy for the other television producers to compete with Alan, then. If I was going to allow a documentary to be made about this project, Renegade Pictures would get the gig. But should I? What was in it for my group? It didn't help that the two other groups of parents and teachers who've successfully set up state secondary schools – one in Lambeth, one in Barnet – both strongly advised me against it. They'd been approached by numerous television producers – probably the same ones who approached me – and had turned them down flat. Their reason for saying no was simple: they didn't trust a production company not to stitch them up. A school stands or falls on its reputation and an unsympathetic documentary would be enough to damn a school for all eternity. Why risk it? What was the upside?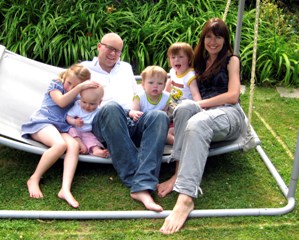 As far as I was concerned there was only one reason to do it and that was to encourage other groups of like-minded parents and teachers to follow in our footsteps (pictured right: the Young family). This was partly out of self-interest. The West London Free School will only survive if the Labour Party eventually embraces Free Schools in general and that's only going to happen if a sufficiently large number spring up between now and the point at which Labour is re-elected. Could be five years, could be 10, but it's going to happen eventually. When the Free School reforms were introduced in Sweden by a short-lived conservative administration in the early 1990s they encountered exactly the same opposition that the Coalition's educational reforms have been met with here. Everyone thought the Social Democrats would reverse the reforms as soon as they were back in office and the only reason they didn't is because enough Free Schools had been set up at that point to make it politically impossible to dismantle them.
But I also have a less selfish motive: I believe in the policy. I want to encourage other people to start Free Schools because I think they can have a transformative effect on children's life chances. At present, the only parents who have access to high-performing, academically rigorous secondary schools are those who live within the catchment area of a really good comprehensive, are of the right particular faith or who can afford to go private. With a few exceptions, that means parents on low incomes – even middle incomes – have no choice but to send their children to the nearest comprehensive. And, more often than not, it's second rate. For parents in this predicament, Free Schools are the answer. Not only will they provide parents on low and middle incomes with the choices that, for the most part, are only available to the well off, but they will force second-rate comprehensives to raise their game or risk going out of business.
If only one other group starts a Free School as a result of this documentary being made then it will have been worth it
But parents and teachers who are dissatisfied with the state provision in their area need to be persuaded that it's possible to start a school. And the best way to convince them is not to write articles or participate in debates on Newsnight, but to lead by example. What the groups in Lambeth and Barnet have achieved is remarkable – they've been an inspiration to me and my group. But how many people know about Elm Green and the Jewish Community Secondary School? If they'd allowed the cameras in then, yes, they might have risked the reputations of their schools. But they might also have started a revolution.

Will Start Your Own School have that effect? Hard to say. I'm so caught up in the debate around Free Schools I only ever meet people who are passionately pro or passionately anti. I don't have much contact with parents and teachers who haven't made up their minds or who might be inclined to set one up if they thought it was possible. Nevertheless, I hope the documentary will persuade a few people to start thinking about it. After all, in the space of 12 months my group went from a first meeting in the sitting room of my house to receiving the provisional blessing of the Department for Education to open a secondary school in September of next year. Even if a majority of viewers think we're a bunch of middle-class tossers, our rapid progress is bound to resonate with some people. As far as I'm concerned, if only one other group starts a Free School as a result of this documentary being made then it will have been worth it.

And I'm fairly sure Alan hasn't stitched us up.
Share this article