Happy Valley, Series 2 Finale, BBC One |

reviews, news & interviews
Happy Valley, Series 2 Finale, BBC One
Happy Valley, Series 2 Finale, BBC One
No praise is high enough for Sally Wainwright's script or Sarah Lancashire's performance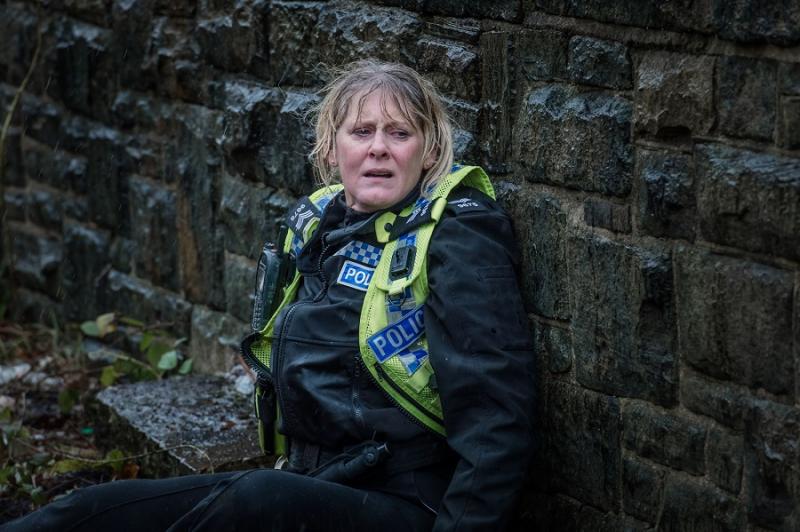 God? Sarah Lancashire moves in mysterious ways in 'Happy Valley'
There was an eye-popping moment of high-risk bravura at the climax of Happy Valley. Murderous detective John Wadsworth (Kevin Doyle) had finally been cornered on a railway bridge and was all for leaping off. Sergeant Catherine Cawood (Sarah Lancashire), wheezing hard from the chase, tried to talk him away from the edge but hadn't done the relevant training. Wadsworth had, however, with a 100 percent success rate to prove it.
So she asked him what she ought to be saying, and he told her.
No one but Sally Wainwright would dream of switching to comedy at such a juncture, and really it ought to have jarred. That it didn't is down not just to the entirely convincing world Wainwright conjured up in Happy Valley but to actors equal to the challenge of inhabiting it. Doyle, stuck for several years as a minor player in Downton Abbey, has taken the fidgety ticks of the wide-eyed neurotic Mr Molesley and planted them on the face of a worried killer hiding in plain sight. As the investigation into the death of Vicky Fleming swung this way and that, he did a lot of poker-faced listening in Happy Valley and was brilliant at it, a thin film of sweat cold on his brow, but he also went bananas – with his wife, with the world - with considerable aplomb.
There is no praise high enough for Lancashire. When the fresh young constable Ann Gallagher (Charlie Murphy) vommed her guts up on a night out, in her drunken state she compared Catherine to God. Sounds about right. There have been complaints that Lancashire had a touch of the mumbles in this series and it's true, she did speak her lines more softly than, say, Siobhan Finneran (beautiful as her startled sister Clare). But that felt like part of the persuasive genius of her utter naturalism.
Whatever a scene called for - fiery, vulnerable, pithy, empathetic - you had to lean in and listen. Every word was worth it. When she tenderly arrested Alison Doyle (Susan Lynch) for murdering her serial killer son, she held her in her consoling arms in a sort of high-visibility pietà. Even in her confrontation with Shirley Henderson's whispering freak Frances Drummond she wrong-footed anyone expecting a showdown. In the most unlikely scenarios - arresting her sister's boyfriend, giving sandwiches and advice to crack addict prostitutes - she embodied and exuded compassion, sometimes sorrowfully, sometimes wearily, always honestly.
The second series has delivered on every level. Will Happy Valley return? The confinement to prison of Tommy Lee Royce (James Norton, who might find himself nominated for about six Baftas if his year carries on this way) is what society would want for such a monster, but as a dramatic character he has more room to manoeuvre when out of jail than in. This series has explored the long reach of his chilling influence, and the final image of the episode hinted that it may insinuate itself along another pathway: in the bloodstream of Catherine's grandson Ryan (Rhys Connah, who was also excellent). Now that really isn't funny. Bring it on.