Grace, ITV review - sun, sea and skulduggery in sunny Brighton |

reviews, news & interviews
Grace, ITV review - sun, sea and skulduggery in sunny Brighton
Grace, ITV review - sun, sea and skulduggery in sunny Brighton
John Simm shines in patchy adaptation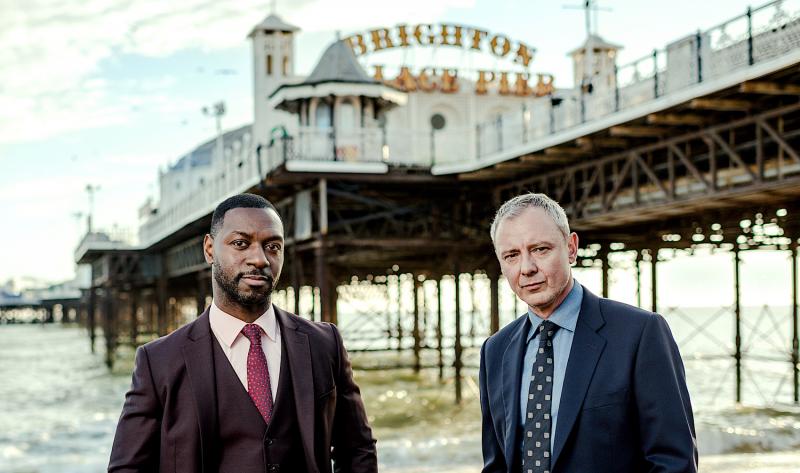 Brighton beach memoir: Richie Campbell as Glenn Branson, John Simm as Roy Grace
We last saw John Simm on ITV in 2018's Hong Kong-based murder mystery Strangers, a product from the Jack and Harry Williams script factory which wasted its exotic backdrops with a plot which mooched about in a dispirited fashion before dozing off entirely.
This new two-hour
detective
drama,
adapted
from Peter James's novel
Dead Simple
, starred Simm as Detective Superintendent Roy Grace. No doubt the hope is that
Grace
will blossom into a hardy perennial destined eventually for permanent rotation alongside Poirot, Morse, Foyle and the rest of ITV3's roster of indestructible 'tecs.
It's by no means certain that there was enough meat in this debut offering to guarantee such longevity, but at least any shortcomings weren't Simm's fault. He was on terse, prickly form as a veteran policeman whose unorthodox approach to his work and instinctive distrust of senior officers has derailed his climb up the politically-correct career ladder, despite the fact that when somebody chucks him a knotty case he will invariably crack it. As we joined Grace in his Brighton police station, he was inches away from being flung out on his ear and was constantly being sternly reprimanded by his boss ACC Vosper (Holby City veteran Rakie Ayola). This was not least because of his fondness for consulting a psychic to assist in his investigations, a tactic he resorted to in desperation after his wife disappeared six years earlier (every telly-sleuth needs a distinctive foible). The man's an irascible, unrepentant maverick, though of course this makes him far from unique in the annals of fictional detection.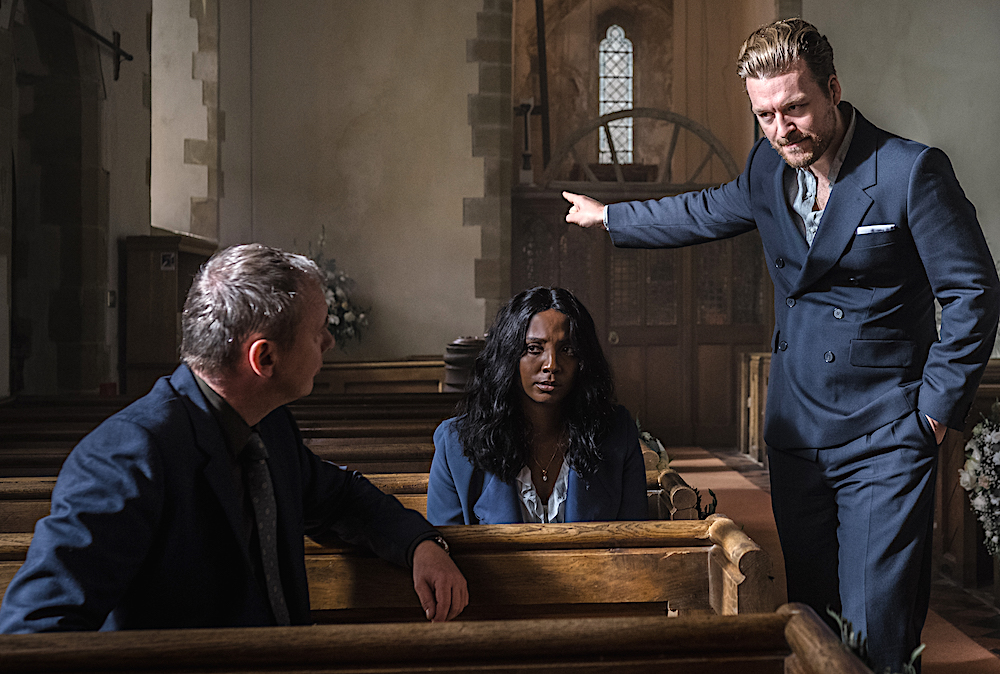 Grace scored highly in design and photography. Brighton and Sussex ocean-front views, from surging waves crashing on the beach to panoramic shots of headlands and coastline, imparted a pungent sense of location, and the production seemed to have been miraculously blessed with unbroken sunshine and blue skies. Even California has rarely looked this good. Plot and character-wise, however, we were on shakier ground.
The story pivoted on the disappearance of Brighton property developer Michael Neward (Tom Weston-Jones). His mates had taken him out boozing for his pre-wedding stag party, and had hit upon the "hilarious" wheeze of driving out into the middle of nowhere and subjecting Neward to a fake burial, nailing him inside a coffin and burying it in a pit. What could possibly go wrong? Well, a couple of things – the friends were all killed or badly injured in a road accident, so though they'd left Neward a walkie-talkie there was nobody left to answer it. And then, some rotter sneaked out to the burial site and removed the air tube into the coffin, leaving the victim facing a horrible death.
The alert viewer would have shared DS Grace's suspicions that Neward's friend and business partner, Mark Warden (Matt Stokoe), might have questions to answer, and the fact that he was late for the stag party due to a delayed flight couldn't really have been accidental, could it? And the behaviour of the bride-to-be Ashley Haynes (Alisha Bailey, pictured above with Simm and Stokoe), whose response to her intended's disappearance was to start pawing at a bemused DS Grace and quizzing him for details about his work with clairvoyants, strongly suggested a motive most ulterior. Throw in a secret bank account in the Cayman Islands with five million quid in it, and the pot was starting to simmer. Unfortunately, the denouement felt as if it had been wheeled in from a different story altogether, suddenly unveiling a backdrop of international fraud and multiple identity thefts that seemed jarringly at odds with the specifically-drawn world of Grace and his team of detectives.
But perhaps the strangest aspect of the tale was the way Grace, who'd been sidelined into tedious desk work by the disapproving Vosper, was invited by his good buddy DS Glenn Branson (Richie Campbell) to give a bit of unofficial advice on the Neward case, and then promptly took it over altogether. Nobody batted an eyelid, presumably recognising that if Grace got suspended or sacked, ITV wouldn't be commissioning any more episodes.