Fresh Meat, Series 1, Channel 4 |

reviews, news & interviews
Fresh Meat, Series 1, Channel 4
Fresh Meat, Series 1, Channel 4
Bain and Armstrong's new sitcom has proved a gripping, highly entertaining success
Tuesday, 15 November 2011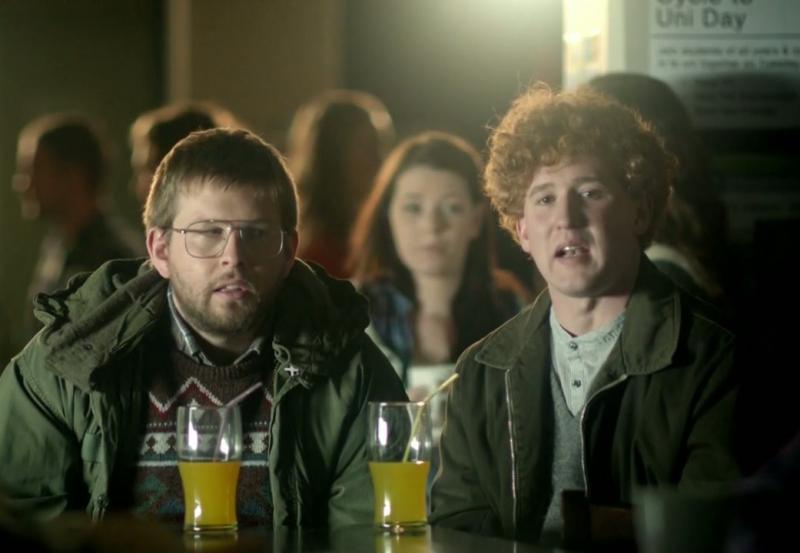 'Fresh Meat': sex, drugs and, for Howard and his creepy stalker pal Brian (above), geeky social interaction
So Fresh Meat approaches the conclusion of season one and, against my expectations, I've become a devoted fan. When it was announced that Peep Show creators Jesse Armstrong and Sam Bain were launching a new sitcom, based around a Manchester student household, it sounded promising; perhaps a postmodern update on The Young Ones was in the offing. Peep Show fans were expecting a riot of sordid humour and cruel jokes of embarrassment. We had those in spades.
What we weren't expecting were such wonderfully written and acted character studies.
You grew to really care about perky try-too-hard Welsh lass Josie (Kimberley Nixon), sweet, socially inept Kingsley (Joe Thomas), rough'n'ready rebel Vod (Zawe Ashton), bearded Scottish anorak Howard (Greg McHugh), secretly posh wannabe Oregon (Charlotte Ritchie) and even the utterly frightful public school fool JP (Jack Whitehall). Indeed, as the last episode in the series approaches this Wednesday, most regular viewers will be tuning in not just for a sackful of brutal laughs but because the developing story arcs have them thoroughly gripped. Will something finally bloom between Kingsley and Josie (pictured below)? Will Vod get booted off her course? How will Professor Shales's disastrous decision to leave his academic wife for Oregon work out? The final episode hinges around a club night called Love Cloud which JP has a hand in organising, then he finds out it clashes with his father's funeral. This all bodes well…
Episode five was a pertinent impressionist snapshot of the national psyche in the wake of last summer's riots
It's a fine line balancing emotional drama with toe-curling laughs and Fresh Meat didn't always manage it. Episode six, where both Oregon's horse and JP's father died, sometimes seemed to be pushing into the realms of the sentimental, of Cold Feet, rather than a cold-eyed comic set-up. The overall calibration of laughs versus narrative, however, was mostly so well executed that such quibbles were rendered irrelevant. Comedian Jack Whitehall has created a monster in JP, his braying Stowe accent spraying out urban hip-hop slang in an excruciating manner, especially so when he was trying to sort out a drug deal to impress his even posher mates. You couldn't wait for him to be on screen so you could hide behind your hands.
Fresh Meat never stinted on the sex'n'drugs of student life either, from JP and Josie's shag in the first episode which turned the mundane awkwardness of a by-rote one-night stand into a modern comedy of manners, to the hospitalisation of Vod after a boozing'n'snorting binge. The latter was particularly admirable for its complete lack of the usual heavy-handed morality, ie, Vod did not clean up her act and "learn from her mistake" as she would in almost all other TV shows.
Like so much of the best British comedy, class difference regularly reared its ugly head. Oregon's constant struggle to hide her well-off background (as well as her real name - Melissa) and pretend she was in Vod's league of Devil-may-care attitude has been a mesmerising folly. And the various responses to Josie's plumber-fiancée Dave have been an object lesson in how far Britain hasn't come with regard to class, whether the useless students are in almost spiritual awe of his ability to mend the dishwasher or merely terrified that he might actually hit someone when riled.
If asked to pick one episode as a stand-alone example of Fresh Meat's qualities, I would veer towards the fifth, in which the household take a coach to London for a demo where their micro-dramas were played out impeccably against a backdrop of kettling and chaos, ending with JP, who had only cynically taken the trip in the first place to reach a rugby match, eventually dragged off by police in the thick of the action. As well as being both funny and occasionally heartfelt, it was a pertinent impressionist snapshot of the national psyche in the wake of last summer's riots. It was during this episode that I realised how far Fresh Meat was above average, but was still surprised at how pleased I felt upon hearing a second series had been commissioned. There have been other raw-edged human comedies that, by rights, should have been universally hailed as classic rather than cult - notably Sharon Horgan's excellent Pulling - but with the right tail wind and if the writers and actors can maintain the pace, Fresh Meat will be one that's name-dropped for a long time to come.
JP and Kingsley hook up for some toilet non-action
Like so much of the best British comedy, class difference regularly reared its ugly head
Explore topics
Share this article