Framing Britney Spears, Sky Documentaries review - the rollercoaster ride of the former teen icon |

reviews, news & interviews
Framing Britney Spears, Sky Documentaries review - the rollercoaster ride of the former teen icon
Framing Britney Spears, Sky Documentaries review - the rollercoaster ride of the former teen icon
The struggle to survive the sexism and savagery of showbusiness
Britney: don't stop believin'?
She became one of the most successful pop stars in history, but Britney Spears has also become a paradigm of the horrors and pitfalls of life in the white heat of showbusiness.
This new
documentary
by Samantha Stark (made by the
New York Times
) tracks Britney's path from her upbringing in the small Bible Belt town of Kentwood, Louisiana through her precocious progress from an 11-year old star of TV's
The Mickey Mouse Club
– also featuring Justin Timberlake, Ryan Gosling and Christina Aguilera – to monster-selling hits like "...Baby One More Time" and "Oops!.. I Did It Again". But then come the darker times of assassination by media,
mental health
problems and a tangle of personal and legal issues which seemed to drag the star down like an infestation of Japanese knotweed.
The story is told through archive clips and interviews with the likes of Spears's long-time assistant Felicia Culotta plus assorted photographers, journalists, record company persons, lawyers and various not very illuminating people from the New York Times. Neither Spears nor any of her family took part, and her tightly-controlled business affairs remain a closed book, so this is far from the last word on the subject.
One of the film's central preoccupations is the viciously personal hounding dished out to Spears in a variety of media. An especially egregious specimen was the 2003 ABC TV interview by Diane Sawyer. The doyenne of news reporters asked Spears about her sexual activity, self-righteously accused her of causing "so much suffering" to ex-boyfriend Timberlake, and asserted that the singer "has upset a lot of mothers in this country", before playing a clip of the wife of the governor of Maryland saying she'd like to shoot Britney.
Today, this would presumably qualify as hate speech and trigger legal action. Likewise, the belittling nature of much of the coverage would now be off limits, whether it's the quiz show asking what Britney had lost in the past year (answers included "her mind" and "her husband") or the New York Post's photo of Spears, Paris Hilton and Lindsay Lohan with the caption "Bimbo summit".
Still, despite everything, in her early years of fame Spears seemed to be well equipped to handle herself and her career. "That's why I am where I am today, because I do have control," we see her declaring decisively at one point. Her former tour director Kevin Tancharoen adds that "she's not a puppet, she was definitely in control of a lot of decisions." Her signature look of sexy blonde schoolgirl was obviously carefully crafted, and proved far too provocative for some critics and commentators.
But Britney's disintegration, following the breakdown of her marriage to Kevin Federline, involved her in drug rehab and psychiatric treatment, and then her father Jamie's being granted "conservatorship" (think power of attorney) over his daughter's personal wellbeing and financial affairs. This is the most perplexing part of the saga, since Jamie, who had a history of temporary jobs and bankruptcy, had barely figured in his daughter's life previously, yet now gained an unbreakable grip on her life. Years earlier he had commented that "my daughter's gonna be so rich she's gonna buy me a boat."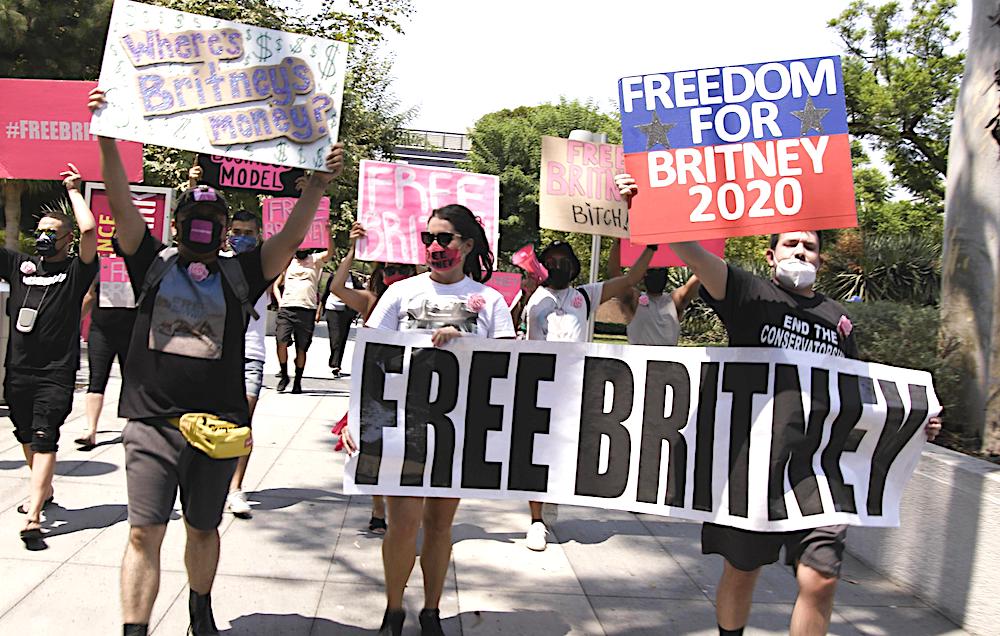 Even after the star had bounced back from her emotional problems and was enjoying a hugely lucrative residency in Las Vegas, she was unable to kick Jamie into touch, though she did later manage to get the Bessemer Trust financial management company appointed to share the conservator role. One of the film's more fascinating snippets concerned lawyer Andrew Wallet, who'd partnered with Jamie as a co-conservator. Once Spears was reeling in the big bucks in Vegas, he tried to argue that that "conservatorship should be viewed more as a hybrid business model" and that he should be earning a larger slice.
The aptly-named Wallet subsequently quit, but the Spears operation now seems as impenetrable as the Pentagon. Fans of the singer, aghast at how an apparently fully-functioning individual is trapped indefinitely in a legalistic spider-web, have launched the #FreeBritney campaign (pictured above) to petition for her to be given back control of her life. What Spears herself thinks remains opaque, other than a few cryptic hints in her Instagram videos. Perhaps she's happy with things as they are. Or maybe she's like the protagonist in Journey's "Don't Stop Believin'", "just a small-town girl livin' in a lonely world".
Framing Britney Spears is available on NOW TV