DI Ray, ITV review - Parminder Nagra battles killer gangs and cultural stereotypes
DI Ray, ITV review - Parminder Nagra battles killer gangs and cultural stereotypes
Cops afflicted by sexism, racism and box-ticking mediocrity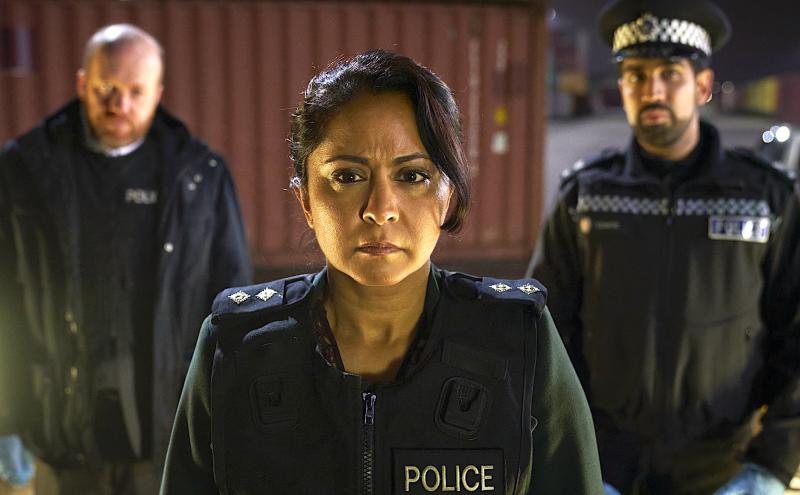 Parminder Nagra as DI Rachita Ray
Somehow or other, fictional representations of the police have become an off-the-cuff index of changing times and evolving values. Dixon of Dock Green's cops were stern father figures who knew right from wrong and considered it their duty to give villains a clip round the ear.
The Sweeney
weren't quite so sure about right and wrong but gave everybody a good kicking anyway, while risking a bollocking from the boss for their blatant rule-bending.
Prime Suspect
's DCI Tennison had to battle entrenched sexism in a mostly-male police force. Now, in ITV's
DI Ray
, a female Asian police officer has to struggle against sexism, racism, and choking jungles of bureaucracy in a police force paralysed by box-ticking mediocrity.
With all that ladled onto its plate, DI Ray's first couple of episodes (out of four) struggled to build up momentum. It was a bit like being made to stand to attention while various officers recited verbatim extracts from the Police Regulations. Strings of acronyms and operational formulae called to mind the jargon-labyrinths of Line of Duty, so perhaps it's no coincidence that DI Ray's writer Maya Sondhi played PC Maneet Bindra in Line of Duty, while LoD creator Jed Mercurio is one of DI Ray's producers.
But while the Birmingham-set DI Ray turns out to be a not entirely unfamiliar story about organised crime and police corruption, it also seeks to shine a light into the problems of a multi-cultural Midlands police force trying to get to grips with crimes involving multi-racial perps and victims. Lighting the fuse on the action is the murder of Imran Aziz, which prompts a fast-track promotion for DI Rachita Ray (Parminder Nagra) to head a team to investigate this "Culturally Specific Homicide". Ray has been keen to be given a chance as a homicide detective, but her joy is diminished as she becomes aware that she's been given the promotion to improve the racially-inclusive "optics", not because Superintendent Beardsmore (Ian Puleston-Davies) thinks she's any good at her job.
The death of Aziz's girfriend Anjuli follows in short order after she tries to give vital clues to Ray, and the police automatically reach the stereotyped conclusion that they're looking at honour killings by two Asian brothers, but Sondhi's story is more nuanced than that. Ray herself is caught in a cultural no-person's-land, being the daughter of Anglicised Indian parents and who doesn't speak the languages of the subcontinent. As she points out, "I'm not Indian enough for the Indians and I'm not white." Racist attitudes are latent rather than overt, expressed through small incidents such as a white PC giving Ray the identity pass for a different Asian officer, or when she goes shopping and is mistaken for the shop assistant. Scenes where she and her (white) fiance, DCI Martyn Hunter (a sleazy Jamie Bamber, pictured above with Nagra), meet their respective parents are about as relaxing as having your toenails pulled out.
With Sondhi striving to touch all these bases, the show only belatedly hits its stride as a fairly decent thriller about drug and people smuggling on a massive scale, with a side-order of Bent Copper for extra flavouring. Nagra's titular character naturally proves far tougher and more resourceful than she's given credit for by superior officers like DCI Henderson (a begrudging, sour-faced Gemma Whelan), though she and the viewer desperately need some alternatives to her fixed expression of glum-faced doggedness. A second series might give DI Ray space to breathe and develop.
Strings of acronyms and operational formulae called to mind the jargon-labyrinths of 'Line of Duty'
rating
Explore topics
Share this article