Blackout, BBC One |

reviews, news & interviews
Blackout, BBC One
Blackout, BBC One
Eccleston is very much Eccleston in a hectic morality tale about mayoral politics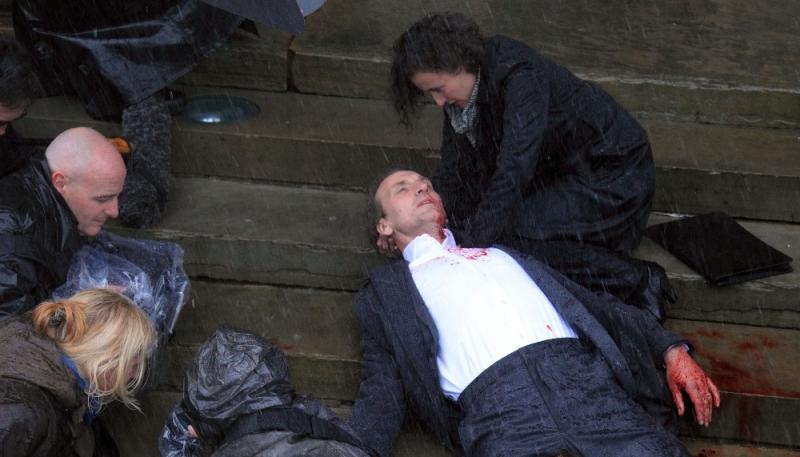 Ouch. Christopher Eccleston takes a bullet on the road to Damascus in 'Blackout'
A drama featuring mayoral politics and an unsolved death. Hm. What's the Danish for déjà vu? By the end of episode one of Blackout, you were wondering when Sara Lund was going to strut into the town hall in her Faroe Isles pullie and attitudinal denim, stare at people very hard and seem ever so gradually to lose the plot. Not that there's much plot to lose in Blackout. The Killing's belle dame sans merci could knit it up in three hours, no bother.
Which is lucky because this is British television drama, where they tend to have no faith in the concept of the slow narrative burn. Three hours is all we're getting of Christopher Eccleston as a sleazy local councillor with a dirty secret. We began on a cliffhanger, of the literal variety. Eccleston stood on the top of a very tall building, fairly adjacent to the edge, pondering his move. One small step for man, one giant flashback for the audience, who are currently being told how he got there.
All this in the first half hour. Goodness. Although more badness, tbh
Basically Daniel Demoys (which is some kind of a name) is a drunk, corrupt to boot, given to consorting with prostitutes in back alleys and cutting dodgy deals with contractors in same. Meanwhile back at home his long-suffering missus (Dervla Kirwan) advised him he's an alcoholic. "You're scaring me with that look," suggested one of his basket-case children, the way primetime children will.
The morning after the night he missed his daughter's ballet performance, Demoys woke up to discover that a hand of his was badly gashed, while a town worthy with whom the council was about to sign a contract was on life support. He dimly suspected the two facts might not be unrelated. However, thanks to the eponymous blackout, he couldn't be entirely sure until memories started jumping out at him like muggers out of doorways. Demoys sensibly concluded that he was probably a bit of shit and decided to atone by throwing himself very promptly in the way of a bullet destined for a drug-dealing whistleblower.
All this in the first half hour. Goodness. Although more badness, tbh. Plus much meaningful rain. This is one of those dramas where Everything's In Initial Caps Demoys was soon in the race for mayor, fired by the knowledge that the only witness to his crime – the victim - was now dead. Or so he thought. Turns out MyAnna Buring's tart (pictured above with Eccleston) Saw Everything. And what's more her jealous ex is a detective who is plotting to unearth her lover (Andrew Scott, who seems only to play creeps: see also his Moriarty in Sherlock). What a brew, and how quickly this high-octane exegesis of How We Vote Now must all come to the boil. No wonder characters have catalytic conversations to hasten us all along.
In Copenhagen this information would have been drip-fed across weeks and indeed months. Possibly even years. You scoped the proceedings for some fossilised shred of archaeological evidence that someone somewhere had been Watching Danish Drama. But no. Eccleston is very Eccleston as another desperado, the way Eccleston often is. He's good a man to have as a man in a crisis.
Subscribe to theartsdesk.com
Thank you for continuing to read our work on theartsdesk.com. For unlimited access to every article in its entirety, including our archive of more than 10,000 pieces, we're asking for £3.95 per month or £30 per year. We feel it's a very good deal, and hope you do too.
To take an annual subscription now simply click here.
And if you're looking for that extra gift for a friend or family member, why not treat them to a theartsdesk.com gift subscription?