Best Possible Taste: The Kenny Everett Story, BBC Four |

reviews, news & interviews
Best Possible Taste: The Kenny Everett Story, BBC Four
Best Possible Taste: The Kenny Everett Story, BBC Four
Sympathetic portrayal of the conflicted, difficult DJ and comic
Thursday, 04 October 2012
Oliver Lansley as Kenny Everett, with Katherine Kelly as his wife Lee
Being dead – however recently – doesn't necessarily mean reputations are immune from being rewritten or trampled on. Best Possible Taste was scheduled just before another channel's documentary on Kenny Everett's fellow TV personality and BBC DJ Jimmy Savile, which raised allegations of his sexual assault of minors. Savile has been dead a year. Everett for seventeen.
"We must construct our own universe," Everett was told by his wife Lee in the latest BBC Four bio-drama based around the private lives (and pain) of Britain's popular entertainers. Everett was lucky to get this treatment. That Best Possible Taste was respectful and sensitive was probably partly to do with the involvement of Everett's widow who, despite having divorced him and their falling out before his death, was on board. She has written about him. Everett had written an autobiography and a biography is out there, too. With no shortage of source material, this could have been flabby but instead was gratifyingly sharp.
On air he was 'cuddly Ken'. Off air he was just as manic, but needy, contradictory, in denial and self obsessed too
With a lightness of touch lacking in many other strolls through the Sixties and Seventies, the focus was on the relationship between Everett and Lee. Choosing not to overdose on the trappings of the era did no harm either. There was no mention of Everett's friendship with The Beatles, which could easily have been dwelt on, although his close bond with Queen's Freddie Mercury was seen.
Stylistically, Best Possible Taste was a treat. Space was created by leaving commentary and some of the backstory to a Greek chorus represented by both Everett himself and the bizarre, sometimes offensive characters he created for his TV showcase The Kenny Everett Video Show (picured below, Oliver Lansley as the Everett character Cupid Stunt). Even without the costumes, mugging and silly voices, Everett could be hard work (see video clip).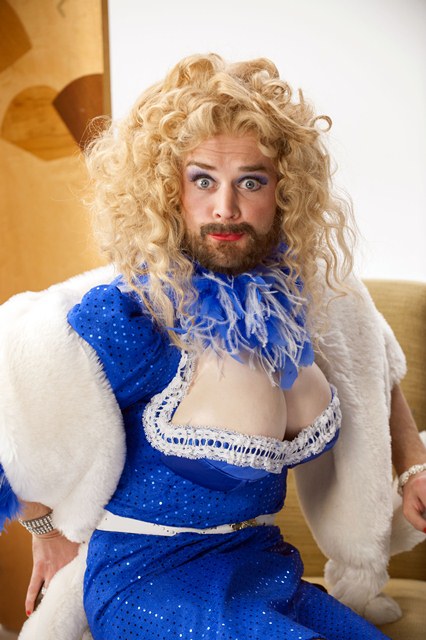 Like the ill-stared British producer and close contemporary Joe Meek, the former Maurice Cole spent his youth cloistered in a world of home-made radio, making shows heard only by his family. A tape sent to the BBC secured him an interview, soundtracked here by the Meek-produced "Telstar". Like Everett, Meek hid the fact he was gay. Needless to say, Cole's audition for the stuffed-shirt Beeb types, where he was given a catatonia-inducing script to read, was a bust. So it was off to the high seas and pirate radio, where he thought he could wing it to his heart's content.
Re-christened Kenny Everett, he went overboard injecting his own voiceovers and cues into whatever he was meant to broadcast. Sponsors ruled, and Everett's cavalier attitude got him sacked – despite having 15m listeners. He then joined the BBC to repeat recent history. Rapped on the knuckles, he was warned that "humorous items must always be presented in the best possible taste". Another sacking followed. At his next berth, London commercial station Capital Radio, he was off the air for a time after taking an overdose. Lessons never learnt, he addressed a rally for Margaret Thatcher's Young Conservatives. "Lets bomb Russia" was amongst his contributions. Whether the attention seeking was a result of inner demons forcing him to repeatedly push the self-destruct button wasn't clear in real life. But here, the effects of the masks he wore were clear.
This belonged to Oliver Lansley, whose portrayal of Everett was astounding. Rather than playing Everett, he became this infuriating man. Although also superb as Lee, the force of Lansley's performance meant Katherine Kelly (familiar from Coronation Street) could never share the spotlight.
Best Possible Taste was terrific. Affectionate too. In choosing to thoughtfully tackle the story of a public figure who wasn't that sympathetic in private, BBC Four is to be congratulated. On air he was "cuddly Ken". Off air he was just as manic, but needy, contradictory, in denial and self obsessed too. Hopefully, the recent budget cuts meted out to the channel won't mean the axe has fallen on any similar dramas they may have been contemplating.
Sinead O'Connor encounters Kenny Everett on The Late Late Show, 1989