The Winter's Tale, Royal Lyceum Theatre, Edinburgh |

reviews, news & interviews
The Winter's Tale, Royal Lyceum Theatre, Edinburgh
The Winter's Tale, Royal Lyceum Theatre, Edinburgh
A wonder-filled, child's-eye view of Shakespeare from director Max Webster
Saturday, 18 February 2017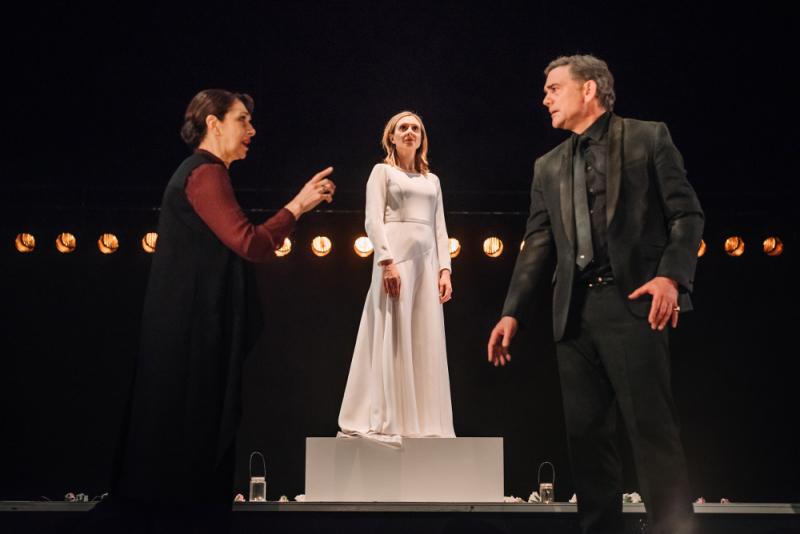 Miraculous but credibility-busting: Maureen Beattie, Frances Grey and John Michie in Max Webster's magical production
In the end, it's all about Mamillius. It's he – the young son of Leontes of Sicily – who launches director Max Webster's really quite magical new production of Shakespeare's credibilty-busting tragedy-cum-comedy at Edinburgh's Lyceum Theatre, suggesting it's all a child's made-up story in the first place. It's he who fast-forwards us 16 years just after the interval.
And it's he – superbly played by young Will Robertson on press night (the role alternates between two youngsters) – who provides the uncanny sense of innocence and wonder in Webster's production, as though it's all seen through the eyes of a child. One who never really comprehends his father Leontes's inexplicable condemnation of his mother Hermione, and who returns as a melancholy memory to haunt their miraculous reconciliation at the end.
Webster's way with Shakespeare's verse is quite marvellous
Director Webster and the Lyceum's artistic director David Greig came together through a shared love of Shakespeare and Scottish folk music, they've said (they also previously collaborated on The Lorax at the Old Vic at Christmas 2015). And what Webster has come up with is a quietly assured, lyrical vision of the play that relocates Shakespeare's Sicily and Bohemia to present-day swanky, urban Edinburgh and a rather fantastical, folksy Fife, just a quick nip across the Firth of Forth.
And the distinctive Scottish twang of Webster's production is there not just in composer Alasdair Macrae's engaging electro-folk score, but also in James Robertson's "translation" of some of Shakespeare's rustic scenes into broad Scots. That doesn't always help with comprehension, and there's a danger, too, of slipping into panto-style cliché with mentions of Nicola Sturgeon and the well-heeled Edinburgh district of Morningside. But Robertson nevertheless does well in gently deflating the Scottish capital's sense of self-importance.
And it's very much a show of two halves. Leontes's court is in an elegant but somewhat clinical Edinburgh flat, restricted to only the very front of the Lyceum stage, whose claustrophobia is heightened by Macrae's quartet of musicians being confined to a sound-proof booth. After the interval, however, Webster and designer Fly Davis open things right up to the full depth of the Lyceum's stage – and out into the auditorium itself – as the cast unfurls a huge carpet of astroturf as the setting for Bohemia/Fife's village fete (pictured above, with Fiona Wood as Perdita and Scott Mackie as Florizel), complete with twinkling fairy lights, a (very good) ceilidh band, and even a non-ironic glitterball. It's all genuinely touching stuff, quite naive in its imagery but carried off with such disarming sincerity that it's impossible not to be won over. It's a show that's proud of its artifice, and of its sense of innocence and wonder – and rightly so.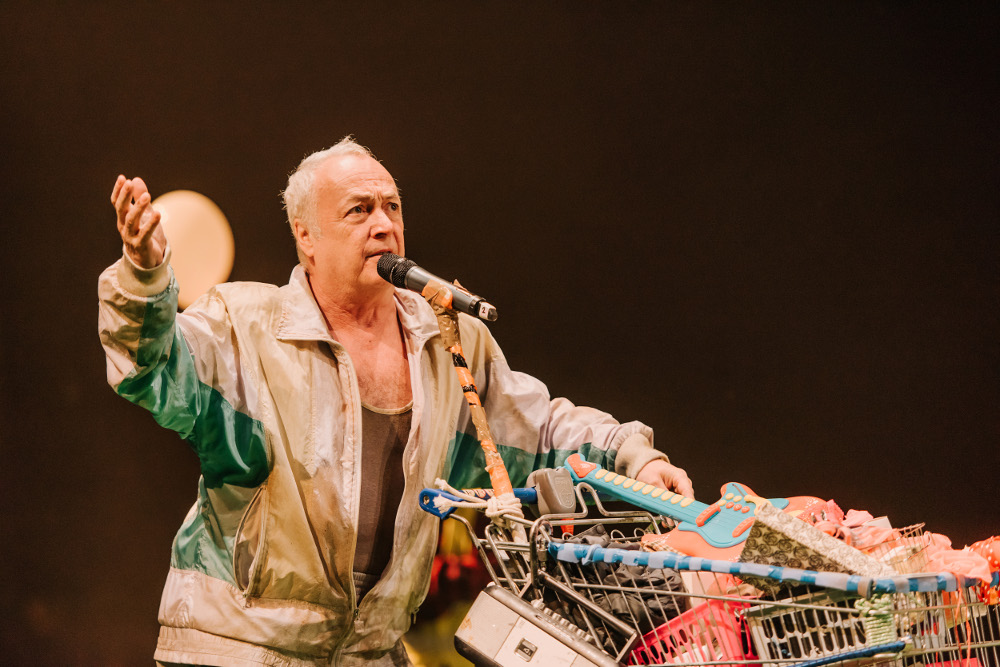 Webster has a very fine cast of Scottish talent, too. John Michie simmers with blinkered resentment under a seemingly reasonable, controlled exterior as Leontes, cracking with what seems like vulnerability when he accuses his wife Hermione of adultery with his best mate Polixenes (a suave Andy Clark). Frances Grey has quiet authority as the wronged woman, unwavering in her affection despite the accusations, and Maureen Beattie is commanding as noblewoman Paulina, steadfast voice of reason.
There's a slightly unpleasant whiff of urban disdain, however, in the laughter at Jimmy Chisholm's track-suited, shopping trolley-pushing peddlar Autolycus (pictured below) – we're definitely laughing at him, not with him. But that's the only slightly sour note among a cast that's otherwise pretty much spot-on. And Webster's way with Shakespeare's verse is quite marvellous – ringingly clear, each word wrung for meaning.
It's a very clever production, not just in its playful staging, and also has plenty relevant to say about tyrants' unaccountable demands, and how what was once unacceptable can quietly be embraced. But it does so with a big, generous heart – and with the tragic Mamillius's child-like sense of wonder. It also has one of the most poignant Shakespearean bears that can have ever have pursued an Antigonus off stage – almost certain to bring a lump to your throat.