Wild Swans, Young Vic Theatre |

reviews, news & interviews
Wild Swans, Young Vic Theatre
Wild Swans, Young Vic Theatre
The political is stressed at the expense of the personal in a powerful adaptation of Jung Chang's bestseller
The cast of Wild Swans constantly bring on and take away a piece of history
The Young Vic together with American Repertory Theater, Boston have taken on a huge challenge in staging the lengthy yet gripping memoir by Chinese writer Jung Chang that became an instant success when first published in 1991. Wild Swans was one of the first accounts of mainland China to be introduced to the West and as such it paved the way for other stories to be told from China.
Wild Swans describes a journey of pain, trauma and survival of three women that, however, goes beyond the period of the Cultural Revolution as it spans over three generations from the early 19th century to the late 1970s, when Jung Chang left China for England. Her account is both autobiographical and a sober historical version of the events that accompany the story of her grandmother, her mother and her own journey through the changes that have made China what is today, powerful yet full of contradictions.
Adapted by Alexandra Wood, the Young Vic production encapsulates the personal but more particularly the historical spirit of the book: as the book, chapter after chapter sweeps away from one period to the other so do the actors on stage, scene after scene, episode after episode in the life of Chang's characters, her family and that of the Chinese people.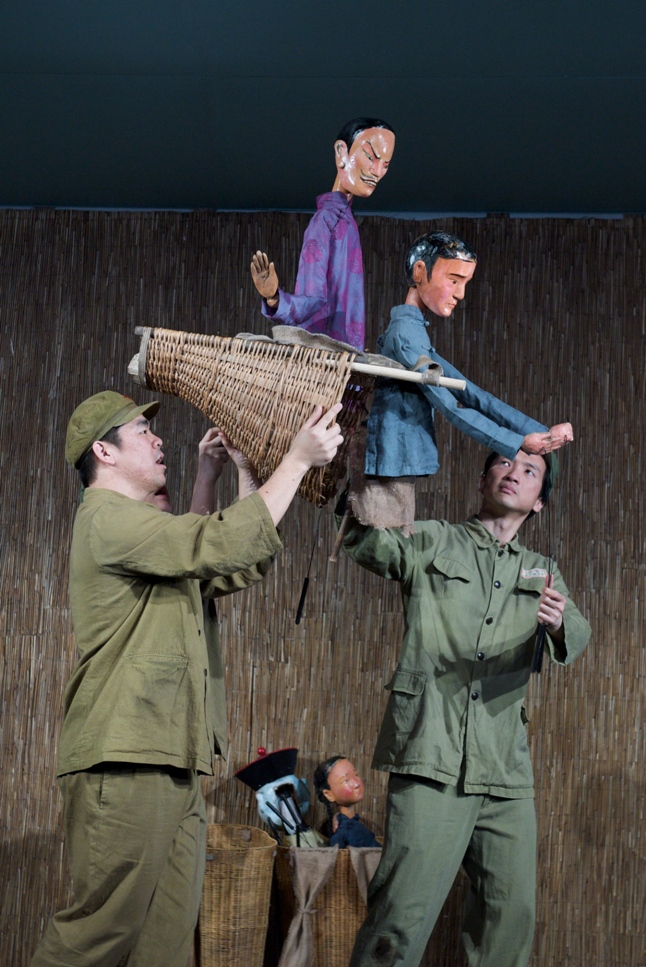 Divided in five acts, we see the large cast continuously moving onstage, from one side to the other bringing and taking away a piece of history, a slice of Chang's account, and changing the set on their way. The main focus of the stage adaptation is on Chung's mother, whose mother's visit to England apparently inspired Jung Chang - in particular, her belief in the communist cause, her marriage to Shou-Yu, another Communist comrade, and her powers of endurance. Chang's mother is delicately played by Ka-Ling Cheung; Chung's father – Orion Lee – makes a believable as an idealistic but stubborn comrade who will not compromise and cannot but sacrifice himself and his family to his convictions in justice and the common good of the people. Er-Hong (Jung Chang herself) is played with emotional power by Harry Potter actress Katie Leung.
Director Sacha Wares' individual vision of the narrative is powerfully supported by Miriam Buether's outstanding set design. Functional and flexible, colourful and evocative, it stretches frontally across the stage, gaining in width what it loses in depth. Other techniques are also deployed to convey Chang's account. Her grandmother's past is briefly touched upon by beautiful, concise use of puppetry. Video projections by prominent Beijing visual artist Wang Gongxin refer to the changing faces of China. Song is mainly a political tool.
The adaptation is more successful in conveying Chinese history, political upheaval and in highlighting the traumatic experience of both the author's family and the Chinese people. It sometimes falls short when it comes to the more intimate areas of the story. It's nevertheless an epic creation and above all a faithful and ambitious re-working of Chang's incredible story.
Director Sacha Wares' individual vision of the narrative is powerfully supported by Miriam Buether's outstanding set design
rating
Share this article