theartsdesk Q&A: Songwriters Marc Shaiman and Scott Wittman |

reviews, news & interviews
theartsdesk Q&A: Songwriters Marc Shaiman and Scott Wittman
theartsdesk Q&A: Songwriters Marc Shaiman and Scott Wittman
They wrote the songs for Hairspray. Can they help turn Charlie and the Chocolate Factory into a hit?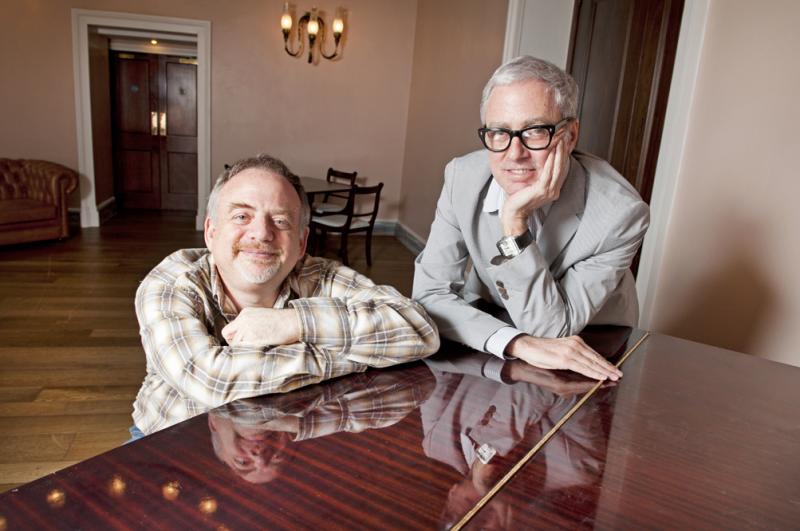 Boys meets boy: 'Charlie and the Chocolate Factory' songwriters Marc Shaiman and Scott Wittman
There is no formula for creating a hit musical. If there were, the history of the West End and Broadway would not be haunted by the many ghosts of bygone disasters. Let us not list them here. The lack of a roadmap notwithstanding, the long-awaited version of Charlie and the Chocolate Factory is ticking all the right boxes.
For a start, there's the belt-and-braces title itself, much loved as a book but perhaps as widely known via two film versions from 1971 and 2005. It has a big-shot director in the form of Sam Mendes, and in David Greig a book-writer who knows how to entertain childen, having deftly adapted Tintin in Tibet. The great Mark Thompson is designing the impoverished Buckets' household and the Technicolor world of Willy Wonka's factory, and in Douglas Hodge the show is led by a very fine actor who, thanks to Guys and Dolls and La Cage aux Folles, knows his way around a musical. And a stageful of kids always works, doesn't it? See Oliver!, once directed by Mendes. See Billy Elliot. See (if you haven't already) Matilda the Musical, the other Roald Dahl show.
Thank God for 9/11! It worked out so well for us!
And what of the meat and drink? For their songbook the producers have gone to composer/lyricist Marc Shaiman and lyricist Scott Wittman. Two New Yorkers attending the birth of a very British musical, they are best known on this shore of the Atlantic for Hairspray, a show which delightfully pastiched the Sixties sound. That is in fact their one and only hit, subsequently filmed with John Travolta in drag and still on tour in the UK. On the back of it they went on to write the songs for Catch Me If You Can, adapted from the Spielberg film starring Leonardo di Caprio about Frank Abagnale, the career conman who now works for the FBI, but it failed to ignite in the same way. They had another disappointment with the NBC show Smash, based around a fictional Broadway musical and starring Debra Messing and Anjelica Huston. After two seasons it was cancelled only last month.
Shaiman (b 1959) and Wittman (b 1955) are also a couple, and have been for 35 years. In fact their co-writing credits are not extensive. Hairspray captured the joyous spirit of their early club shows in the Lower East Side, but in the interim musical theatre was devoted to frowning, garment-rending British blockbusters and there was no place on Broadway for their sensibility. Shaiman wrote a lot for television, soundtracks (including the South Park film) and Academy Award shows, while Wittman specialised as a director of star vehicle shows for the likes of Bette Midler, Raquel Welch, Dame Edna Everage and Patti Lupone.
Big musicals require big commitment. For weeks, Shaiman and Wittman have been commuting between the Savoy and Theatre Royal Drury Lane, where technical rehearsals – the creation of precise lighting, sound and scenery cues for the most expensive musical ever produced in the UK – eventually made way for preview performances. An already laborious process takes a great deal longer when changes have to be implemented in triplicate: UK law requires each child role to rotate between three young actors. And some of them have never acted onstage before: their first appearance – include one of the young Charlies – in front of any sort of audience is at the most famous old stage of them all, currently owned by Lord Lloyd Webber.
If Shaiman and Wittman are going stir-crazy, it doesn't show. They are wry, witty and delightfully self-mocking as they come up to one of the theatre's grand and blessedly light rooms to talk to theartsdesk about inheriting the song "Pure Imagination" from the 1971 film, about that other Dahl musical up the road, and about creating their own soundscape for Charlie and the Chcolate Factory. Smash or Smash? It's the multi-million pound question.
JASPER REES: How did you two meet?
MARK SHAIMAN I was a mere child. I lived in New Jersey.
SCOTT WITTMAN: It was 1976.
MS: Ironically I went into Manhattan with a friend from New Jersey to see a new Off Off Broadway musical called Boy Meets Boy. And after we saw that musical we ran into some other friends on the street and went down into this little bar and it was a piano bar by chance and I started playing around and it was empty – it was like 4.30 in the afternoon after a matinee – and the bar-tender was sweeping up like in an old movie and said, "Hey kid, you're good, wait right here." And he ran outside and came back in with Scott and a group of very funny people who were Scott's friends and they were doing a comedy act with music and they needed a funnier piano player than who they had.
SW: And I said, "That's our piano player."
MS: And I was 16 and he was 21…
SW: And so we started collaborating then.
You could tell his piano style was what you needed?
SW: Yes, I said, "Can you play 'Together' cheesy?" And he said, "You mean like at a bar mitzvah?" And I said, "That's it. You're the guy."
We like the same stuff. We hate the same stuff too
What happened next?
SW: We started collaborating because we had a club in Lower East Side – it was at the beginning of this blossoming arts scene with Keith Haring and Kenny Sharp and all these various artists – and we had a little clubhouse. We were too rock'n'roll for theatre and too theatre-y for rock'n'roll so this was a perfect little niche for us. So we started writing things just for our own enjoyment and the enjoyment of our friends. The place only seated at the most 75 people.
MS: It was just a crazy place. Every night there was something else. We just booked a night and you could do whatever you wanted. So we would just do things for fun there. We started writing and writing.
SW: I used to yell at Keith Haring, "Will you get these painting out of here? I've got to do a show tonight."
When did theatre get rock'n'roll enough for you to start working in it?
MS: That's just something we say and it was true for us and all the people that were at this club but rock'n'roll had obviously already gotten to theatre starting with Hair but our sense of humour…
SW: And irony.
MW: When Hairspray finally happened everyone who was still alive from that period came to see it and was like, "Oh my God, that's just like a Club 57 show with a budget."
SW: That was the name of the club. The world caught up to that sensibility. We thought we had invented it and there were other people out there.
MS: Because when we started writing it was right in the middle, if you'll pardon the expression, of the British mega-musical. And so it was Les Mis and Andrew Lloyd Webber and Cats. It just wasn't our kind of thing. We just didn't fit into that. And so for a long while we thought our time never happened. It came and went and we were doing separate things. I started working in movies, and a whole decade or more went by when we were very busy but not writing together at all and not writing for theatre.
SW: I directed a lot of acts. I directed Patti Lupone's concerts. In LA we worked together on little things, sometimes with Billy Crystal, things like that. And then the call came: "Are you guys interested in Hairspray?" And we said, "Yes." And so they asked us to write four songs on spec because we were sort of untested. We did it without question and handed four songs in and they became sort of the tent poles of the score and they're still in it.
Which ones were they?
SW: "Good Morning, Baltimore", "Welcome to the Sixties"…
MS: "Big Blonde and Beautiful" and "I Know Where I've Been".
Watch "Welcome to the Sixties" from the film version of Hairspray

SW: And that was such a magical thing because it was only two years from the page to the stage. So that was so exhilarating. And it happened at a perfect time. It was post-9/11 in New York.
MS: Thank God for 9/11! It worked out so well for us! People were ready to go into a theatre and find joy and didn't need to be all angsty. A lot of the stuff that had been happening for a generation was so serious all the time – wonderful, brilliant things. But The Producers was the first thing that allowed people to go, "Oh yeah, musical comedy!"
SW: And then we had a great experience with Hairspray here as well. Everyone said, "Don't go to the Shaftsbury, there's a curse." We broke the Shaftsbury curse.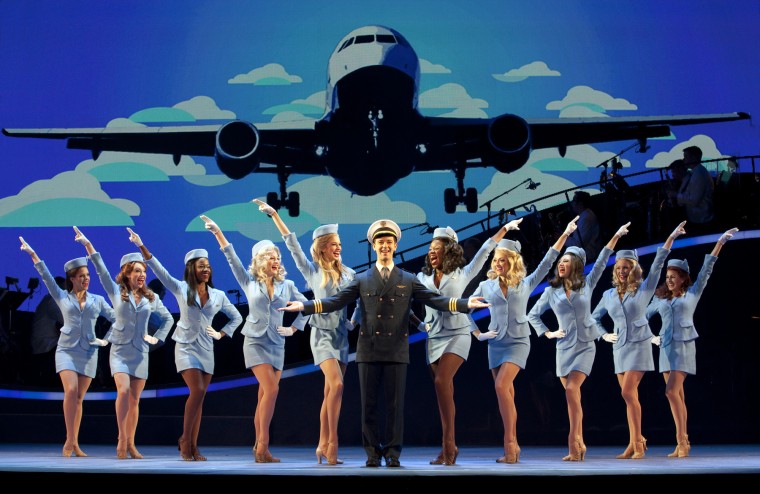 How does Catch Me If You Can fit into the mix? Is there a chance it might come here?
MS: No. It was a disappointment for everyone involved. Even though it was nominated for a Tony Award for best musical – it's ironic to say that. The team working on it as much as we love each other, we never quite figured out how to present… our concept of how to tell a story never gelled within the group. And amazingly we all still love each other even after what we went through on that.
SW: But it's also if you bring back a team from Hairspray and they have a new show and everyone has a certain expectation of what that would be, we didn't want to repeat what Hairspray was. This was a darker tale about fathers and I think your expectations are altered somewhat.
MS: And the Ratpack sound that we love so much we discovered is not as loved. I mean we're like professors with that stuff. We love so much the other styles from the Sixties but we found out that people seem not to like bossa novas or were thinking, this is boring. Whereas the Sixties pop of Hairspray - the Chocolate Factory could probably figure out…. There's really good material in there. It was just somehow misbegotten. The experience on Hairspray, we all knew that it was a once-in-a-lifetime kind of thing. Even though you know that and say it out loud, you hope that at least other things might come close to that kind of joyous success. I don't mean in the financial box office way. Everyone loving what you're working on.
SW: Musical theatre is the hardest thing to create, I mean in the arts. It's not for cissies even though it attracts a great number of them. Everyone must see the same image or see the same show onstage or else it splinters. And that includes everybody. The book writer, the director, the lighting designer, the choreographer. You have to see the same thing together, especially when you take a musical of this scale and you're not out of town. Everyone has to work towards the same goal and you have to feel these seismic shifts as each show goes by.
How long have you been living together as a couple?
SW: Thirty-five years.
Does that create a shorthand which makes collaboration easier? I've noticed that you finish each other's sentences.
MS: I'm trying to correct him. Certainly our strongest bond is our shared sensibility about stuff and especially music and concept of songs and music theatre. We like the same stuff. We hate the same stuff too.
So what happens when you work with others?
MS: It doesn't happen that much. The very first show I wrote when I was 18 was with another lyricist and at that point I wasn't writing lyrics although I wanted to. But the first few things I wrote were just music. and then strangely enough when I got to Hollywood even though there weren't a lot of music theatre things in my life, there were in the movies every now and Billy Crystal's Oscar medleys or a chance for me to write funny lyrics or I would get to write for Bette Midler at events the public wouldn't even get to see, but I got to write really funny lyrics for her, and kept wishing something would come along. Sister Act I got to arrange. But finally the South Park movie I got a chance to co-write with Trey Parker, music and lyrics, and that's what brought me to the attention of Margo Lion who produced Hairspray. I would never write on something else that I wasn't part of the lyric writing.
Overleaf: writing the songs for Charlie and the Chocolate Factory
When did the call come for Charlie?
SW: Just about five years ago. James Bond came along and Smash for us. So it's been five years where we first met with the Dahl estate and Sam [Mendes] and Caro [Newling, producer]. They were exploring teams and they introduced us to David Greig who wrote the book. We hit it off. We call him David Bucket. Sam is so spot on about story points and he steered us in directions that we might not have gone.
What about the moment you were hired?
MS: We went to one lunch and they called and said, "We want you to do it." And we had to decide long and hard and those decisions have come back – I won't say to haunt us – but suddenly the reality of the situation is here with us and all the decisions going into doing this are so apparent now with the fact that there are two movies that exist, one of them a musical, how beloved it is. Strangely enough Scott and I fell in the cracks and the original movie is not for us what it is for many people.
SW: And we were also aware of Dahl's dislike for the movie.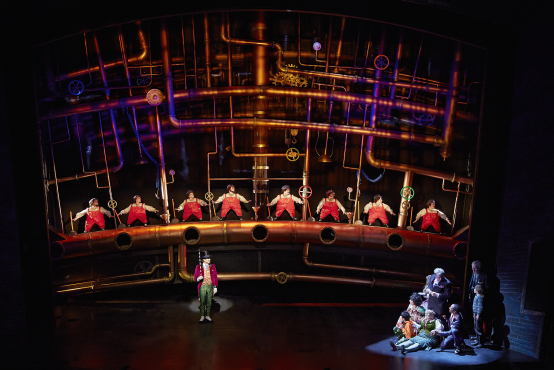 MS: And they said to us, "We definitely want a new musical." So it's not like Mary Poppins where they definitely knew they were using all the songs from the movie. It was a different situation. But the reality of people coming to the theatre and you see kids dressed as Oompa-Loompas from the first movie and you think, oh my God, are these kids going to be sad that our Oompa-Loompas don't have orange skin and green hair? I hope they'll like our version. (Pictured above, the Oompa-Loompas.)
SW: It's also the first time that we've ever worked on a story that is so ingrained in the psyche of the audience. No matter what age they're ahead of us.
I quote the line from the first song: "Here's a book with missing pages/Not a problem – I know how it ends."
SW: You do sit there and you know they're excited about what happens next because they know it.
How does that condition the way in which you write the songs?
MS: The good thing for us is that the first movie wasn't so ingrained in our psyche. The songs weren't hanging over us. We barely knew them. Also the fact that Tim Burton made such a successful movie, also that people weren't picketing outside saying, "Why aren't the songs in it?" - that made us go, "OK we can take this song because people accepted that new version."
Everything that Roald Dahl thinks is wrong with the world is now tenfold
If I can ask about "Pure Imagination", that is the one song that you did not write. How did it get to be in the show? Did you say you want it? Or were you told, it must be in the show?
MS: We were told it must be in the show years after we started working on the show. After being told it wouldn't, we were told it would be. And although we could have screamed and yelled – and we screamed and yelled a little – even then we started being realistic about the fact that there are millions of people who would want it in it and as you can hear every night when it starts, the audience coos. "Aaaaaaah."
SW: We also thought by placing it in another area where it actually becomes a credo or the 11 o'clock number – and they physically leave the show and sing it and then come back.
MS: Scott might kick me under the table – I don't think he will. Having a song that we didn't write in the show is painful because we wanted to write a score for a new musical, but it's also smart. And so we love to please an audience, which isn't necessarily the case sometimes with the shows you go to see. People think that's cheesy or old-fashioned to please an audience and we like that. And so we have conflicting emotions every single time that that happens. But with the added element it's a magical moment.
Gene Wilder sings "Pure Imagination" in the 1971 film
I get the impression that you like the fact the song visually is separate from the rest of the show in that it is sung in a great glass elevator suspended above the stage.
SW: Yes and it also has a different meaning. It is about a man reflecting almost on his life and giving something to a child. It is a reinterpreted in the story and does it beautifully.
Let's get back to your songs. What was the brief?
SW: We sat down with David and Sam and started to talk about story points.
MS: You go through the source material and it's so specific. It's only the ending that all the movies try to find something different and we had to find our own way around.
SW: Because we had to deliver an emotional ending by giving Charlie the factory which has sort of not been emotional in previous incarnations of it. It just happens. And we felt that needed to be heightened in the theatre because you do want someone to feel something. It's like the end of The Tempest. He's passing on his gift. We felt that needed to be strengthened in the theatre.
So when you look at the book it's quite clear. You say, "We need a song there, there and there. And those songs are going to say these things."
SW: Yes. We knew we had the ticket winners obviously in the first act and the grandparents. I love the idea that we're setting up a very intimate musical in the first act that's really about a boy who doesn't have anything but actually he has everything. And so it was nice to write that. And also the voice of that child, what he had to say. And also the great joy is that everything that Roald Dahl thinks is wrong with the world is now tenfold: greed and fame, laptops, video, all of that. It's come to roost in such a magnified way.
So the history of the world has played into your hands.
SW: Yes, and bad parenting. The good parents are the ones who don't have anything but what they could give to their own child. But the bad parents who have everything are helicopter parents.
What are you aiming to achieve in the show opener "Almost Nearly Perfect"?
SW: To give Charlie a voice. And that's the first illustration in the book - Quentin [Blake]'s beautiful illustration of a boy going, "How'd you do?" And Sam loved the idea of the boy who took stuff from the rubbish dump and made magic out of it. (Pictured, Mark Thompson's design for Charlie and Grandpa Joe.)
MS: I think that maybe is the first thing that we as a group added, that he collects things on the streets which then developed into a rubbish dump. At first it was just him walking home finding things on the street and having the ability to know: "Someone else might still throw this away but there is still value in this and I am smart enough to know how to fix this up." It shows that he…
SW:… makes something out of nothing which comes at the end. He says, "You're a boy who can make something out of nothing." And that's what Willy has done in a way.
And then there is the song about Willy Wonka which has one grandparent applauding his "sex appeal what makes me feel young".
SW: We tried to stay true to British music hall root in that and we knew that the four distinct personalities – one of the grannies is the grouchy one, the feisty one, the randy one, the teller of tall tales. We always think of Josephina as an old Tiller girl.
The first half of the show is slightly channelling Lionel Bart. Is that a fair reading?
MS: Well, Lionel Bart and a few others. I'm not too insulted.
I wasn't attempting to insult you! We're talking about the London feel of the show.
MS: One of the nicest compliments we get from the cast now and then is when they say, "God, it seems so British." The Beatles, Lionel Bart…
SW: Flanagan and Allen, George Formby, we always loved them.
MS: It wasn't like we just did research on the show. Years ago a friend of ours turned us onto Flanagan and Allen. [Sings] "Toodle - luma luma/Toodle - luma luma." And "Nice people have nice habits!" We have them on our iPods anyway. And all the Beatles albums are full of characters like Mean Mr Mustard or Polythene Pam or Maxwell's Silver Hammer.
SW: And also it's the first time that Willy has ever been played by a Brit so we wanted to root it in that tradition.
So then you have this opportunity to widen the palette when the golden ticket winners introduce themselves. Did you think, we have four kids here - we can do four different musical styles?
SW: They're very distinct in the book. And their locales.
MS: The one thing we added to make it more like a musical was the idea that Veruca Salt would be a little ballerina (pictured above, Mark Thompson's design for the Salt family). It just seemed to fit her personality and it gives her a musical personality so the first time that she and her father sing definitely had a little Tchaikovsky vibe to it and then her demolition is a Russian ballet with a touch of gypsy violin to it.
And then Augustus there is a touch of German oom-pa.
MS: And then when he's dispatched he takes on a Kurt Weill sound.
SW: The Oompa-Loompas will taken on the personality of the child. They love to sing and dance.
So they take on Mike Teavee's electro-pop persona. How about Violet Beauregard's song? She's a rapper (pictured, Mark Thompson's design for the Beauregard family).

SW: The only thing she's famous for in the book is chewing.
MS: Chewing turned into her endless jaw going and that turned into lots of words almost inspired by Little Britain's "yeah but no but yeah but". Just that motormouth. Someone whose mouth just keeps going and going and going.
Does it differ in any way writing songs for children to sing? Do you have to get yourselves into a different head space?
MS: Well I certainly have a childish streak which is maybe a problem in real life but is good for writing the songs.
And is it more musically or lyrically that that helps?
SW: First of all creating a show like this is like being a cave for six weeks. We've literally been down there in the dark for six weeks. We go into a corner and we would seek the kids out because if anything would bring your spirits up it's sitting with all of them. And we often say to them, "If you can come up with a better lyric…" They never rhyme but they're funny to listen to. And I ask the Charlies, "What do you think what happens after the show?" And one of them said, "Charlie commits suicide from the pressure of running a big business."
Overleaf: Mendes, Matilda and Smash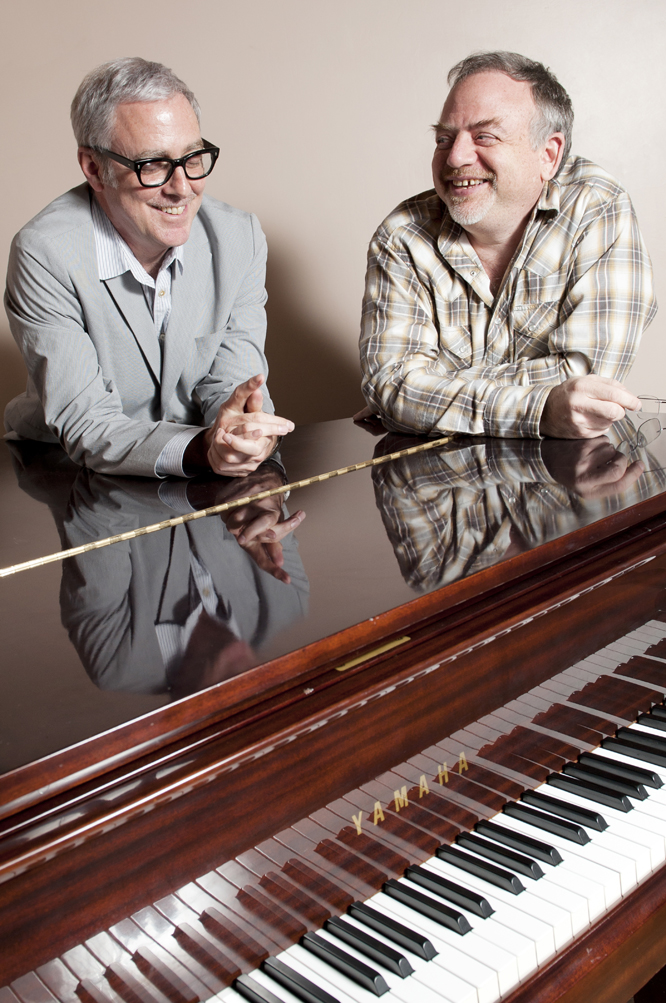 Do you feel the long shadow cast by the other Dahl musical?
SW: Yes. We didn't know about it. We heard about it when someone said, "Oh the RSC is doing a little musical." Literally I had no idea.
MS: We heard about it when everyone else heard about it, literally reading in the paper. "Oh look what's opening."
How did you feel?
MS: We are happy for the creators of it and that the Dahl people have this success but it doesn't help us. We can already sense the endless comparisons. And they're different stories and we're different writers and we're embracing styles in the show that weren't called up in Matilda.
SW: We're happy for all the [Dahl] heirs.
MS: It's an added pressure that we wish didn't exist but it does and there's nothing that can be done about it. And we love the show. We love Matilda the show.
Tim Minchin wrote both the music and lyrics for Matilda the Musical (pictured). Do you tip your hat to him as it's the first time he's ever done it?
MS: Well, you either have it or you don't. I was writing songs for my cat walking across the living room when I was five. It's just like Cyndi Lauper [songwriter for the Tony-winning musical Kinky Boots] on Broadway has written her first score and she realises, "God, I'm home," but it took her 50 years to get to the point where that opportunity landed in her lap. You listen to Matilda, you can't help but hear those words clearly flowing out of him.
You're in very safe hands with one of the world's best known directors who's just riding on the crest of a wave.
MS: But you see I'm Jewish so I feel like it's a terrible thing because now people will want to tear him down. So Sam's success especially recently is a terrible thing for us.
What is his secret?
MS: Sometimes the white light is blinding as it emanates from him in a godlike fashion and you have to negotiate with all the angels that are surrounding him.
SW: And often giving him pillows and coffees and teas. He's like an English schoolboy and I love that quality of him. As I said, musical theatre is not for cissies and he's not a cissy. We laugh at the same things and he's like a boy, the same way he was with James Bond.
Is there a bit of Charlie in him and a bit of Willy Wonka? (Pictured, Sam Mendes with Douglas Hodge.)

MS: Most definitely.
SW: Definitely, yes. If I can blow some smoke up his ass, I would say in the beginning I didn't know how to see my way in, and Sam helped me find that. He pointed out the Dahl that was in me. I said, "Oh God, now I see it. Now I understand what's supposed to be done."
MS: On Catch Me If You Can and Smash, the television show we worked on, for the last seven, eight years of our lives there were a lot of people telling us what to do who don't have something that Jack O'Brien the director [of Hairspray] and Sam have really well – giving you a note, the expression for a suggestion or something else, and totally making you understand, actually inspiring you and exciting you to go back to the piano and write something else. That is such an art and having that experience on network television in America, the opposite of that, [where they] don't know how to inspire you to keep at it – that's a great great talent.
Is Smash still an open wound?
SW: The only thing that we got to do that was fabulous was we wrote a whole score for a Broadway-style musical in front of millions every week in the space of two years.
I don't mean to be that obnoxious but for us it was a treacherous experience
MS: And we got to write with four great performers and we got to orchestrate it and record it in the proper way.
SW: And I got to fall in love with Anjelica Huston.
So it was by no mean time wasted but the fact is that it got cancelled…
MS: We couldn't be happier. We're unhappy for people who are out of work. I don't mean to be that obnoxious but for us it was a treacherous experience. It was extremely painful but now it's like childbirth and we'll remember the glorious moments working with the two girls and Bernadette Peters…
SW: … and Liza Minnelli.
MS: We got to work with just the best there is.
So why didn't it take?
SW: Because it's on network television and network television has its own evils and traps.
MS: Some things are very successful but it seems the most successful things are when one person has an idea from the get-go and for whatever reason is given the chance to just be the king. And this had too many chefs. It's such a cliché but this was a big example of that. And everyone wanted it to be great.
SW I'd go home every night if you'd had a bad day and go, "Oh God, tonight was not a great show," and watch BBC Four and there's some fabulous documentary on their way to concentration camp. I don't meant that in a glib way but it puts it in a perspective.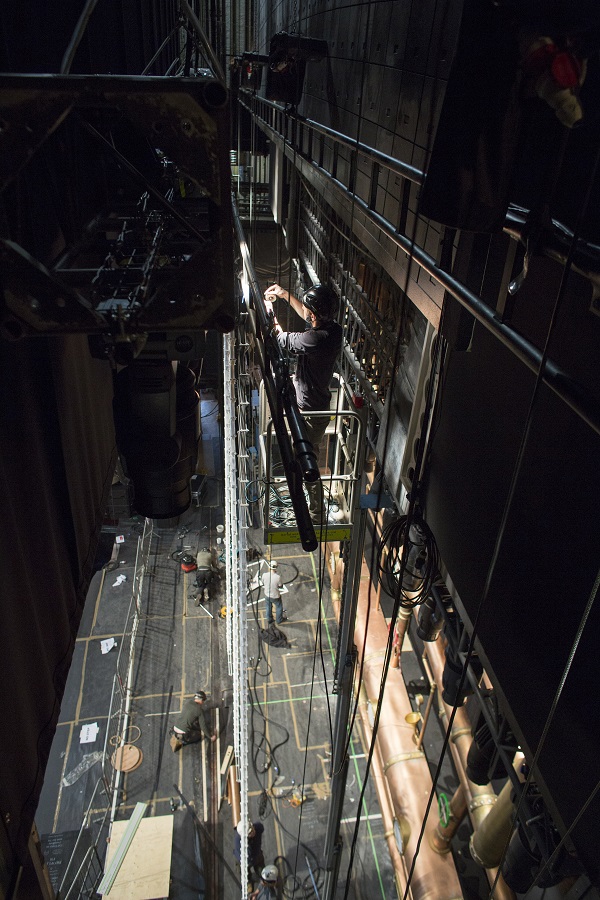 Back to Charlie. It's reported that this is the biggest UK musical ever. Does it feel that way from the inside? (Pictured, construction of the set.)

MS: I'd say when you look at the stage, I don't think anyone would come to see this and go, "Where did that money go?" But we don't think about that. They don't say things to us and we really don't think about that.
SW: We're living on our own dime at the Savoy.
Is it an out-of-town try-out in the end?
SW: No because we open in the West End for critics.
MS: Do you mean an out-of-town show for Broadway? I don't think so because it's such a British story.
SW: This is so homegrown to me. Everyone on it is a Brit so we're kind of like the interlopers.
MS: But what is difficult is it would have been nice to have had an out-of-town try-out instead of having our first preview in the West End. But the show is too big. There is no other theatre that we could have gone to.
SW: When you have three sets of children it's a complicated process.
Is the film-to-musical genre a gift that is going to keep on giving? Is there any other source for musical theatre any more?
MS: For us this is based on a book.
But the rights came from Warner Bros and your other two musicals were based on films.
MS: I find it – don't be insulted – a boring conceit of "oh another film". Who fucking cares? It's a story and now there's over a hundred years of great films. You look at all the classic musicals. If you make a list of all the hundred greatest musicals there's around five of them that were original ideas by the composers or book-writer. The Music Man being one of them. They were all based on books and so now the culture has changed and movies have become equal to books as a way to tell a story. And movies have to tell a story in two hours, so it already fits. But it's all about how you do it. In Hairspray it went well and in Catch Me If You Can it didn't go so well. But it didn't have anything to do with the fact that it was from a movie. It was a story and the characters.
SW: We even became friends with the conman Frank Abagnale. We didn't just stay slavish to the book. We took things from his own life that he told us. It's all in the telling.
MS: But having said all that, yes, there are certainly producers who are already looking for a title that people already know, already have a sort of history with.
SW: The other day we were walking down the street and went past Mamma Mia! and Marc said, "There's the secret of modern theatre. There's a sign outside the theatre that says, 'You already know you're gonna love it.'" This is my favourite quote and it's from an odd source. Halston the clothes designer used to say, "If your audience comes in a limousine you go home in a bus. If they come in a bus you go home in a limousine." You have to appeal to these buses of people that come in. I look in the audience on Wednesday and Saturday afternoons. We're used to matinee ladies but I had no idea they would be under 10. For a lot of them it'll be the very first exposure to theatre that they have. I can see them, their eyes are agog, and I hope they come out and say, "Oh my god, this is better than the movie."
In the recent history of musicals, great songs have entered the wider culture less often than they used to. Which song of yours would you like to spread its wings and leave its immediate context and represent the show?
MS: In a way "Simply Second Nature" is a song that sums up people like ourselves.
SW: Also it's for people who paint outside the lines. I think that really that song is who we are as songwriters.
MS: With the lyrics it was interesting to get to explain what people like ourselves are like.
SW: Someone who wants to create.
MS: I will say as the melody came out of me I realised, oh I'm in Andrew Lloyd Webber territory here. And that felt nice, to be in England and have a song that was part of that. Maybe that's not for me to say.
SW: We're in his house.
Charlie and the Chocolate Factory is at Theatre Royal Drury Lane
Portrait photographs © Imelda Michalczyk
Production and design images by Helen Maybanks
Musical theatre is the hardest thing to create. It's not for cissies even though it attracts a great number of them
Explore topics
Share this article