theartsdesk in Dublin: Your City, Your Stories |

reviews, news & interviews
theartsdesk in Dublin: Your City, Your Stories
theartsdesk in Dublin: Your City, Your Stories
History, politics and identity explored at the 55th Dublin Theatre Festival
Disturbing and confrontational drama in 'The Boys of Foley Street'
Irish theatre generates high expectations. So much so, that if there isn't a premiere of a play by one of Ireland's leading playwrights – Sebastian Barry, Enda Walsh, Marina Carr, Frank McGuinness, Martin McDonagh, Conor McPherson or Mark O'Rowe – the annual Dublin Theatre Festival tends to be viewed by regular Dublin theatregoers as somehow deficient.
But while this year's festival didn't offer a singularly brilliant piece of new Irish playwriting, in its range and diversity it posed a series of very provocative questions.
Now in its 55th year, Dublin Theatre Festival 2012 ran for over two-and-a-half weeks and presented 30 shows, as well as showcases of work in progress currently under commission. It included new productions from leading Irish companies such as The Corn Exchange and Pan Pan, and emerging companies Brokentalkers and The Company; premieres of plays by Emma Donoghue, Declan Hughes, Gary Duggan and Deirdre Kinahan; visiting international productions from New York's The Wooster Group and Elevator Repair Service; a children's theatre strand; revivals of recent Irish productions; and the first staging in 50 years of a Wagner opera in Ireland from a new company, Wide Open Opera, who brought Tristan und Isolde to a 2,000-seat auditorium (pictured below).
For many, the highlight of the Festival was an opportunity to see the DruidMurphy cycle, a presentation of three plays written by one of the most important contemporary Irish playwrights, Tom Murphy, staged by Druid Theatre Company.
Although these plays were not written as a trilogy, they have overlapping themes, which are highlighted by their presentation in repertory. It was possible to see all three: Conversations on a Homecoming, A Whistle in the Dark, and Famine in one day. The cycle, superbly performed by the ensemble cast of 16, directed by Garry Hynes, opened in London's Hampstead Theatre in June of this year before touring to New York, to Oxford, then back to venues around Ireland. Taken as a whole, the three plays excavate the Irish psyche, layer by layer, reaching back through the 20th-century experience of mass emigration to the defining historical event of the Great Famine of the 1840s. They are concerned with nothing less than the attempt to understand who we are, and how we are shaped by history.
The festival raised questions of authorship and origin.Whose stories are being told onstage, and where did they come from?
Murphy's plays seem to have a particular significance now, at a time of widespread disillusionment with politics, and a prolonged recession. Distrust of institutions of state and church has replaced the optimism and confidence that fuelled a banking and property bubble in Ireland only a decade ago. For some, the bail-out of the Irish economy by the European Central Bank and International Monetary Fund has given rise to a sense of powerlessness, or, at least, a loss of national self-determination, less than a century after the foundation of an independent state. Many others are much more concerned about making ends meet, as businesses go to the wall, unemployment figures swell, and the emigration of young people becomes the norm again.
Murphy's plays take their position along a fault-line currently running through Irish cultural life: the tension between past and present. If these three plays, while ostensibly exploring the past, provide a prism through which to view the present, what insight does that offer us? Is the current political and social malaise determined by an inevitable repetition of patterns from the past? And are theatre-makers and artists confronting the present day with the same urgency as Tom Murphy challenged the Ireland of the 1960s and 1970s? (The Wooster Group's Hamlet, pictured above)
That these large questions were being aired in national newspaper columns, in panel discussions and in radio broadcasts at this year's Dublin Theatre Festival is an indication of how seriously theatre is taken, and how much audiences and artists expect it to deliver. Across the range of the work presented in the festival, a series of binary tensions could be observed, in both form and content: between local and global; between the twin poles of influence of the US and Europe; between British theatre and Irish theatre; between traditional text-based theatre and collectively devised work; between literary form and dramatic form; between the self-referentially aesthetic and the overtly political, and above all, between past and present.
"History is not cyclical," the festival's Artistic Director, Willie White, stated firmly at one public discussion. For him, there is a danger of wallowing in a sense of crisis and powerlessness. Having previously run Project Arts Centre in Dublin, a multi-arts organisation that fosters the work of emerging artists, directors, choreographers, designers and playwrights, he took over the reigns of Dublin Theatre Festival last year at the moment when arts funding cuts began to kick in and the recession deepened (Wide Open Opera in rehearsal, pictured above).
This coincided with the conclusion of the festival's relationship with its title sponsor, Ulster Bank. White's response was to cut his cloth, by programming fewer of the large international productions that had become a staple in recent years (this year one third of the 30 productions were international) and to showcase new Irish work from leading theatre companies, under the rubric "Your City, Your Stories".
One company whose work fits the theme effortlessly is ANU Productions. Over the past three years this small group has presented immersive, site-specific works on the streets of Dublin's north inner-city, exploring its history over the past century, in The Monto Cycle. The sequence will conclude next year by bringing us up to the present day.
This year's The Boys of Foley Street (pictured below), a public art commission from Dublin City Council, continues the company's social and political history of the area that began with World's End Lane in 2010. It continued last year with the magnificent Laundry, which opened the doors of a convent where young women had been effectively imprisoned as laundry maids by the Catholic Church over many decades – one of the now infamous Magdalene Laundries.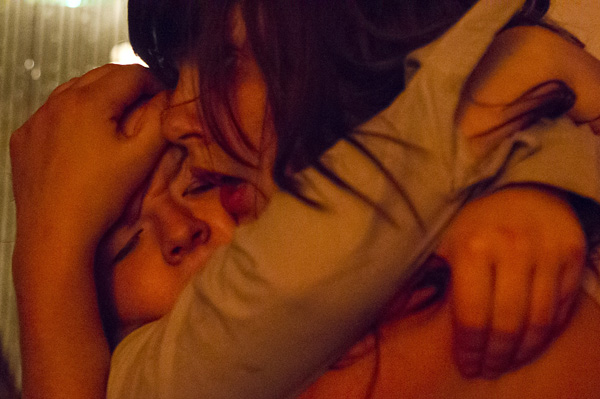 Disturbing and confrontational, it more than answers any requirement for theatre to be politically engaged, and to have a sense of urgency. And like the preceding works in the cycle, it is devised by director Louise Lowe and her collaborators with such imagination and originality that it goes far beyond the level of shock or voyeurism.
Taken as a whole, this four-year project is a major artistic achievement. Spotlighting the decade-and-a-half from 1970 to the mid-1980s, The Boys of Foley Street takes two audience members/participants every half-hour on a trail through the streets that were the backdrop to the depredations of the 1970s heroin crisis. The piece also depicts the effect on the area of the Dublin bombings of 1974, combining performance, installations and multimedia technology. Alone in a tiny bathroom with a young woman who has been sexually assaulted, or forced to be an accomplice while a drug dealer is beaten up, each spectator is required to respond and participate, to encounter secret histories and hidden misery in the most direct way possible.
Passages of 'King Lear' were adapted to explore the relationship between a father and daughter, he suffering from dementia, she becoming his carerWhile "Your City, Your Stories" is a tag-line that seems to challenge the notion of the audience as passive spectator, it also raises questions of authorship and origin. Whose stories are being told onstage, and where did they come from? For the Festival's opening production, "stories" was the apposite word.
The Corn Exchange theatre company, led by Annie Ryan and Michael West, staged a selection of James Joyce's short stories from his celebrated collection, Dubliners, newly released this year from copyright. While this was an opportunity to present Joyce's work on stage to large audiences in the Gaiety Theatre's 1,000-seat auditorium, the result was uneven, with much of Joyce's subtlety and understated pathos sacrificed to broadbrush comedy in performance.
Other literary adaptations were more successful, particularly the boldly theatrical staging by visiting US company, Elevator Repair Service, of Hemingway's The Select (The Sun Also Rises) and, in a commission for the Abbey Theatre, Neil Bartlett's elegant, if text-heavy, adaptation of The Picture of Dorian Gray (pictured below).
Also adapting a classic text, the consistently innovative Pan Pan theatre company presented a new work that took King Lear as its source. In Everyone Is King Lear In His Own Home, passages of the tragedy were selected and adapted to explore the relationship between a father and daughter, he suffering from dementia, she becoming his carer. Scenes between Lear and Cordelia and Lear and the Fool were delivered faithfully, augmented by a contemporary take on the tension between dependence and resentment on the father's part, and love and resentment on the daughter's. This didn't have the forensic precision of Pan Pan's previous deconstruction of Hamlet, called The Rehearsal, Playing The Dane, but in two outstanding performances by Andrew Bennet and Judith Roddy it expressed how the apparently grand arena of kingdom and kinship can re-emerge in the dangerous powerplay of the living room.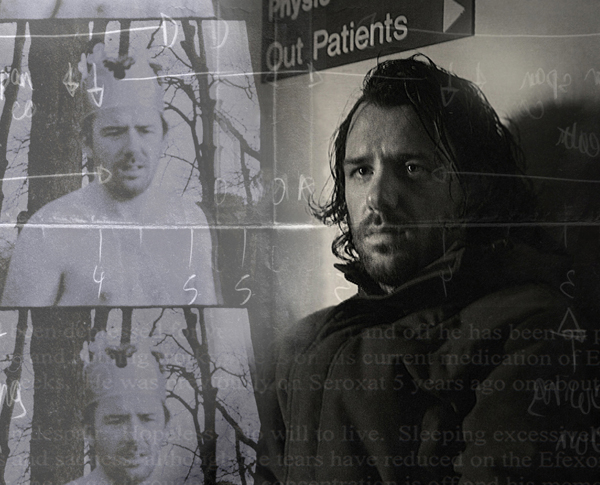 Other new Irish work also explored areas of illness, failing memory, ageing and mental illness, most successfully in Dylan Tighe's Record, in which this multi-talented actor, director, musician and writer (pictured left) presented a personal exploration of bi-polar depression and the possibilities of recovery, using his own experience as a starting point. With a cast of four, using a combination of text, medical records, 16mm film and Tighe's own songs, this clever, sensitive work gives an account of his decision to come off medication, ignoring the advice of the psychiatrists and experts who were treating him. Avoiding self-pity, the piece successfully takes the raw material of painful experience and transposes it into a highly original multimedia performance that is moving, funny and provocative.
What the most interesting new work – from Tighe, from Anu Productions, from emerging theatre company Theatreclub, whose new piece, History, was shown as work-in-progress – showed was a commitment to exposing power dynamics, and giving representation to the marginalised. In different forms, whether using documentary material, improvisation, collectively devised scripts or authored texts, these artists are using theatre to scrutinise the values and hierarchies of Irish society. They might not have answers, but they are certainly asking the right questions.