Sarah, Coronet Theatre review - a one-man whirlwind |

reviews, news & interviews
Sarah, Coronet Theatre review - a one-man whirlwind
Sarah, Coronet Theatre review - a one-man whirlwind
Jonathan Slinger commands the stage in this dark, funny monologue
Thursday, 08 December 2022
High octane Jonathan Slinger as Scott
The American author of The Sarah Book, on which the monologue Sarah is based, is called Scott McClanahan, as is his main character, so it's no stretch to assume the novel is at least semi-autobiographical. And indeed Scott the author was married to a woman called Sarah, as is his fictional counterpart.
He seemingly did not make her happy, though he seems to have loved her with an all-consuming passion.
Out of this 2017 book, Oliver Reese of the Berliner Ensemble has created a bravura vehicle for the British actor Jonathan Slinger (pictured below right and main picture), an outstanding Richard III for the RSC, among his many roles there. Slipping onto the stage in a grey suit, little bow tie and sneakers, he unleashes a torrent of words for 90 minutes, mapping out Scott's particular circle of hell and peopling the stage with the key personnel in his life: Sarah and their two small children, his mother and father, best mate Chris, former pupil turned stripper Tiffany, even Mr King, the family's blind, mangey rescue pug. Slinger gives each character a distinctive voice — soft and almost fey for the women, big and booming for the men. The ailing dog speaks in gasps.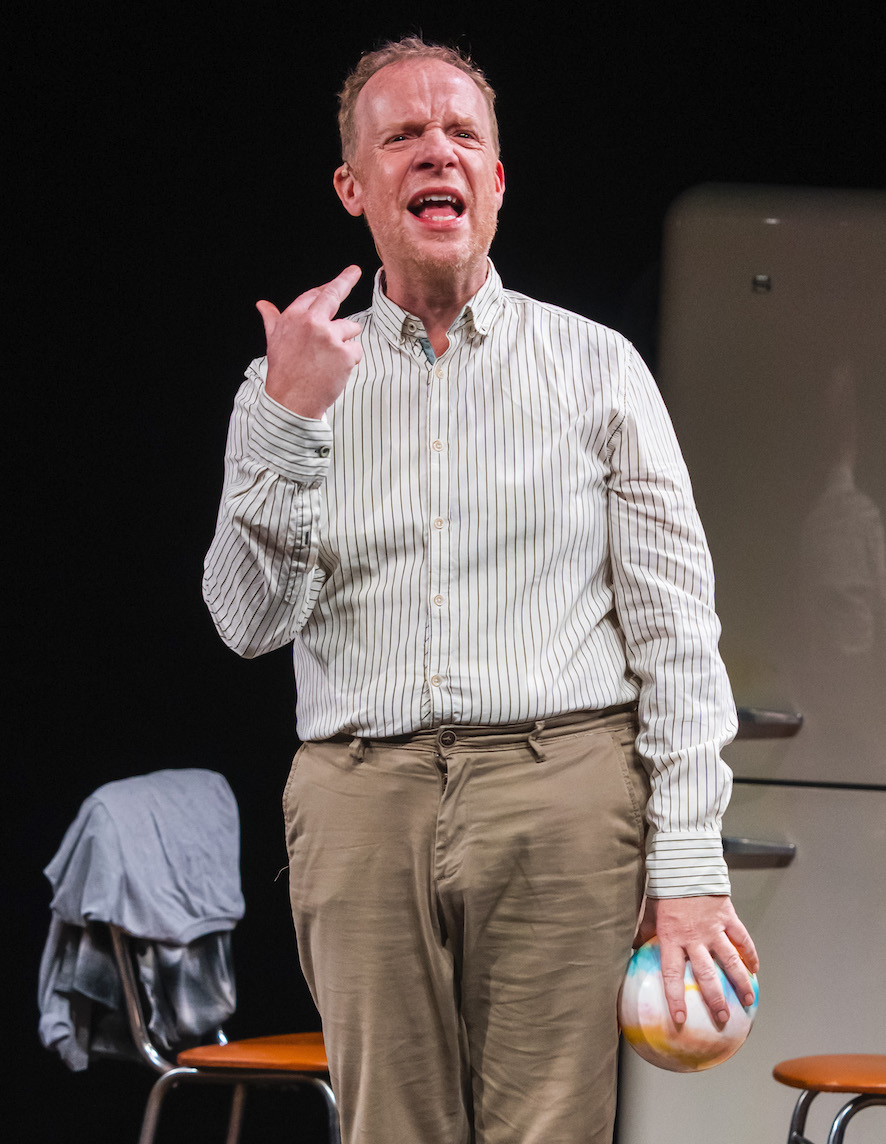 The narrative is a form of American Gothic, doing for West Virginia what Irvine Welsh did for Edinburgh. But Scott isn't into narcotics: his drug of choice is neat gin, stored in a two-litre plastic water bottle. He has one in his car, along with a real water bottle, plus a bottle of mouthwash and some standby gum for instant breath freshening.
Reese launches us straight into Scott's mania. His first line is: "I'm the best drunk driver in the world!" And so he proves, dodging a fine from a state trooper with a speed gun and weaving his way home. The punchline to this scene is both funny and shocking. Other drunken stunts include burning a bible and killing his computer, with its incriminating cargo of porn.
There are lighter episodes, such as the one where Scott decides to cheer up his nurse wife after a difficult day by creating a beach, with sand, in their living room. For this, Slinger switches to shorts and shades, one of several costume changes he makes in front of us, using a fridge as his wardrobe. His gift for comedy keeps things from veering over to the dark side too much — one of the funniest scenes is the conversation he has with two chicken wings (Scott's constant diet), acted out by his hands. Even the wings, though, in between nonsense squawks and gabbles, intone the word "Pain".
Mostly McClanahan piles grotesquerie on grotesquerie, as Scott descends so far into drunkenness that his marriage breaks and he moves out to live in his car in the Walmart lot. It's a good place to escape to, he tells us: the cops leave you, and the visiting prostitutes, alone. What Sarah thinks, other than distaste, is mostly a mystery; the spotlight is firmly on Scott, his pain and growing self-loathing, his obsession with death. The piece ends with a quote straight from the book: "if you live long enough, you start losing things. Things get stolen from you […} and finally you start losing yourself."
Things get stolen from you? Or you throw them away? What we aren't offered are insights into how Scott ended up in this nihilistic stew. Reese keeps in references to Scott's job as a teacher, but little else that illuminates who he is, other than a man desperate for freedom, even the freedom of self-annihilation. It's a solipsistic travelogue through a man's consciousness. Slinger pulls out all the stops to keep us enthralled with his high-octane performance, dancing, bouncing, crying; but I couldn't help feeling he deserved a richer character to inhabit.