The Pitmen Painters, Duchess Theatre |

reviews, news & interviews
The Pitmen Painters, Duchess Theatre
The Pitmen Painters, Duchess Theatre
Lee Hall's play about working-class miners turned amateur artists is sentimental and heavy-handed
Wednesday, 12 October 2011
Oliver Kilbourn (second from left) is played by Trevor Fox 'with all the fierce and focused intensity of the self-taught'
Is there something remarkable about a group of working-class men learning to paint? You may think there is, or you may think there isn't. You may think that anyone with very little formal education learning to do any of the things associated with High Art – even if the results are quite naïve – is, in itself, astonishing. Or you may not: give someone a brush, paints and a board and, your clear-eyed reasoning might tell you, either genuine talent emerges or it doesn't.
You may find yourself also wondering: is it a peculiar habit of English sentimentality to find the type of story embodied by Lee Hall's
The Pitmen Painters
so terribly moving?
The play has already been a smash, not just in London and Newcastle (where Hall's play and Max Roberts' production originated) but on Broadway – so, yes, it's an archetypal story of English working-class consciousness that travels well. Now it gets its first West End run and I'm in no doubt that, just like Hall's Billy Elliot, it'll be a smash all over again. But that doesn't necessarily make it that good.
It undoubtedly resonates for being a true story – a tale of 1930s Northumbrian miners who achieve some local success with their art group, even exciting the brief interest of a local modern-art-loving heiress (played in a rather shrill register by Joy Brook pictured below) who buys some of their work and who introduces them to the likes of Ben Nicholson. But its popularity must, I think, also be for the same reasons one might find a crudely written sitcom, with all its homespun philosophies and its moments of heightened drama, popular – though if this one were written by John Sullivan or Marks and Gran it would surely be a lot funnier and far less reliant on crude verbal mix-ups à la Mind Your Language.
There appears to be some confusion about the role of paternalism in this community where dignity in equality counts for everything
But the latter is exactly what kept coming to mind when confronted by gag after tireless gag that focused on the lower classes being continually miffed by what the upper classes were saying and vice versa. And while some of the jokes raise a titter, some are truly terrible. An invitation by the art teacher, Robert Lyon – played by Ian Kelly as an insipid, rather spineless do-gooding toff – to look at a Titian, gets the tired response "Bless You." It's a knowing nod to what makes for humour in this laboured and heavy-handed play (why use a light touch when you can ram your message home with a clunking ham-fist? – though, God knows, the reliable theatre-laughs did keep coming).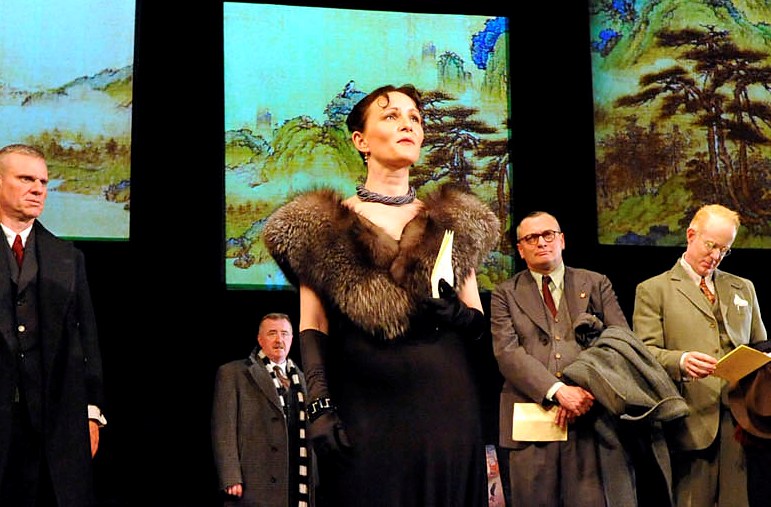 And the play is truly at odds with itself. The characters, not just the working-class ones, are treated as ciphers, more or less. I don't mean there's no attempt at fleshing out some of their emotional complexities – there is – but that the characters are all subordinate to Hall's message about New Jerusalem and its betrayal by successive governments, both Tory and Labour. I wanted to know what happens to these characters, particularly to star pupil Oliver Kilbourn – played, with all the fierce and focused intensity of the self-taught, by Trevor Fox – but instead, at the end, we get slide-projected messages telling us, for example, that almost 40 years after the play's time span Woodhorn colliery got shut down, and that, in 1994, the Labour Party got rid of Clause Four. This clumsy tagging on of material (Gary McCann's set – a dark and perfunctory school room – allows for overhead projectors on which such historical nuggets can be read, literally as if you were at a lecture) attempts to give the play emotional weight that it hasn't actually earned itself. And it falls woefully, preachily flat.
And yet a speech by Kilbourn, that the men should not be patronised as working-class specimens who can paint – no one, he observes, would marvel at a bunch of posh people who could wield a brush with the same level of competence – is so at odds with what Hall himself is doing by trying to pull at our heartstrings. What's more, there appears to be some confusion about the role of paternalism in this community where dignity in equality counts for everything. Why is Lyon, for instance, implicated as an exploiter simply because he gets a professorship on the back of his work with the group? He stands accused of abandoning them, yet these are all grown men, many of whom have their own responsibilities and families. Was he meant to look out for them for life?
There's a lot of speechifying about the power of art, with its ability to elevate and inspire, but only one speech genuinely moved me, and this is given by one of the quieter characters in the group. David Whitaker's Jimmy Floyd delivers a touching monologue about working down the mines as a child, and it's one of the few that actually draws you in to the interior of these men's lives. And yet, when it's over, it's undercut in an offhand way that's meant to raise another laugh. Under Roberts' direction comedy and pathos rub up against each other in ways that can feel somewhat strained.
A speech by Kilbourn, that the men should not be patronised as working-class specimens who can paint, is so at odds with what Hall himself is doing by trying to pull at our heartstrings
rating
Explore topics
Share this article