Once a Catholic, Tricycle Theatre |

reviews, news & interviews
Once a Catholic, Tricycle Theatre
Once a Catholic, Tricycle Theatre
Kathy Burke's businesslike revival of religious satire
Thursday, 28 November 2013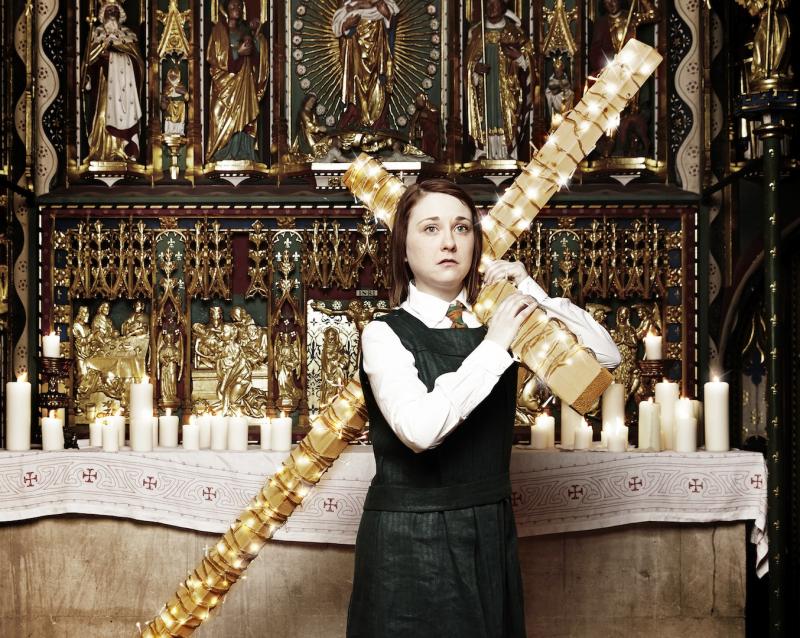 Molly Logan plays the innocent convent schoolgirl Mary Mooney
When Mary J O'Malley's play had its premiere in 1977, it must have seemed quite shocking – vivid descriptions of sex and the male anatomy (albeit only in the minds of boy-obsessed 15-year-old schoolgirls at a convent school), spiteful nuns and the occasional fruity language. Nearly four decades on, though, audiences at Kathy Burke's businesslike production – the first major revival of a play that has become a touring warhorse - wouldn't bat an eyelid at any of this.
And, post-Catholic Church sex scandals, even a joke about nuns and rape has lost its power to shock (although it remains tasteless).
We are in the convent school of Our Lady of Fatima (like St Trinian's but with religion) in 1957 in Willesden, north-west London (then an area with a large number of working-class Irish immigrants), where the girls are preparing for their end-of-year exams and the nuns breathe fire and brimstone, particularly on the subject of virtue. While Mary Gallagher (Katherine Rose Morley) and Mary McGinty (Amy Morgan) have boyfriends with whom they play around, their virtuous classmate Mary Mooney (Molly Logan) doesn't even know the facts of life.
He said what we did was a 20th Century Fox... Umm, no - a J. Arthur Rank
She causes a scandal during a Catechism class when she innocently asks the priest, Father Mullarkey, what the sin of Sodom is. The nuns mark her down as of loose morals, but the opposite is true; even when she has an accidental fumble on the sofa with Mary McGinty's boyfriend, Derek, she isn't entirely sure if she has lost her virginity. "He said what we did was a 20th Century Fox... Umm, no - a J. Arthur Rank."
Mary Mooney is too poor to join the rest of the class on their pilgrimage to Fatima, a fact that brings out contempt rather than Christian sympathy from the nuns, and when she announces she wants to become a nun herself, the school's headmistress reacts with chilling dismissiveness. A vocation, it seems, is reserved for people like her. The play still has some interesting things to say about religion – its hypocrisy, its appalling treatment of women, its ridiculous obsession with sex – but the issues surrounding the Catholic Church really have moved on to much darker subjects.
There is fine acting from all the cast and Burke gives them full rein to bring out the comedy, particularly Sean Campion as the florid Father Mullarkey, and Clare Cathcart and Cecilia Noble as two nasty nuns who haven't an ounce of godliness in them, while Calum Callaghan does a nice turn as the sexual chancer Derek, who might be thick but who delivers a faultless deconstruction of the arrogance of the Catholic Church. The three Marys, meanwhile, are played as engaging and entirely believable 1950s teenage girls, cheeky and knowing one minute, vulnerable the next.
But I suspect that unless you were brought up as a Catholic, lots of the jokes (including why, for instance, all the girls in the class are named Mary) and the more subtle religious references - and therefore much of the play's sly humour - will be lost on you. A pleasant evening with lots of laughs, none the less.
The play still has some interesting things to say about religion but the issues surrounding the Catholic Church really have moved on
rating
Share this article