Motown the Musical, Shaftesbury Theatre |

reviews, news & interviews
Motown the Musical, Shaftesbury Theatre
Motown the Musical, Shaftesbury Theatre
Jukebox musical has jettisoned its juice somewhere over the Atlantic
Gordy-an knot: Berry Gordy's Motown commemorated onstage
Shorter feels longer in the West End iteration of Motown the Musical, a minor-league jukebox venture that became a Broadway hit courtesy of an unbeatable back catalogue – keep those hits coming! – and a well-drilled production that at least delivered what it promised on the tin.
Despite trims for London, the production feels more attenuated and looks markedly less polished, even if there remains little doubt that people who go expecting to rock out to the world-class sequence of hits won't hesitate to do precisely that.
On second viewing, the relentless gesture of self-hagiography that the show represents – that's to say Motown begetter Berry Gordy, now 86, paying prolonged tribute to himself – also proves harder to take: one's impatience mounts with every contrived book scene when what we really want is to return to the music and hear that particular soundscape to our lives intact and not piecemeal. (The show – no surprise – is adapted by co-producer Gordy from his own memoir.)
At least Gordy offers up a vivid image of himself in UK-based American actor Cedric Neal, whose vocals are among the undeniable assets of a production from director Charles Randolph-Wright that in other areas could use a healthy dollop of Broadway pizzazz. Though Gordy's narrative is too scattershot to give individual cast members much of a chance to shine, a gleaming-eyed Lucy St Louis (pictured right) nonetheless projects a peculiarly syrupy Diana Ross – the part that brought Valisa LeKae a 2013 Tony nod in New York – while even Tony nominee Charl Brown, as Smokey Robinson, seems oddly becalmed this time around.
The plot, such as it is, manufactures scant drama out of an anxious Gordy pondering whether the mogul will actually participate in a 25th anniversary celebration of Motown in California in 1983. Cue much hand-wringing (at one point, performer Neal takes his angst down into the stalls) and the tale told via flashback of the emergence of a cultural phenomenon that is announced without being explored.
One understood far more of the shifting fashions of American music from the Shaftesbury's previous tenant, Memphis, than is ever apparent here. Indeed, a scene indicating the white community's resistance to so-called "race music" could have come directly from that earlier Tony-winning musical, which replaced actual Motown music with a faux-version of its own.
The potted account of American history on offer here is pretty silly even by the standards of the jukebox genre – thank heavens for newsreel footage! – so that the various societal fissures and movements (oh, and assassinations) of a tumultuous age are paid perfunctory lip service up to and including a feel-bad first-act finale that seems to want to pay homage of some sort to Hair.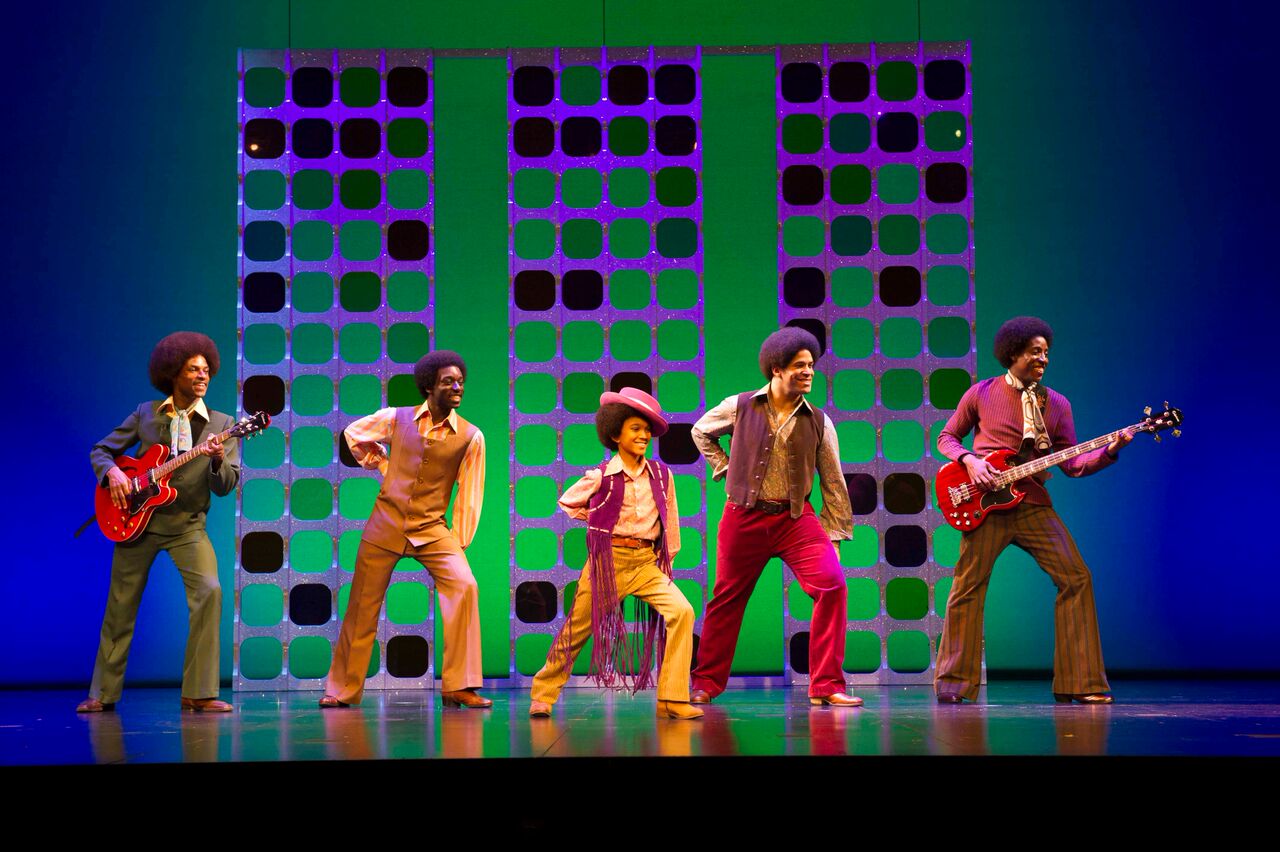 All the more reason, then, to tap one's feet in impatient anticipation of the next golden oldie as one band or soloist or another moves swiftly in and out of view: blink and you may miss Martha Reeves or Stevie Wonder ("that little Stevie is a wonder," we are helpfully told), though you can't not clock the tiny dynamo that is Eshan Gopal's Michael Jackson. The youngster certainly has the energy for the part, if not quite the voice. (The Jackson 5, Motown-style, pictured above.)
Elsewhere, the mechanical efficiency of the Broadway production isn't equalled here, and you rarely feel – as you did, for instance, throughout the largely-wonderful Beautiful – that the American creators have invested in the material afresh. The metallic black logo visible upon arrival is more striking than the sets that follow, though the wizardly Natasha Katz's lighting does as much as any single aspect of the show to generate drama when all around it is going slack.
Leading man Neal, too, sustains admirable drive and focus up to and including a climactic song of self-reckoning that isn't strong enough to merit its position of choice near the ending. After that, we're back to "Ain't No Mountain High Enough" and "Dancing in the Street", which is to say the music that the audience came to hear. In which case, why bother with a story at all?
You rarely feel that the American creators have invested in the material afresh
rating
Explore topics
Share this article