The Motive and the Cue, National Theatre review - theatrical titans face off |

reviews, news & interviews
The Motive and the Cue, National Theatre review - theatrical titans face off
The Motive and the Cue, National Theatre review - theatrical titans face off
Play about a onetime Broadway smash surely has Broadway in its sights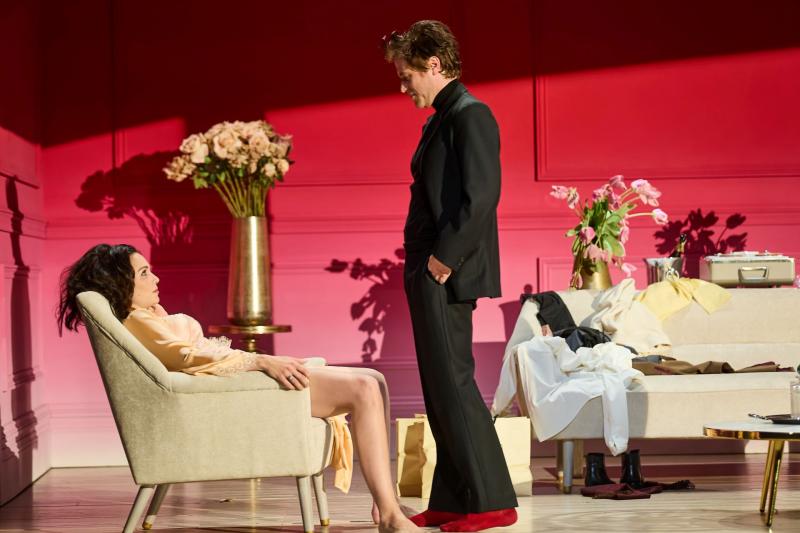 Private lives: Tuppence Middleton and Johnny Flynn as Liz and Dick in 'The Motive and the Cue'
Plays about the theatre are many and varied, from Gypsy and Noises Off to the numerous Shakespeare works that absorb theatrical performance into their very fabric.
Jack Thorne's The Motive the Cue immediately takes pole position amongst recent entries in this genre in telling of a onetime Broadway venture – Richard Burton's career-defining Hamlet in 1964, directed by John Gielgud – that surely is itself in time destined for Broadway. By the point, look for various performances, and Sam Mendes' direction, to have been laurelled along the way: the National Theatre hasn't hosted so purely entertaining a new play since, well, Mendes' own production of The Lehman Trilogy nearly five years ago.
It's not that the play is perfect: there are some exposition-heavy passages that are inevitable, I suppose, at a time when fewer and fewer playgoers will know who Burton was, much less Gielgud. (I count myself hugely fortunate to have seen both men on stage twice, though I missed the notorious Burton-Elizabeth Taylor Private Lives.) And several of the supporting players are so rich (and so luxuriantly cast) that you want more from them than the play allows.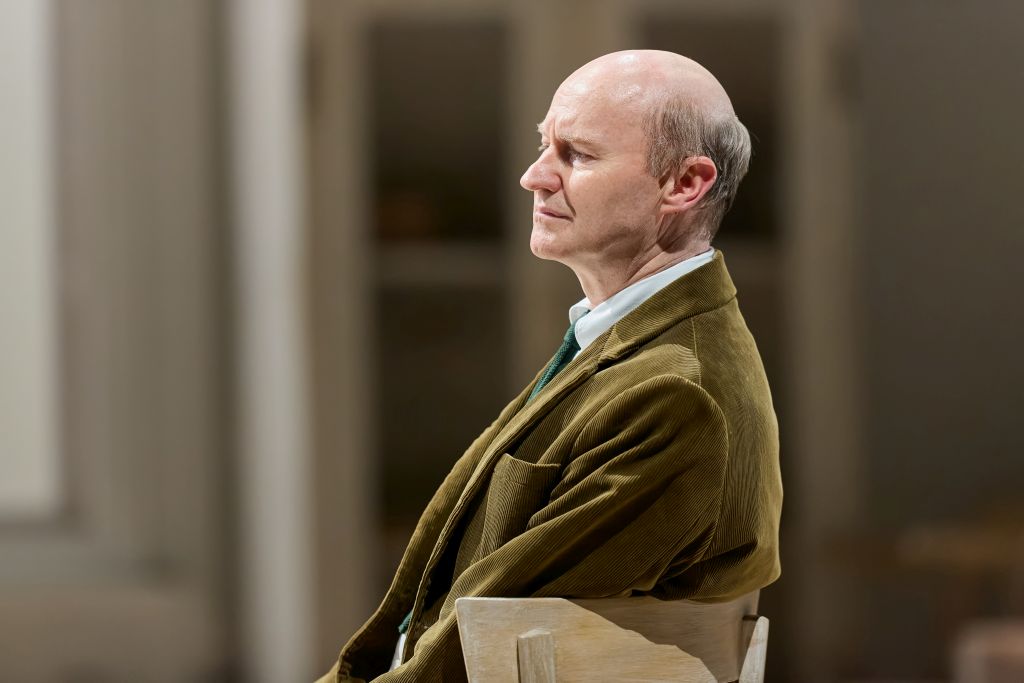 But when Thorne tightens his focus on the central agon between a onetime Hamlet of legend, Gielgud, putting the mercurial Welshman two decades his junior through his paces, you sense a production alive and alert to theatrical possibility then and now. And in Mark Gatiss (pictured right) and Johnny Flynn, neither of them particularly known as Shakespeareans outside this play (Flynn did play Lady Anne to Mark Rylance's Richard III), Mendes offers up the double-act of a spectator's dreams. In a play about the weight of tradition and theatrical legacy, these two leading man do their real-life forbears proud.
Gatiss, in particular, looks and sounds uncannily like Gielgud without ever allowing that supremely elegant actor-knight's signature vocal flutiness to tilt toward caricature. Age 60 at the time of the play, Gielgud knows how it feels to be yesterday's news and has accepted the task of fashioning from Burton "a new Hamlet for our times" – one that will lend this most momentous of tragedies a rehearsal room feel, much as Jamie Lloyd's recent reclamations of Ibsen and Chekhov have in their way done, as well.
That's all well and good except that Burton doesn't like being given line readings and, in any case, is confronting the twin temptations of liquor and Liz (his wife, Elizabeth Taylor, fresh from the release the previous year of Cleopatra). Hovering minxlike around the periphery, Taylor is kept away from her husband's rehearsals even as she flirts with the odd cast member, Luke Norris's William Redfield chief among them. Arguably the play's greatest challenge, Taylor is played with commendable freshness and wit by Tuppence Middleton as a screen siren well aware of her own limitations. Gielgud may look back towards a Hamlet of his that belongs to another life, but Taylor herself admits to feeling as if she may have peaked age 12 with National Velvet. Both artists know the ficklessness of fame, and Gatiss's supremely moving Gielgud is accompanied throughout by the quiet anxiety that comes from wondering whether your time is up. (The remarkable Gatiss, it should be said, is in his prime.)
The play is sourced in Redfield's Letters from an Actor (he was Rosencrantz in the production) and in Richard L Sterne's account of a production that, astonishingly, exists in its entirety online. Indeed, it's great fun to look at the YouTube recording having seen this play so as to clock the carry-over, or not, between some of the offstage tensions and a finished product that remains the longest-running Hamlet in Broadway history.
Burton was nominated for a Tony but the sole actor from the cast to walk away with that prize was the Polonius of Hume Cronyn, a role to which Allan Corduner brings his customary zest: Cronyn, glimpsed here as a quipster of sorts, remains best-known known to many as the male half of the legendary acting couple that included his Oscar-winning wife, Jessica Tandy. Janie Dee (pictured left) makes an eloquent, eye-catching Eileen Herlie, who had the unusual distinction of playing Gertrude this time round and in the 1948 film of Hamlet for which Laurence Olivier – a lifelong colleague/competitor of Gielgud – won an Oscar.
Es Devlin, teaming with Mendes for the second play in a row following Lehman, is on top form once more, moving between the long shots of an antiseptic rehearsal room that at one point finds the cast toasting to their Broadway fortune and then going in for close-ups on the Burton-Taylor hotel suite. An intimate encounter elsewhere brings a tearful Gielgud into contact with a rentboy who offers a much-needed hug, and we zoom in, as it were, on such crucial moments as Burton's "To be or not to be", which Gielgud has urged the actor to play truthfully and without bluster: Burton's own difficult family history is seen here to inform Hamlet's murderous one.
The invaluable Flynn, whose star turn in Hangmen remains one of the most underappreciated stage performances in recent years, knocks that speech out of the part, Burton's faux-bravura from earlier – "Friends, Romans, cunts," he is heard to bray – replaced by a connection to the text that conjoins the artist and his art. The scene gives evidence as to why we engage with the theatre (or any art form) to begin with, in the hope of a shared humanity that sharpens the senses of all involved.
Flynn may not possess the vocal rumble (who does?) that I shall forever associate with this actor's Dr Dysart in Equus and King Arthur in Camelot back in the day, but he possesses the needed charisma and quicksilver wit in spades and plays together beautifully with Middleton as dual occupants of a spotlight that will struggle to accommodate two such singular talents at the same time. Shakespeare's text serves throughout as ballast, much as Mozart's music so famously did in Amadeus – an earlier National play about the artistic process. And Handel's Zadok gets pressed into service for a rousing flourish which is welcome but in no way necessary. The Motive and the Cue generates sufficient excitement not to require chivvying along from an outside source: the play and its players are in every way the thing.
Gatiss's supremely moving Gielgud is accompanied throughout by the quiet anxiety that comes from wondering whether your time is up
rating
Explore topics
Share this article