Man of La Mancha, London Coliseum review - historical work better left in the past
Man of La Mancha, London Coliseum review - historical work better left in the past
Kelsey Grammer leads a muddled musical take on Don Quixote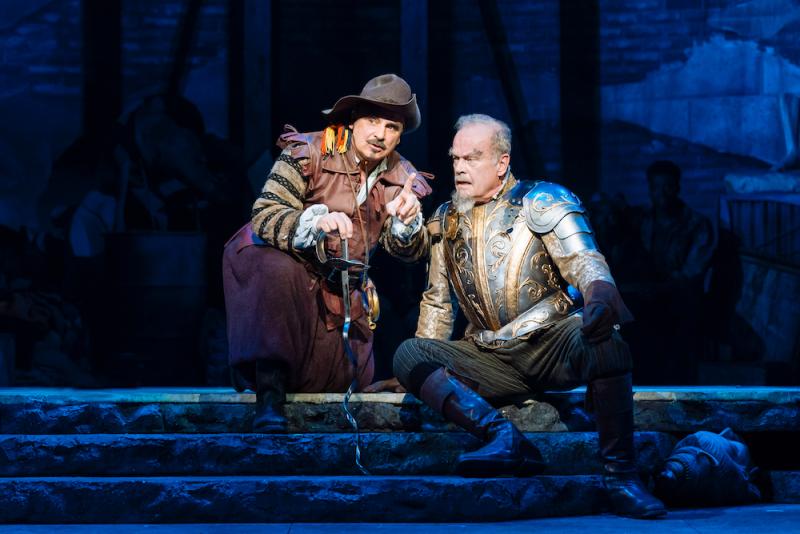 A knight person: The loyal Sancho (Peter Polycarpou) advises his master Don Quixote (Kelsey Grammer)
English National Opera continues its run of semi-staged musicals, in commercial collaboration with Grade Linnit, with a revival of this vintage oddity.
Mind, commercial might be a stretch, as Dale Wasserman, Joe Darion and Mitch Leigh's 1965 work – it quickly transpires – is a tough sell, particularly in a quixotically cast revival that struggles to find a coherent tone.
Loosely inspired by Don Quixote, the densely layered musical sees author Miguel de Cervantes (Kelsey Grammer) awaiting trial by the Spanish Inquisition. When put on trial by his fellow prisoners as well, with his precious manuscript threatened, his defence is via a play: the tale of a country squire, Alonso Quijana, who's read so many chivalric stories that he believes he's an actual knight-errant called Don Quixote of La Mancha, and so sets out adventuring with his squire Sancho Panza (Peter Polycarpou).
Don Quixote's exploits include losing a duel with a windmill, mistaking an inn for a castle and its innkeeper (Nicholas Lyndhurst) for a lord, and revering serving girl/prostitute Aldonza (Danielle de Niese, pictured below right, sharing the role with Cassidy Janson) as his beloved lady Dulcinea. Meanwhile, the squire's family hope to bring him back to his senses via the machinations of Dr Sanson Carrasco (Eugene McCoy), who's engaged to Quijana's niece.
Director Lonny Price further complicates the premise by dressing the prisoners in contemporary clothes, rather than 16th-century, while James Noone supplies an artfully dilapidated cavernous dungeon, with graffitied aphorisms and handy props. These prisoners then become participants in the play, donning period costumes, although there's no compelling link between their real selves and performances (other than the rather problematic choice to transform a Muslim inmate into the Catholic priest).
An unfortunate by-product of the contemporising is that it places the show in an unforgiving modern context. Lines like "Facts are the enemy of truth" of course have immediate Trumpian resonance, as does this indulged, delusional man, brimming with self-importance, who wreaks havoc – particularly on those not protected by his privilege and gender. Grammer (whose own right-wing stance is well documented) playing the role with his American accent and a certain vain pomposity makes the parallel harder to shake.
The protagonist's stirring idealism is perhaps better sold through the music than the clunky book – particularly in the piece that has since become a popular standard, "The Impossible Dream". Facing a tough vocal test here, Grammer just about passes, though there are certainly moments of straining to reach the unreachable notes, and reprises of his numbers by the able ensemble show a clear difference between his carrying a tune and the kind of rich tone and fully supported singing that rings out in the Coliseum.
There's no such problem for opera star de Niese, who also eagerly embraces the theatricality of her feisty hooker with a heart of gold – perhaps too much, in places, as her colourful emotions are slightly at odds with the other performances. For example, the always wonderful Polycarpou gives Sancho a twinkly understatement, expressing affection for his idiosyncratic master while winking at the audience (though there's really nowhere else to go when staring down the barrel of lyrics like "Pluck me naked as a scalded chicken").
Lucy St Louise, Minal Patel and Julie Jupp – as the squire's niece, padre and housekeeper respectively – strike an effective balance between wry and sincere, as showcased in the witty confessional number "I'm Only Thinking of Him"; Patel, too, finds real soul in the lilting "To Each His Dulcinea". But we go broad again for Emanuel Alba's camp barber and Lyndhurst's nonetheless amusing turn as a soused innkeeper "knighting" Don Quixote while skipping around in his nightshirt (pictured above left). Already teetering on the edge of Monty Python, with its cod-heroic dialogue and flamenco-dancing horses, the show here goes full Spamalot.
Various aspects need interrogation in a 2019 production, including Don Quixote making patronising proclamations about the othered gypsies – who use their exotic sexuality to cover thieving – and most glaringly the characterisation of Aldonza. Though continually harassed, she initially has a scrap of agency and dignity. That's torn away when, in an unnecessarily long and exploitative sequence, she's sexually assaulted, beaten unconscious and (it's strongly implied) gang raped by the inn's patrons, all as a result of joining Don Quixote's break from reality.
How, then, is an audience meant to embrace the themes of individualism and the power of the imagination? Or the theory that it's actually the rest of the world that's mad? Price's production edges around those ideas uneasily, placing more emphasis on the big set-pieces – including an overly choreographed fight scene – and the comedy, though the latter is distinctly uneven.
The castanet-and-guitar-heavy, Spanish-inflected music is put across with great relish by the ENO Orchestra conducted by David White, elevating a score that actually contains just a couple of indelible numbers, and there are some striking visuals, like the huge flight of stairs that descends when the fascist guards want to haul a prisoner in for questioning. But, overall, this is really only one for the musical theatre completists.
The show teeters on the edge of Monty Python, with its cod-heroic dialogue and flamenco-dancing horses
rating
Share this article