'Making it new' - Blake Morrison on adaptation, and how his new play came to life |

reviews, news & interviews
'Making it new' - Blake Morrison on adaptation, and how his new play came to life
'Making it new' - Blake Morrison on adaptation, and how his new play came to life
The writer on working with Northern Broadsides on 'For Love or Money'
Wednesday, 13 September 2017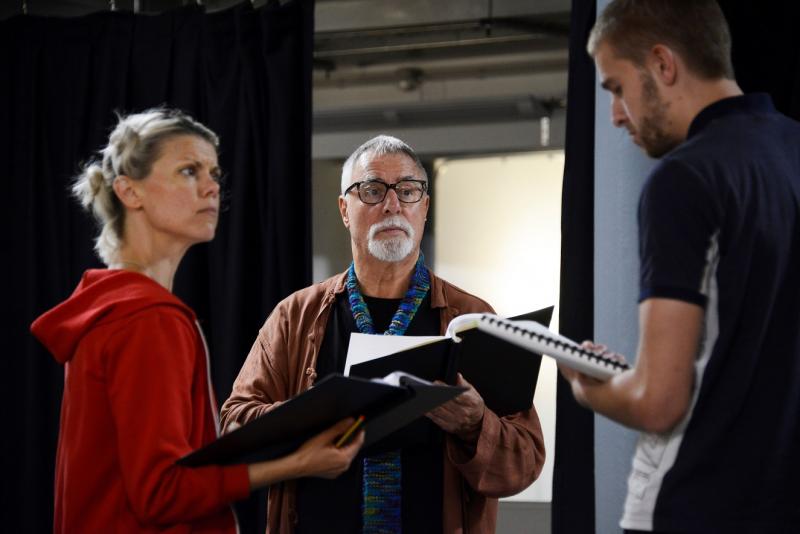 In rehearsal: Sarah-Jane Potts, Barrie Rutter and Matt Booth
Is there anything more terrifying for a playwright than the first day of rehearsals? For months, even years, you've been working and reworking the text, saying the words aloud to yourself in an empty room and imagining the actors saying them to a packed auditorium.
Now at last you're here, for the read-through, with the cast,
director
, costume designer, choreographer, lighting man, deputy stage manager, etc, arranged round a big table. It ought to be exciting. It
is
exciting. But also scary. The dialogue, in others' mouths, sounds different from how it sounded in your head. Less crisp, less tight, less witty. You wonder whether the actors now regret having agreed to take part.
Of course, they're probably paranoid as well, worrying whether you think they're up to the job. And the director has plenty of worries too: about the wisdom of casting x as y, about the lack of rehearsal time, about the volume of advance booking for the show. It's only when the read-through's over, and the first few scenes are rehearsed, and people start getting to know each other, that everyone relaxes a little. Perhaps the play can be made to work, after all. Maybe audiences will even laugh at the jokes. (Blake Morrison, pictured below by Nobby Clark)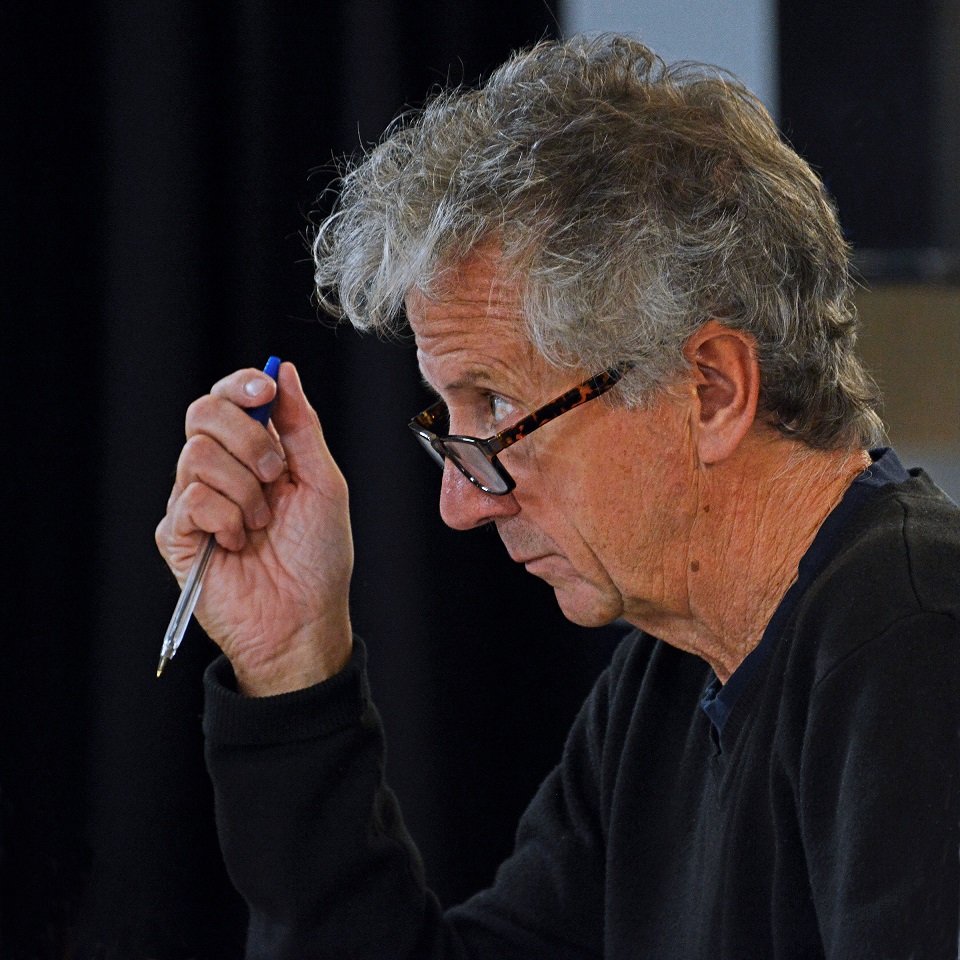 I wouldn't describe myself as a playwright but since the mid-1990s I've adapted a number of classics for the theatre company Northern Broadsides, taking originals written in German, Italian, Russian and Ancient Greek (plus one, in Geordie, that required only minor adjustments) and rendering them into modern English – usually spoken with a Yorkshire accent. For all but one of those plays, the director has been Barrie Rutter, who set up the company; with several he has also taken the lead role. I know his values and I know how he works. Still, after 20-odd years I still find the first day of rehearsals an ordeal.
Our latest venture is For Love or Money, a version of a little-known French comedy by Alain-René Lesage, called Turcaret – a play so savage in its attack on corruption and greed in 18th-century Paris that the establishment tried to prevent it being staged (it came off after only seven performances). Barrie urged me to make it new and I've done so, with key roles – a chevalier, a marquis, a baronne and a so-called "tax farmer" – replaced by characters more likely to be found in a small Yorkshire town in the 1920s: a bank manager, a war widow, a doctor's son and a sheep farmer. To set the play just ahead of the 1929 Crash felt right; setting it in the 1980s or '90s would have meant modern technology (computers, mobile phones, etc), which Barrie prefers to keep offstage. The plot remains much the same as the original, with everyone on the make and no redemption. But the comedy's a little dafter, and the tone more burlesque than social-realist.
Rather than telling his cast what's wanted, Barrie shows them - which facial expression to use, which gesture to adopt, which word to emphasise
Though I've watched Barrie directing many times, I never tire of it. Rather than telling his cast what's wanted, he shows them – which facial expression to use, which gesture to adopt, which word to emphasise. "Watch your pronouns," he'll shout. "In real life we inflect naturally – it's only actors who put the stress in the wrong place." In the first week of rehearsals, he'll use full sentences: "Remember to react – in a play none of the characters know what's going to happen." By the second week, it's more a matter of slogans: "Stichomythia!", "Machine-gun!", "Dance the idea!".
Some dramatists hand over perfectly formed texts and stay away from rehearsals. Others sit through every one, meddling and tinkering. I come somewhere in between. To start with, I'll be there every day, cutting and rewriting as required: it's important to stay flexible – you learn things about the characters once actors inhabit them. By weeks two and three, I'm less hands-on but there'll still be an email every evening, asking could I add a sentence here (to help the timing of an exit, say) or avoid a repetition there. In week four I'm back for the dress rehearsal and first preview. Then it's press night the week after. All scary, in their different ways, as is the next big moment, when the play moves to a different venue. For a touring company like Northern Broadsides, each new theatre brings a new challenge, whether the type of stage (proscenium arch, in the round, etc) or the age and expectations of the audience.
There's a part of me that wants to be there for every performance. But I'll ration myself to the first night in Halifax and the last in York, with the odd catch-up in-between. Any more I'd drive myself mad. It's not as if a long run reduces the tension. The nerves are always there.
This will be Barrie's last tour with Northern Broadsides: after 25 years, fed up of haggling for proper funding from the Arts Council, he'll no longer be running the company. I'm sure he'll continue acting and directing. But this could be our last collaboration. Which gives the play a poignant subtext – less a farce, more a tragi-comedy.
For Love or Money opens September 15 at the Viaduct Theatre, Dean Clough, Halifax, then touring the UK to 2 December
Still, after 20-odd years I still find the first day of rehearsals an ordeal
Explore topics
Share this article