King Lear, Northern Broadsides, Touring |

reviews, news & interviews
King Lear, Northern Broadsides, Touring
King Lear, Northern Broadsides, Touring
Jonathan Miller's vivid new production puts Lear in a Yorkshire accent
The getting of wisdom: Barrie Rutter as Northern Broadsides' King Lear
Jonathan Miller's new King Lear is rustic to its core, spoken in broad Northern accents, and the whole production could be packed onto a travelling theatre's wagon and taken around Britain pulled by a couple of shire horses.
Yet rather than cost the play its gravitas, this approach proves to be an inspired way to enhance some vital truths about it. Much more than a tragedy about a king who betrays his responsibility, King Lear emerges as a painful revelation that the notions of responsible fatherhood and family love are not at all timeless givens, but rather recent inventions. Shakespeare's Lear is more of an old dog trying to stay in control as younger animals threaten him, only conscious of the natural order.
The entire tragedy starts with inarticulacy, Cordelia's inability to express the love she feels for her father
There's also nothing overtly lyrical in the play's general tone; some of the greatest language spews out of irascible old Lear often when he is beside himself with anger. In fact, the entire tragedy starts with inarticulacy, Cordelia's inability to express the love she feels for her father.
It seems that Dr Miller has seized upon this strange verbal inadequacy in the royal household to launch his deceptively down-to-earth, vernacular reading. There's barely more scenery than the three poles needed to sling a theatre curtain, a handful of lights and some puffs of dry ice, and the actors look as if they've got a Tudor dressing-up basket backstage (design and lighting are by Isabella Bywater and the wizard Guy Hoare). Certainly, this is not the place to find tragic grandeur.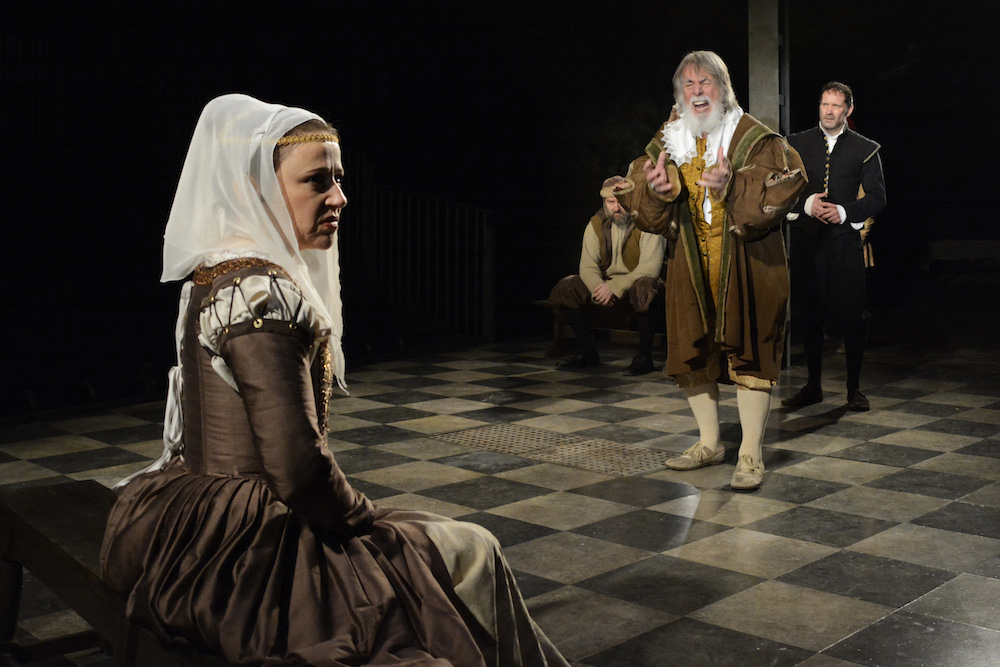 But how cunning the overall effect is, how wise about this monumental, painful play. Shaggy, bearded Barrie Rutter plays Lear like a self-important local civic chief, an old man who barely thinks before he loses his rag. One can quite see that his 100 knights, led by his example, would also cause havoc everywhere they go.
One might therefore feel some sympathy for Goneril and Regan, played by Helen Sheals (left, with Rutter) and Nicola Sanderson like landladies of rival hostelries, no nonsense in them, strutting about in full rights of possession, and intimidating their menfolk into silence. Their row about the number of Lear's disorderly knights seems to well up initially from reasonable annoyance at having to housekeep for so many oafs, but then their tongues run away with them to utmost cruelty, ungoverned by any moral intelligence.
So Miller's production doesn't tack at all towards grandiose political parallels. Rather, it seems like a medieval folk tale, presented with a Cordelia-like plainness. Lear is a fool, and his Fool damn well tells him so, eyeballing him – he's been a Fool as long as Lear's been a king, two old men, by now mutually dependent, and Fine Time Fontayne is terrific, with his smeary whiteface and red hat and his incisive delivery (pictured right, with Rutter).
John Branwell's Gloster is another excellently pitched performance, playing a little fat unpretentious man who automatically obeys when the king commands him, but puffs himself up privately at having begotten two sons (Lear has only the three daughters, of course). Yet Gloster's idea of fatherhood is as unnourished as Lear's, and you are left to wonder if it is just a rottenness in nature rather than nurture that turned Edmund bad while Edgar is so good (pictured below left, Rutter and Branwell).
This theme of King Lear's, the suggestion that men's nature is wild and immoral in its raw state, is a little let down by Al Bollands's rather dull Edmund, who above all should embody this. He looks nattily Blackadderish but does not convey the pagan evil within him. Otherwise, Northern Broadsides' actors contrive to both light up their absorbing characters in the Lear tragedy and yet also suggest Dr Miller's subtext of unlettered folk-actors knowing what's what and telling it in the market square, whether in Halifax or Kingston (where I was).
Rutter's Lear is no giant; but he rises, bit by bit, from Captain Mainwaring pomposity to an affecting final scene, a man of no imagination finally coming into consciousness via the affliction of dementia. Jonathan Miller's may be an unorthodox way to reach humanity's tragedy, but the destination is reached, with a clear, insightful simplicity.
Jonathan Miller's may be an unorthodox way to reach humanity's tragedy, but the destination is reached
rating
Explore topics
Share this article