The Magistrate, National Theatre |

reviews, news & interviews
The Magistrate, National Theatre
The Magistrate, National Theatre
Pinero's farce of Victorian manners entertains but needs more zip
Thursday, 22 November 2012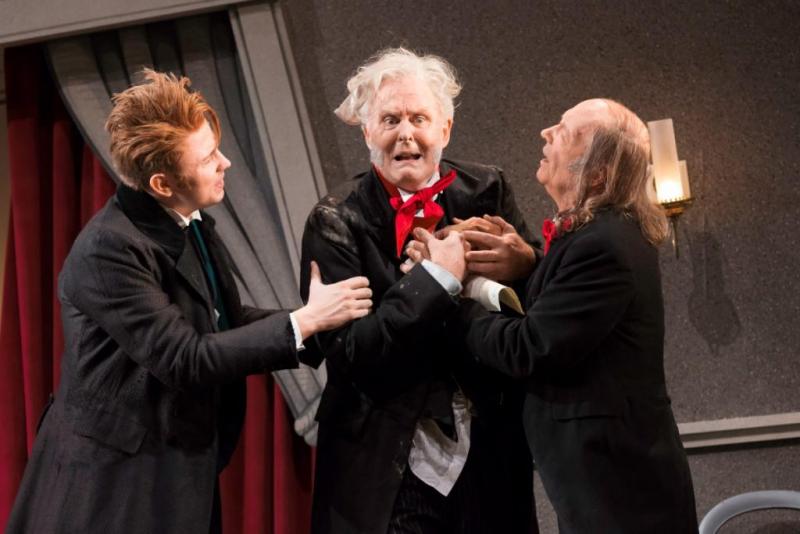 'The Magistrate': everybody has some explaining to do
You don't see much of Arthur Wing Pinero's considerable output these days. Although he was largely contemporaneous with Oscar Wilde, George Bernard Shaw and Gilbert and Sullivan, whose works have stayed the course, his plays have not, with just a few exceptions.
But in that weird way these things sometimes happen, it seems Pinero is undergoing something of a resurgence (in London at least), as a production of
The Second Mrs Tanqueray
has just finished at the Rose Theatre in Kingston and the Donmar Warehouse is to stage
Trelawny of the Wells
early next year.
The Magistrate will be even less familiar to many theatre-goers than the above two plays, and Timothy Sheader's production, with text revisions by Stephen Beresford, serves as an entertaining introduction to it, even if they have taken a few liberties.
Sheader has given this gentle Victorian farce a look of Restoration comedy
We're in 1885 London, in the drawing room of the upstanding London magistrate Aeneas Posket (John Lithgow) and his wife, Agatha (Nancy Carroll, pictured below with Lithgow), a widow who lied about her age when they married. She's 36, and not the 31 she told him, which means she has had to lie about her son's age too. Cis (Joshua McGuire) is really 19, not the 14 he thinks he is, which explains his confusion as to why he's "swelling with agitation" around his 16-year-old piano teacher (Sarah Ovens) and why he has a taste for cigarettes and port purloined from his stepfather's dinner table by the servants.
Then, with the arrival of Agatha's recently jilted sister, Charlotte (Christina Cole) and the return from India of Cis's godfather, the plain-speaking Colonel Lukyn (a wonderfully bluff Jonathan Coy), the deception is about to be unmasked. Agatha, with Charlotte in tow, goes to the hotel room where Lukyn is dining with Charlotte's intended, Captain Vale (Nicholas Burns) to warn him not to mention dates - cue some confusion about years and stoned fruits - when Lukyn comes to dine with the Poskets the next evening.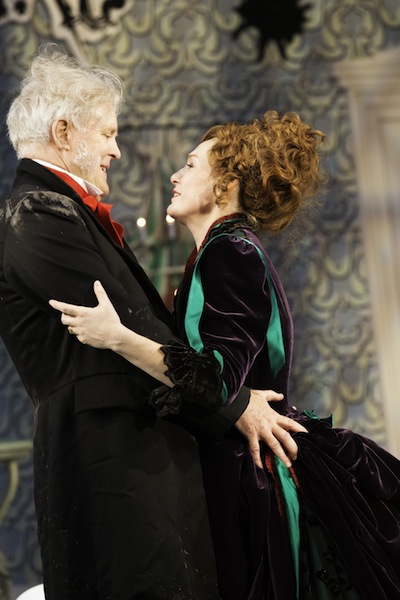 Posket has been lured to the dubious Hotel des Princes, too, very much against his better judgment, by Cis, who keeps a room there. The police raid it for after-hours drinking: cue alarums, false identities and people not being where they should be and seeing their social downfall looming. The women and the soldiers are arrested, while Posket and Cis manage to leg it with the police in hot pursuit through London streets.
The chase is described by Lithgow in a monologue with some very entertaining mime as the second act opens. If he seems a little too hesitant as the "meekest, mildest" Posket in the first act, he certainly becomes more animated here. In fact the second act as a whole has, thankfully, a good deal more zip than the first as events move to Posket's court, and everybody has some explaining to do while trying to save their bacon, or somebody else's.
Sheader has given this gentle Victorian farce a look of Restoration comedy, expressed in a magnificent design by Katrina Lindsay, with everybody sporting peruked hair and the pleasing addition of six candy-striped Dandies to the cast. Their musical interludes tell us the subtext of the play; don't tell even little lies and be kind to your servants are lessons to be taken away from the evening. Lindsay's set, meanwhile, is a character in itself - it uses the Olivier's space and revolve to their fullest and, as different scenes emerge from beneath the stage, they resemble a pop-up book, with the walls' jagged edges forming the contours of the London skyline.
The Gilbert and Sullivan-esque songs by Richard Stilgoe and Richard Sisson are great fun, Carroll and McGuire are terrific and there's solid support from a hardworking cast.
Everybody has some explaining to do while trying to save their bacon, or somebody else's
rating
Explore topics
Share this article