Magic Goes Wrong, Vaudeville Theatre review - entertaining spoof |

reviews, news & interviews
Magic Goes Wrong, Vaudeville Theatre review - entertaining spoof
Magic Goes Wrong, Vaudeville Theatre review - entertaining spoof
Mischief Theatre and Penn & Teller mash-up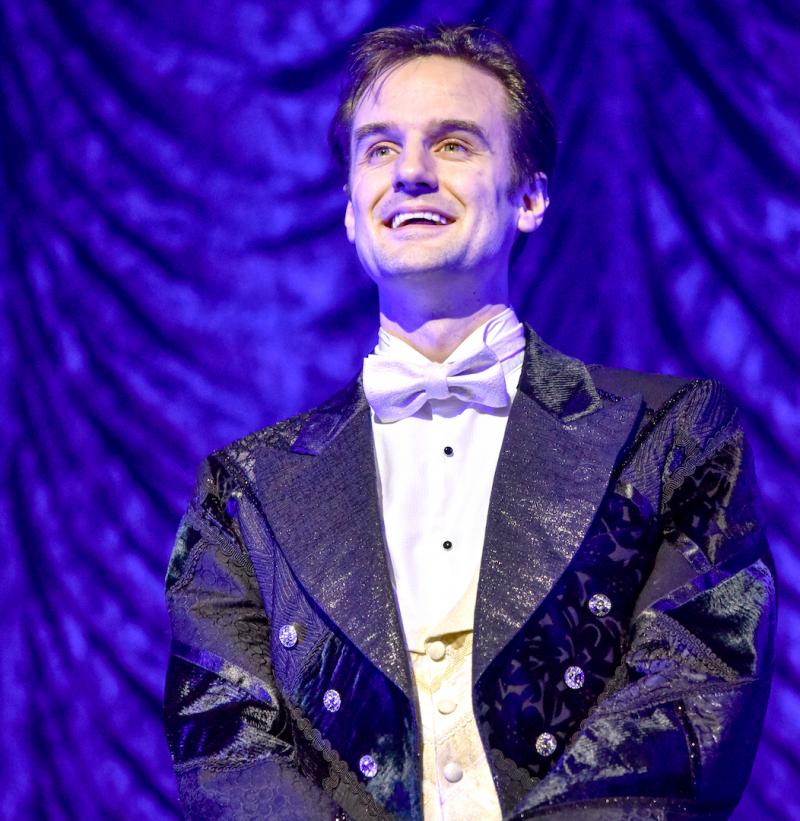 Henry Shields as Sophisticato, a magician with daddy issues
Mischief Theatre's "Goes Wrong" oeuvre is now well established: broad humour combined with physical comedy and slapstick mishaps. Magic Goes Wrong, though, is the company's first outside collaboration – with American magicians Penn & Teller, themselves purveyors of fine spoof comedy of the ta-da! kind.
The set-up here is that we are at a fundraiser for Disasters in Magic charity, prompted by our host, Sophisticato (Henry Shields, main picture) recently losing his magician dad in a freak accident involving an attic stuffed with his props. As you might expect, the evening is on a steady downward spiral from the off.
As the acts come and go, we see they are all equally inept – a danger to themselves and anyone near them. The Blade (Dave Hearn) really shouldn't be allowed near any object sharper than a spoon, the clairvoyant Mind Mangler (Henry Lewis) couldn't deduce his own name, let alone anyone else's, and Bär and Spitzmaus (Bryony Corrigan, pictured below) take on physical challenges far beyond their capabilities.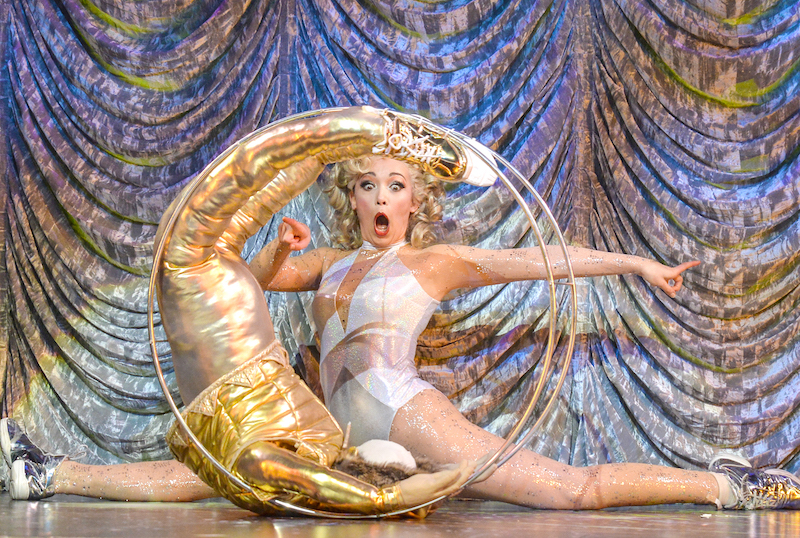 The props get in on the action too, with the teleprompter causing a few ruderies to be uttered, while every plank of wood or seemingly benign object is in reality a death trap – and if you're a fan of doves this may not be the show for you.
Peppered among the deliberate cock-ups are some genuine magic skits, including a very good sleight-of-hand trick involving a glass box of water, while a sawing-someone-in-half routine is given a fresh twist (still gory, though) as it's presented after being given a health and safety makeover, which works brilliantly. And, good sports they are, professional magicos David Copperfield and Derren Brown appear in video cameos.
The format of the show means that the creators don't have to do any character development much beyond referring to Sophisticato's daddy issues and the Mind Mangler's loneliness, while the women on stage are mostly adjuncts to the main story. Perhaps that's a subtle nod to the fact that women in magic acts are mostly there to assist the male magicians and look pretty...
And magic going wrong being the whole point of the show means there's no jeopardy – as there would be in a straight act – but that doesn't detract from the fun. There's much to enjoy here, particularly in the interaction with the audience, and despite one or two second-half longueurs Adam Meggido directs with aplomb.
Magic Goes Wrong is at Vaudeville Theatre, London, booking until 31 May 2020
Peppered among the deliberate cock-ups are some genuine magic skits
rating
Share this article