Groan Ups, Vaudeville Theatre review - adding ambition and emotion to the mix |

reviews, news & interviews
Groan Ups, Vaudeville Theatre review - adding ambition and emotion to the mix
Groan Ups, Vaudeville Theatre review - adding ambition and emotion to the mix
The ever-likable Mischief Theatre's latest stretches them in new if still-unfinished ways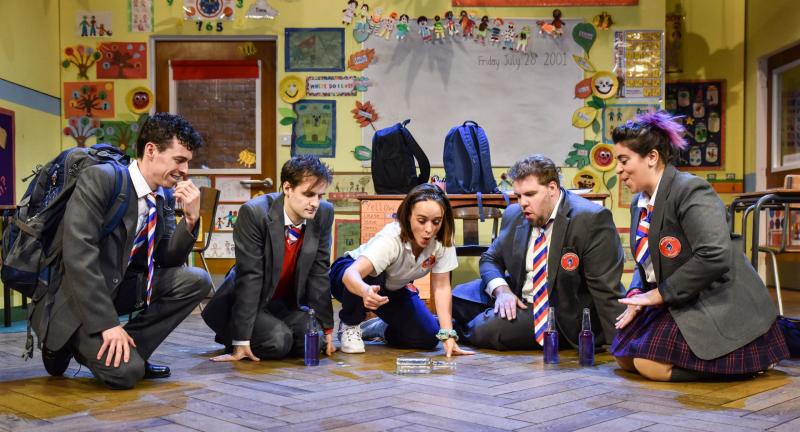 Growing pains: the cast of 'Groan Ups' enters adolescence
If ambition were all, Groan Ups would get an A*.
Marking the first of a very welcome three-show residency at the
Vaudeville Theatre,
this latest from the cheerfully unstoppable Mischief Theatre tethers the japery we have come to expect from the team behind
The Play That Goes Wrong
–
mishaps aplenty, verbal hi-jinks
–
with a newfound interest in the human psyche. Think of an amalgam of, say, Alan Ayckbourn mixed with Feydeau, and you get somewhere near the landscape of a terrifically likable, if overlong, study of how we got here from there. Or how they got there, that is, as regards the five
classmates
whose lives are tracked over three decades across as many scenes.
The troupe met at LAMDA and have been fhave been friends and colleagues ever since, moving on from pub theatres and Edinburgh to take up apparently permanent residency in the West End and storm Broadway and, soon, the BBC, who will air The Goes Wrong Show later this year. All credit, then, at this decisive career point to find them pondering to what extent their trademark style can accommodate heartache and pathos, too. The short answer is very well indeed, and the result would be even better if the director Kirsty Parkwe Ward's staging were more rigorous and the narrative more firmly grounded in logic.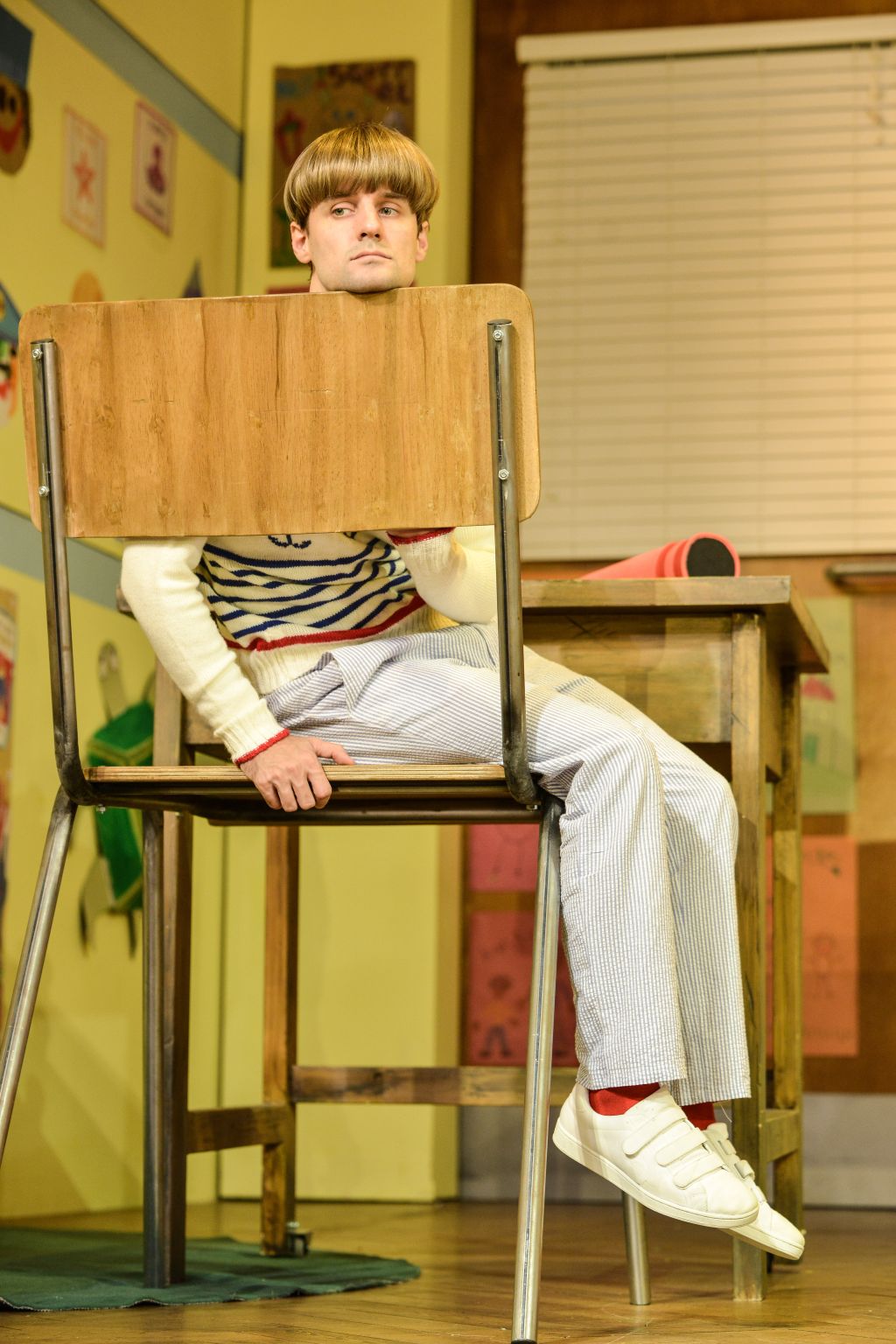 As it is, I winced a fair amount to start with and, after the interval, smiled throughout while even feeling the odd lump in the throat – which is some way from the Mischief Theatre norm. It's little surprise, I suppose, that this crackerjack team of actors, three of whom (the two Henrys, Lewis and Shields, alongside Jonathan Sayer) double as the play's writers, should come into their own the nearer they get to playing the ages they are now. Come the second act, set at a reunion at the school where we have encountered them previously age six and on the cusp of adolescence, the play really finds its groove. That much is true even if the pivotal plot point, I fear, never makes a lot of sense.
The overextended opening scene introduces us to the school's "yellow group" and to a round-robin of shared intimacies, missed connections and defining character traits that will inform them across the years. Archie (Shields, pictured above) is the Disney-loving flamboyant one, who exults in being "precocious" and delivers a quick kiss towards the unsuspecting Spencer (a roaring-voiced Lewis), an unabashed lug who has a thing for glue, a dubious relationship with morality and an unfortunate habit of flattening any hamsters in his way. (The world being what it is, he needlesst to say ends up running a pet store.)
The self-dramatising and very posh Moon (Nancy Zamit, in wonderful form) likes indulging in excessively theatrical phone calls, while Katie (Charlie Russell, resembling by play's end a younger Kristin Scott Thomas) projects a future where she is married to Archie and has a "crippling mortgage". Moon tells the nebbishy, speech-challenged Simon (Sayer) that they might just possibly get together "when we're, like, super-old, like 30". But time, as it will, plays its customary tricks and finds a newly-smug Simon arriving for the reunion with a model girlfriend (or is she?) in tow only to be reduced to a near-suicidal wreck before a revelations-packed denouement plays itself out.
True to their classical training, the actors seem to be relishing the chance to investigate the psychic debris of life to a degree irrelevant to the physical mechanics of The Play That Goes Wrong, and more than once, I had visions of this exact same ensemble doing Uncle Vanya. (Lewis defty fields one particular line near the end worthy of Chekhov.) The text is sufficiently neatly laid out – things mentioned at one point find a comic or dramatic payoff later on – that you wish they'd pull back on the gross-out aspects (a character's prevalence, say, for poo) and tighten the grip whereby we chart Moon's journey from daddy-obsessed rich kid to a preening fantasist married to an (unseen) man whom she met on a Tinder date in Tibet: Zamit is nowhere more priceless than when she admits in passing that she likes "accidentally deep boys".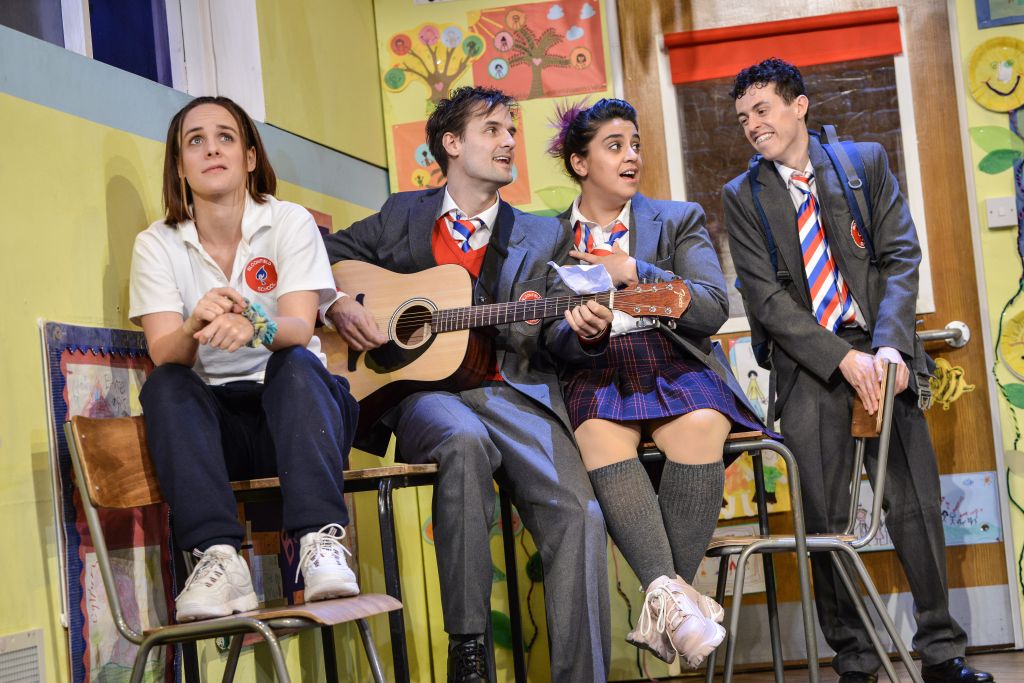 At this point, having birthed four West End plays, the company feel like old friends, and it's a continual delight to chart the ease they communicate with one another and from there to an audience. Any worries that the invaluable Dave Hearn might here have been written out of the equation are dispelled as soon as he crops up to commandeer the second act as a wildly hearty classmate, Paul, who has ended up at the wrong address. (He still finds time to do a walrus impersonation, fear not.)
And as Fly Davis's set morphs with the passing of the years – there's a neat sight gag involving the now grown-up Spencer and a pint-sized chair – you do come to feel for the characters, however much common sense sometimes works against the story: Archie, among other things, seems far too airily refined to be interested in the loutish Spencer, whose appeal in any case is presented via authorial fiat. Still, both actors land their climactic if overly sentimental encounter, and Bryony Corrigan is terrific as the deliciously-named Chemise (no relation to Comedy About a Bank Robbery's Caprice), whose cover is blown but not before the actress is given a scene-stealing chance to shine. What now awaits is a more keen – dare one say ruthless? – directorial eye and a pruning scissors (the post curtain call concert needs to go), at which point a sweet evening might itself morph into a lastingly memorable one, as well.