Macbeth, Young Vic |

reviews, news & interviews
Macbeth, Young Vic
Macbeth, Young Vic
Shakespeare seems ripped from the headlines in a bold new production
The man who would be King: Anna Maxwell Martin's Lady Macbeth crowns her husband (John Heffernan)
Events have overtaken this Macbeth, dramatically heightening its queasy topicality. Not just brutal beheadings and torture, but the cost and collateral damage of conflict without end, and the scourge of a tyrant slaughtering his own people, strike one anew in the wake of recent debate. Carrie Cracknell's interpretative, modern-dress production traps us in a military underground bunker, drained of light and colour – a Hell as acutely psychological as it is physical.
Not for nothing does the doomed Macbeth fear the "diseased mind".
Cracknell is not in thrall to the text, briskly stripping it back to an economical two hours. Building on their Medea at the National, she and co-director Lucy Guerin give dance equal weight, with the witches' otherworldly movement spilling into and eventually overwhelming Macbeth's realm. Yet the action remains grounded, illustrating the usurper's unravelling mental state – PTSD as communication with the supernatural. Appropriately for this portrait of murky modern warfare, victory is complex, grisly and hollow. Corpses, including those of children, fill the suffocating space, and Macbeth must literally pluck the crown from Duncan's dead body.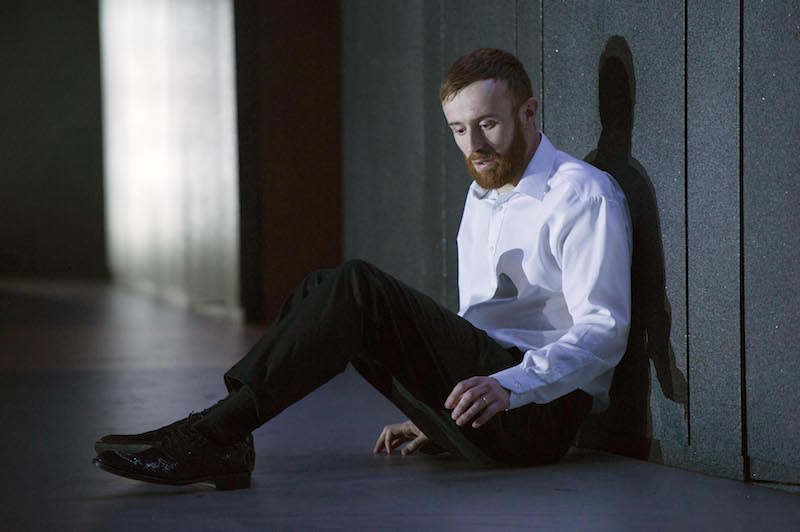 John Heffernan (pictured right) sensitively tracks Macbeth's descent into darkness, from reasoned man of dawning ambition to traumatised, isolated paranoiac. His suppression – urged by his wife (Anna Maxwell Martin) as part of a manly façade – leads to uncontrollable outbursts; in contrast, Macduff (Nicholas Burns) takes time to process the tragic loss of his family. "All my pretty ones," Burns murmurs in heartbreaking bemusement. Interestingly, this Macbeth understands war is fought as much in public perception as on the battlefield, a lesson learned from preening Duncan (also Burns, one obstacle reborn as another), swanning in after the military work is done for a credit-snatching photo op.
Maxwell Martin (pictured below with Heffernan) is most effective when joining this increasingly desperate charade, urging her distracted husband to keep up appearances, but elsewhere she struggles to root her Lady Macbeth's drive. It doesn't help that the speed of her delivery renders every other word inaudible. She does benefit from the addition of dance – in the sleepwalking scene, she chillingly enacts the same movements again and again, trapped in a cycle of perpetual torment. The accusation that "Macbeth does murder sleep" becomes a prophetic curse.
The weird sisters (Ana Beatriz Meireles, Jessie Oshodi and Clemmie Sveaas) are aptly named, juddering and thrashing in angular unison as they impart fair words from a foul source. Guerin's striking movement is effective in both echoing and driving the emotional undercurrents, and the juxtaposition of expressive and naturalistic provides sharp humour, but the dance-focussed climax is overlong. It's anchored, at least, by the sterling contributions of Prasanna Puwanarajah, whose excellent Banquo brims with warmth and intelligence, converted in death to devastating insight.
Lizzie Clachan's grey tunnel to nowhere is appropriately claustrophobic, and its sliding panels produce memorable tableaux of cold horror – supported by the flashes of Neil Austin's lighting design. However, the latter also plunges the actors too often into gloom. While Macbeth cries "Let not light see my black and deep desires", viewers may wish they could see more – details are lost in shadow. In fact, the same could be said for some of the characters' emotional arcs, occasionally buried beneath rather than realised by stylish ideas. But perhaps that's Cracknell's intention for an atmospheric if elliptical journey through the shadows of the soul.
This Macbeth understands war is fought as much in public perception as on the battlefield
rating
Explore topics
Share this article