First Person: theatre director Christopher Haydon on how the Rose Theatre, Kingston, can bloom anew |

reviews, news & interviews
First Person: theatre director Christopher Haydon on how the Rose Theatre, Kingston, can bloom anew
First Person: theatre director Christopher Haydon on how the Rose Theatre, Kingston, can bloom anew
The former artistic director of the Gate Theatre moves his theatrical vision further west
Monday, 13 September 2021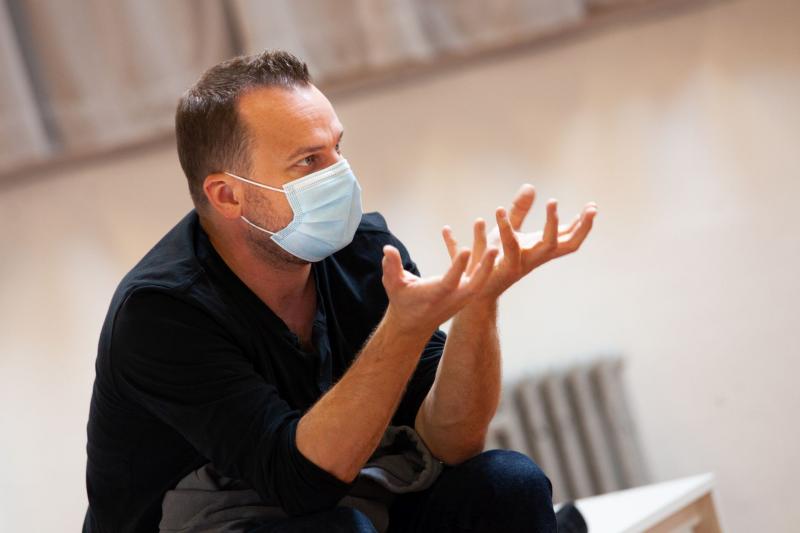 To life: Christopher Haydon in rehearsal for 'Leopards'
Programming a theatre during a pandemic has been like trying to nail jelly to a set of constantly moving goalposts. Government indecision meant that reopening dates shifted repeatedly while the configuration of our auditorium kept changing as we tried to adapt to ever-evolving regulations around social distancing. Even our audience – once so familiar to us – became an unknown quantity.
We put in place rigorous safety measures, but would that really provide enough reassurance to people who had spent more than a year sheltering at home? Would anyone want to come back?
On top of all this, was an even more fundamental question: what on earth will people want to see when we do reopen? Will audiences look for comfort in the familiar and the unchallenging? Or will they still be prepared to take the kinds of risks that are essential if theatre as an art form is to continue to evolve and grow?
These questions felt especially acute for me given that I only took over as artistic director of the Rose Theatre in January last year. I had planned to spend 2020 seeing as much as possible at the venue in order to get a really good sense of who was coming through our doors and what they were responding to. However after less than three months in to the job, we were all told to go home indefinitely. So it became clear that I was going to have to find a very different way of deciding what to do when, eventually, we were able to reopen.
I often think of an artistic director's job in terms of a Venn diagram. In one circle are all the things I love: the stories I want to tell and the artists I believe in. In the other circle are all the preferences and interests of the audience: the shows they want to see, the people they want to watch performing them, and the job is to find the overlap. There are things I would love to do but which I know would bomb at the box office. Equally, there is no point pandering to what you think an audience wants – it would lead to creative inertia. But if you can find that overlapping sweet spot, then you should be able to create work you really believe in which keeps the box office happy and healthy.
Lockdown, alas, prevented me from exploring what lies within that audience circle. Of course, I can go over sales patterns for previous shows, I can learn from the expertise of staff members who have been around a lot longer than me and I can have conversations with individual audience members. But none of that substitutes for watching a show with people and feeling, at a visceral level, how they react.
Adding to the challenge is the fact that, with 822 seats, the Rose is one of the five largest non-commercial producing theatres in London. In normal times, to fill an auditorium that size you would need, at least, a familiar title that will appeal to a mass audience. When the theatre was opened by Sir Peter Hall back in January, 2008 he intended it to be a home for revivals of major classics – it's no surprise that his opening production was a starry Uncle Vanya followed several years later by Judi Dench returning to play Titania after a half-century away from the part in A Midsummer Night's Dream.
But plays like these have big casts and that is financially untenable when a socially distanced auditorium reduces capacity by two thirds. So the puzzle ends up being: we don't know when we will open, or how many seats we can sell. Even if we did, we don't know whether people will come and, if they do, what we will realistically be able to put on for them. If it sounds nightmarish, that is because, in theory, it is. But, you know what? When the rules become impossible, your only option is to throw out the rule book out and improvise.
I'd always assumed that new writing – with an unknown title and writer – would be a tough sell in a venue like the Rose. But with a reduced auditorium and the subsequent need for smaller casts, it quickly became clear that new plays would be the only way to go. So it made complete sense to me to program two new plays in my first season: Alys Metcalfe's mischievous and provocative look at sex, power and consent, Leopards (co-starring Saffron Coomber, above, photo c. TheOtherRichard); and Colin Teevan's sharply witty reinvention of Greek mythology Seven Pomegranate Seeds.
As audience confidence gradually (and hopefully) returns, we will return to non-distanced auditoriums and bigger shows. Our Christmas show, Beauty and the Beast will bring together a professional cast with 46 young people in a festive extravaganza that puts our community at the heart of the story. It has been a Rose tradition to make its Christmas shows like this for many years and it is one of the things that drew me to the venue – there is no better way to ensure that an audience has ownership over what you do than by putting them at the core of the work.
Beyond that, we round the season off with two radical reinventions of classic stories. Writer/director Jeff James will revive his adaptation of Jane Austen's Persuasion. Reconceived in the 21st century, it was a massive hit when it ran at the Manchester Royal Exchange a few years ago. I will then direct Steve Waters' contemporary reimagining of The Caucasian Chalk Circle. Set in a refugee camp on one of the Greek islands, it offers an inspiring story of hope for a shattered world.
This show will, I hope, be emblematic of my ambitions for the future of the Rose. I want to create productions that take familiar stories and make them feel box fresh. And I want to produce work that brings our community together with the best theatre makers in the business. By doing so, I hope the Rose will find its place right in the centre of that diagram – combining widespread popular appeal with visionary theatricality.
When the rules become impossible, your only option is to throw out the rule book out and improvise
Explore topics
Share this article