Edinburgh Fringe 2015: Walking the Tightrope/Maddy Anholt/ Phil Jerrod |

reviews, news & interviews
Edinburgh Fringe 2015: Walking the Tightrope/Maddy Anholt/ Phil Jerrod
Edinburgh Fringe 2015: Walking the Tightrope/Maddy Anholt/ Phil Jerrod
From the world's biggest and best arts festival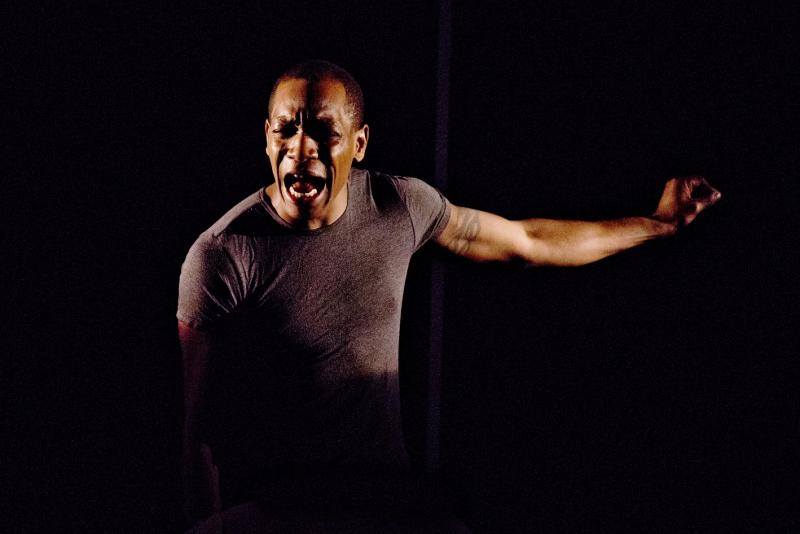 Syrus Lowe, one of a very strong cast of four in 'Walking the Tightrope'
Walking the Tightrope, Underbelly Potterow ★★★★
Subtitled The Tension Between Art and Politics, this collection of eight short plays on the subject of censorship was prompted by the boycott of an Israeli hip hop troupe at this venue last year. Do we have the right to stop art happening if we are offended by the artist or the content of their work, or where their funding comes from? Or is freedom of expression an absolute right?
The standard of writing is consistently high (not always the case in a portmanteau work), much aided by a terrific cast of four and slick direction by Cressida Brown. I particularly liked the two plays that bookend the production – Mark Ravenhill's What Are We Going To Do About Harry? and Tickets Are Now On Sale by Caryl Churchill.
In the former, Melissa Woodbridge is the rich benefactor of a theatre company run by Naomi Ackle's artistic director, who is changing the way the company is governed. When the white woman learns that her son, Harry, will be longer be automatically given a placement in the company by the young black director, liberal support turns into a very hasty check of her privilege. Who comes out the winner, and how, is very wittily schemed.
In Churchill's piece about how commercial branding has started to infect the arts, Ackle and Syrus Lowe skilfully deliver an intricately worded and complicated piece in which a scene is replayed several times, each time with more of the script replaced by product placements and branding buzz words.
Other standouts are Julian Stolzenberg and Ackle as Good Muslim, Bad Muslim in Omar Al-Khalry's thoughtful play of that name, which examines the false duality that many are trying to ascribe to those following that faith; while in Exhibit A, in which a rape is enacted by Lowe's performance artist on Woodbridge's victim, Neil LaBute is on typically provocative form. His starting point was Exhibit B, Brett Bailey's installation about a human zoo, which was cancelled in London last year after protests.
Other contributors are Timberlake Wertenbaker, Ryan Craig, Gbolahan Oblsesan and Tim Fountain, part of a thought-provoking collection of work.
Until 31 August
Maddy Anholt, Gilded Balloon @ Dome ★★★
About a year ago, actor and performer Maddy Anholt became rather bored with seeing her friends' Facebook pages "polluted with engagements and baby photos", and, with her 30th birthday in the not too distant future, decided to find herself a life partner. In Diary of a Dating Addict she recounts how she become obsessed with the idea, and recreates four of her worst experiences.
Some of this works very well indeed; her impersonation of a rapping and self-obsessed rude boy shows off Anholt's acting talents at their best. The others, a coked-up City trader who talks in cliches ("wanker banker banter boy"), a nervous Australian guy and a fitness fanatic, work less well, as they feel like stereotypes – even if those men actually are like that in real life. More variety and shorter excerpts from her bad dates would have given more light and shade to the hour.
But Anholt has a nice turn of phrase and is an engaging stage presence, and her guide to online dating – there's an app for everything, including 3ndr for those hooking up for a threesome – is invaluable.
Until 31 August
Phil Jerrod, Pleasance Courtyard ★★★
Phil Jerrod's debut show, Neanderthal, is a very well-constructed hour in which he rails against everything from growing up in the country without wifi, how he hates his parents' generation for having it all, to the futility of modern life.
Jerrod performs at a terrifically fast pace and high volume, and often goes off into surreal fantasies (one prompted by the idea that you can use every part of a pig), but brings things back into the room with decent callbacks or by interacting with an audience member, not always fruitfully. There's a lot of bombast and some lengthy rants from a very physical performer, but he's really just an anxious man, he tells us – "I still worry that we're going to fuck up the Olympics."
His feeling for language and command of the stage makes this an accomplished debut hour, and I suspect we'll be seeing a lot more of Jerrod.
Until 30 August
Neil LaBute is on typically provocative form
Explore topics
Share this article