Driving Miss Daisy, Wyndham's Theatre |

reviews, news & interviews
Driving Miss Daisy, Wyndham's Theatre
Driving Miss Daisy, Wyndham's Theatre
West End transfer of Broadway star vehicle is short of gas
Thursday, 06 October 2011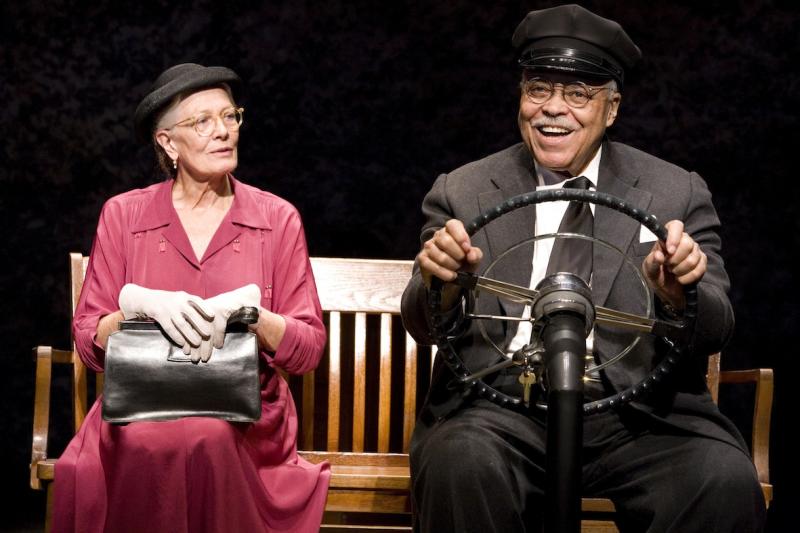 Going nowhere fast: James Earl Jones and Vanessa Redgrave in 'Driving Miss Daisy'
You can accuse Alfred Uhry's 1987 play Driving Miss Daisy of many things – being overtly sentimental is top of the charge sheet – but you certainly cannot claim that it's a case of false advertising.
Even if, like this critic, you missed the original stage version or any of its revivals, not to mention the Oscar-winning movie, it's painfully clear from the opening scene in which the heroine is forced to hire a chauffeur that this is not just precisely but wholly a play about Miss Daisy being driven. With the, excuse me, Rolls-Royce casting of Vanessa Redgrave and James Earl Jones, it redefines the phrase "star vehicle".
Redgrave is the title character, the 72-year-old, wealthy, Southern Jewish matron who, we discover, has just totalled her Packard to the horror of her insurance company and her son Boolie (Boyd Gaines). Tight and upright, she bristles at the notion that she will have to rely upon someone and relinquish her independence but she has no choice in the matter. And when Boolie discovers that elderly, straight-talking chauffeur Hoke (James Earl Jones) used to drive for a mutual friend who was a judge, the deal is done.
Confronted by an African-American man, principled liberal Daisy exclaims that she's not prejudiced in so staunch a manner that it's immediately obvious that the remainder of the play has just been signalled. You need no crystal ball to spot that she is, as expected of a character we first meet in 1948, rather more prejudiced than she thinks. And, furthermore, you know the journeys of the play will create a journey towards understanding, acceptance and friendship.
And so it goes, with not one surprise all night. Daisy's froideur thaws and she begins to allow Hoke to help her. And, wouldn't you know it, their inter-racial relationship mirrors the black civil rights movement gaining traction in Georgia as the (in)action proceeds through the 1950s and 1960s up to a fundraising dinner for Martin Luther King that Daisy intends to attend.
The only reason that the evening keeps moving is the work of the two leads
With a time span of two decades covered in a running time of around 80 minutes, it's unsurprising that the snapshot-like scenes are more of a series of sketches than a developed play. Nor are matters helped by John Lee Beatty's spare yet still cluttered set, especially his confused creation of the all-important car in which the bulk of the play is set.

The wooden bench and chair that suggest the car's back and front seats are completed by a realistic steering column with functional wheel and the stylistic confusion between the two speaks volumes about the production. Wendall K Harrington's limp projections across the back wall switch uneasily between direct representations of locations visited and more suggestive images of mood. Aiming for both the literal and the metaphorical, David Ebsjornson's production fully achieves neither and winds up feeling generalised.
The only reason that the evening keeps moving is the work of the two leads. James Earl Jones, who memorably shook the rafters as Big Daddy in Cat on a Hot Tin Roof at the Novello in 2009, damps down his sonorous bass trombone of a voice. His Hoke is a cunningly slow-paced operator, a move that adds welcome wit to a sentimental role of an non-intellectual but wise man whose exasperation is, guess what, a cover for generosity of spirit.
Redgrave, too, carves something touching out of a painfully obvious role. She gives Daisy a wicked gleam but it's her physicality that impresses most. At 74, she can give comic zest to a mere shrug of dismissal with a balletic sweep up through her entire body. The contrast between that and her increasingly defiant, frightened stoop of old age is genuinely touching. Together they bring lustre to material that rises – is that the word? – to a finale of almost indecent sentimentality. Judging by the production's sell-out success on Broadway, is seems that flattery really does get you everywhere.
Driving Miss Daisy at the Wyndham's Theatre until 17 December
This is not just precisely but wholly a play about Miss Daisy being driven
rating
Share this article