Drawing the Line, Hampstead Theatre online review - modern history becomes dark farce |

reviews, news & interviews
Drawing the Line, Hampstead Theatre online review - modern history becomes dark farce
Drawing the Line, Hampstead Theatre online review - modern history becomes dark farce
Howard Brenton's play offers a lucid account of the Partition of India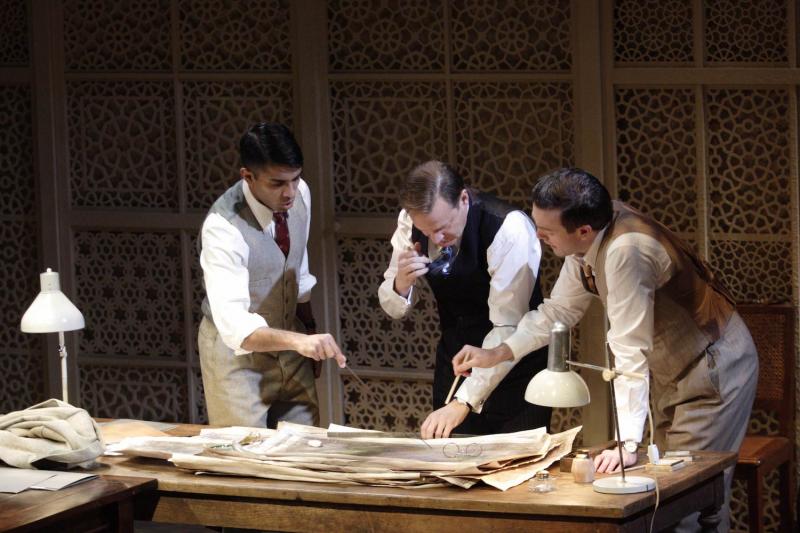 Who gets Calcutta? Cyril Radcliffe (Tom Beard, centre) undertakes an impossible task
This week's gem from the Hampstead's vaults is Howard Brenton's political drama from 2013, telling the extraordinary, stranger-than-fiction story of Cyril Radcliffe and his 1947 mission: to arrange the Partition of India in jus
t five weeks. A tale of battling ideologies, gross colonial arrogance and disregard, and the unlikely significance of an extramarital affair, this history lesson makes for surprisingly gripping theatre – and, to Brenton's great credit, he manages a lucid account of this complex, seismic undertaking in less than two hours.
Lawyer-turned-bureaucrat Cyril Radcliffe (Tom Beard) is tasked by Prime Minister Clement Attlee to "draw a line": divide this vast nation into the newly designated states of India and Pakistan. Never mind that Radcliffe has never been to India and, in his wife's words, knows "bugger all" about it – nor, indeed, about cartography. It's a clever decision by Brenton to make this relatively unknown but vital player our way in, rather than using a more focus-pulling subject like Gandhi.
The latter does make an appearance, emphatically rejecting any thought of a British-imposed border – a "vivisection" of his multi-faith country. In contrast, pragmatic Hindu leader Nehru, head of the Congress Party, sees this as the only viable route to an independent, democratic India, and, as a consummate politician, is prepared to use wily tactics and swallow the crass comments of the ignorant Radcliffe in order to get what he wants. On the other side of the table is Muhammad Ali Jinnah, representing the Muslim League – both leaders relying on informants in order to stay abreast of Radcliffe's plans.
Perhaps the most astonishing factor is the affair between Nehru and Edwina (Silas Carson and Lucy Black, pictured above), wife of the final Viceroy of India, Lord Mountbatten. It's suggested that the rushed Partition timetable is a result of Mountbatten wanting to get his wife out of the country and away from her lover – if true, the most breathtakingly solipsistic decision, prioritising his marriage over the lives of hundreds of millions. Brenton also uses it as a neat human parallel: Mountbatten warns Radcliffe not to be seduced by India, as Edwina has been.
Radcliffe comes across as a sympathetic figure: a stuffed-shirt, cricket metaphor-spouting Brit felled by Delhi belly, whose desire to do his duty is hopelessly naïve, yet well-intended. How could anyone find an easy solution to dividing a subcontinent with 2,000 ethnic groups, a fraught history of conflict, factions within factions, religious fervour-meets-realpolitik materialism, and mounting violence that Mountbatten sees as inevitable – callously setting an "acceptable" mortality level at 100,000. That figure, of course, is just a fraction of the subsequent deaths.
Beard harrowingly conveys Radcliffe's mental collapse as he realises that whatever he decides, a bloodbath is coming, and that blood is partly on his hands. It's a warning from history of the consequences of Britain ploughing into a complicated project with nothing but bravado and a misplaced sense of imperial superiority. Resonant, too, is the observation that the British are more comfortable with the "pretty" Hindu religion, versus a perceived threat from Islam.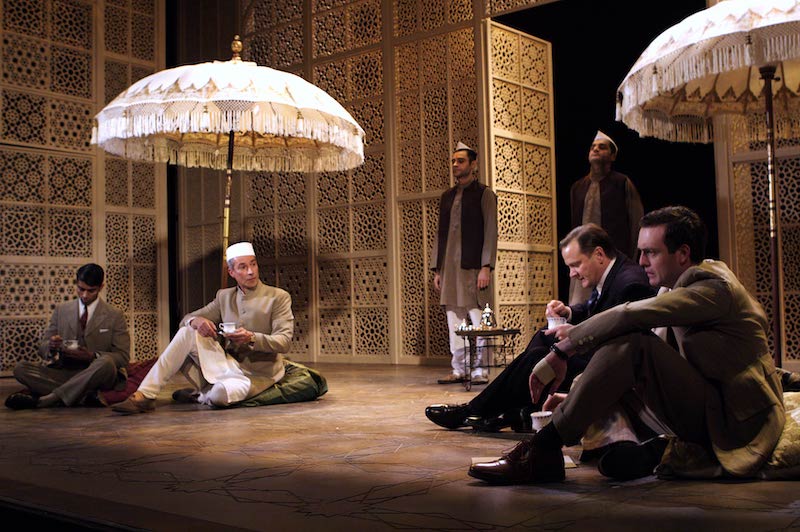 Silas Carson (pictured above, second from left) is excellent as the seemingly smarmy but shrewd and principled Nehru, while Lucy Black and Andrew Havill bring fire and a sense of fraying dignity to the warring Mountbattens. There's strong support, too, from Tanveer Ghani as a Gandhi prone to gnomic pronouncements, Paul Bazeley's astute Jinnah, John Mackay's exacting Attlee, and Brendan Patricks as Radcliffe's all-seeing and increasingly despairing assistant.
The fleet-footed, elegant production is marshalled by the late Howard Davies, who maintains a fluidity to this series of short scenes by stressing the claustrophobia of the trapped Radcliffe, hemmed in by giant filigree screens (evocative design by Tim Hatley). Davies also strikes exactly the right tone for this dark farce: simultaneously ridiculous and horrifying. Mike Walker's sound design hints at the gathering riots just beyond the doors of Viceroy House – a powder keg that erupts in a final image demonstrating the terrible legacy of this one line on a map.