Crystal Springs, Park Theatre / Little Stitches, Theatre503 |

reviews, news & interviews
Crystal Springs, Park Theatre / Little Stitches, Theatre503
Crystal Springs, Park Theatre / Little Stitches, Theatre503
Cyberspace goings on and reports from the frontline of FGM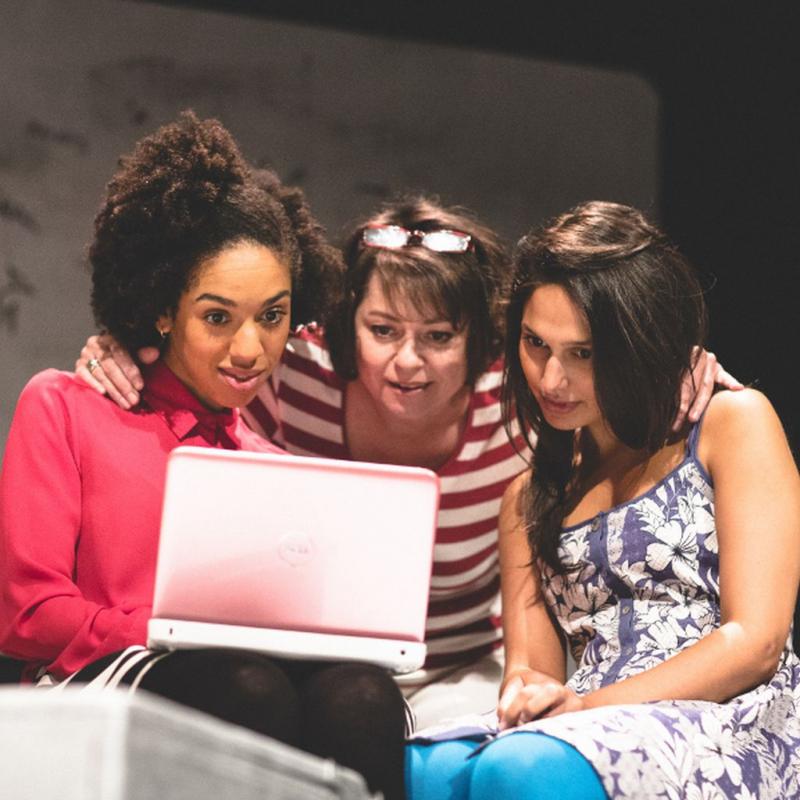 Here's lookin' at us: Pearl Mackie, Suzan Sylvester, and Tiana Khan in `Crystal Springs'
Here's a fun fact: this year the Merriam-Webster dictionary added a new definition for the noun "catfish". As well as the amphibian, a catfish now also refers to "a person who sets up a false personal profile on a social networking site for fraudulent or deceptive purposes." Having been popularised by the 2010 American film documentary of the same name, the term is also used casually as a verb, meaning to fool someone online.
And so we now have emerging American playwright Kathy Rucker's
Crystal Springs
(***), which puts the catfishing of a 16-year-old centre-stage without fully coming to grips with the cyber-centric intricacies of the tale Rucker has chosen to tell.
Rucker instead hones in on the catch-22 faced by parents with teenagers who demand internet access. Adolescent happiness seems to rest solely on connecting with friends on Facebook, while opening unto a world of potential danger. With this paradox at its core, Crystal Springs looks in reverse chronological order at the events around the suicide of cyber-bullying victim, Hayley Gelman (Rebecca Boey). The play begins with a journalist wanting to write a book about what happened to Hayley, who decides that the best way is to bring on board her mum Rose (Angela Bull). We then leap backwards to the passive-aggressive interactions between Rose and Linda (Suzan Sylvester), mother of Hayley's best friend Jenna (Tiana Khan). Those two, along with Linda's assistant Mia (Pearl Mackie), have created the ostensibly average teenage boy "Kyle", who in due course befriends the insecure Hayley online.
Inevitably, Hayley gets hurt and humiliated by a ruse that gives hundreds of people access to her weaknesses, in the process laying bare a weakness of the play itself. Rucker's structure means that before we have even heard of Kyle, we know his identity, which in turn robs us of the most intense part of a catfish story: the reveal.
Also absent, beyond the element of surprise, is any depiction of that unfathomably intense moment of betrayal and doubt when Rose discovers the real reason her daughter killed herself. Rucker seems more interested in the relationship between mothers and daughters (pictured right, Rebecca Boey and Angela Bull in those roles) and the way in which - in trying to protect their kids - well-meaning adults often reflect their children's pettiness and naïveté. Jemma Gross's production across 75 minutes gives a sense of the way in which silly, careless actions can result in catastrophe without quite getting at at the real meat of a tragedy facilitated by Facebook.
Across town at Battersea's Theatre503, in a second thematically weighty late-summer opening Off West End, the BAREtruth Theatre Company is premiering four short plays on the topic of female genital mutilation (FGM) and poses the abiding question: when people commit acts of violence, what is the best way to get them to stop?
Little Stitches (****), as the evening is collectively called, weaves together the perspectives of FGM survivers and propagators with people on the periphery who may or may not be able to help. The first two plays map out a verbal panorama of a community questioning when to be suspicious and how and when to engage, and both works provide an ever-growing sense of how women anticipate the act of FGM and might then deal with the aftermath.
The final two plays are weaker, even if Karis E Halsall's Mutant does give us a culturally sensitive doctor who controversially argues that having a medical professional do it is the lesser of two evils. The director, Alex Crampton, keeps a sharp focus throughout, and her chameleonic five-person cast (four are pictured above left, photo credit: John Wilson) carry the baton with superb agility.
Rucker's play never quite gets at the real meat of a tragedy facilitated by Facebook
Share this article