The Color Purple, Menier Chocolate Factory |

reviews, news & interviews
The Color Purple, Menier Chocolate Factory
The Color Purple, Menier Chocolate Factory
John Doyle's reworking of the Broadway musical based on Alice Walker's acclaimed feminist novel sets the soul soaring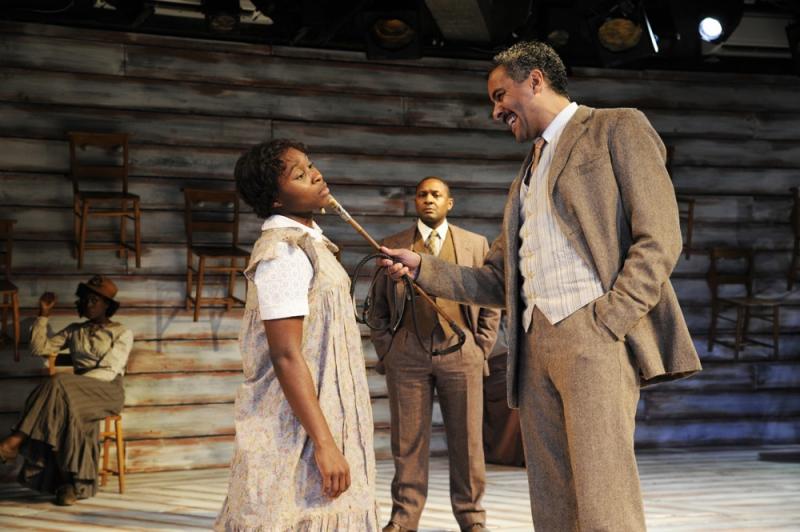 A bitter bargain: Mister (Christopher Colquhoun) sizes up Celie (Cynthia Erivo) as his new wife
A joyful noise? Hell, yes. Alice Walker's Pulitzer-winning 1982 feminist novel set in Georgia and spanning more than 30 years is crammed with suffering, injustice and cruelty. But in its characters' journeys towards a realisation of identity – racial, sexual, spiritual – it is glorious.
This musical based on the book received a lukewarm response on Broadway, where it opened in 2005, and admittedly it has its faults. The music isn't unfailingly original or stirring; the lyrics are sometimes workaday and mostly literal. But in John Doyle's stringently stripped-back production, the flaws somehow cease to matter, so great is the warmth, passion and commitment of the storytelling. And in the leading role, relative newcomer Cynthia Erivo is so unflinchingly immediate and so searingly powerful that you find yourself gazing at her through tears and in sheer astonishment.
This is a show that pierces and shakes to the soul, and Erivo's performance is a triumph
Erivo plays Celie, 14 years old at the show's outset in 1914, and trapped in a household ruled by a despotic, abusive man she believes to be her widowed father, with her younger sister, Nettie. Through pregnancies resulting in two babies mysteriously disposed of by Pa, forced marriage to the violent Mister, separation from her beloved sister and a wondrous discovery of love and sensuality with Shug Avery, the juke-joint singer who is an embarrassment to her preacher father and an irresistible siren to Mister and most of the other local men, Celie finally reaches contentment, independence and a sense of herself.
It's a lot of stony ground to cover. But the musical's numbers, by Stephen Bray, Brenda Russell and Allee Willis, all of whom have pop credentials (Bray penned some of Madonna's Eighties hits), successfully carry both the narrative thrust and the emotional intensity of the piece. Gospel, blues, jazz and funk influences strut, swagger and coalesce into lush chorales; plot developments are often delivered in snatches of sung gossip among the be-hatted townsfolk at Sunday worship. Confrontations and moments of revelation come in numbers so big and heartfelt, they could blow the roof off a church, steeple and all. The book, by playwright Marsha Norman, plugs any gaps. And the whole, whatever its shortcomings, soars.
Given that, without careful handling, the incident-packed plot could make a musical treatment feel cluttered, Doyle's decision to present it with such sparse simplicity is inspired. There's no set, other than bare boards and some wooden chairs; even the infants snatched from Celie's arms are represented by furled white sheets. Yet Doyle creates a powerful sense of community, aided by a cast who wring every syllable of eloquence from Ann Yee's economical choreography.
Nettie and Celie, playing like the children they still are, become so much meat to be weighed, tasted and spat out by the predatory Mister (Christopher Colquhoun), who looms over them eying Nettie (Abiona Omonua) with lip-licking desire and Celie with undisguised contempt. Nicola Hughes, a gleaming, suuculent diva as Shug Avery (pictured below with Erivo as Celie), shimmers and shimmies over and around the furniture while her audience swoons; and Sophia Nomvete as the gutsy Sofia, to whom Mister's son helplessly loses his heart, belts out her defiance in a voice as rich as molasses as she marches the stage, marking it out as her personal, lifelong battlefield.
As for Erivo, her portrayal of Celie is extraordinarily accomplished. Never is there a flicker of self-pity or sentimentality; never does she lose her focus. Her face, breaking into smiles at the smallest of blessings, or wearing an expression of careful, introverted neutrality as she tiptoes around her volatile husband, is riveting. Later, when she turns her domestic talents to profit, opening a shop selling women's trousers, she presides with a confidence that makes you want to punch the air over a stageful of females who are suddenly, literally and metaphorically, all wearing the pants. And her climactic number, "I'm Here", is dizzyingly exhilarating.
There are missteps. A parade of figures in feathered masks during an Africa-set sequence, in which we follow Nettie's missionary work, looks strangely crude in a staging that is otherwise so restrained. And some characters are burdened with too much sung exposition. Colquhoun's Mister is forced to account for all the personal history that has led to his failings in a single emotionally charged number. But this is a show that pierces and shakes to the soul, and Erivo's performance is nothing short of a triumph.
Confrontations and moments of revelation come in numbers so big and heartfelt, they could blow the roof off a church, steeple and all
rating
Explore topics
Share this article