Close-Up: The Twiggy Musical, Menier Chocolate Factory review - a tourist's view of a Sixties icon |

reviews, news & interviews
Close-Up: The Twiggy Musical, Menier Chocolate Factory review - a tourist's view of a Sixties icon
Close-Up: The Twiggy Musical, Menier Chocolate Factory review - a tourist's view of a Sixties icon
Ben Elton has written an odd musical-documentary, part comic-strip, part lecture
Friday, 29 September 2023
Warm and down-to-earth: Elena Skye as Twiggy
The Biba dresses are way too colourful, the shop's interior about 10 times too bright… and did anybody really say "happening threads" in 1965?
Taking Ben Elton to task for his portrayal of the Sixties, which feature in the first half of Close-Up, his new self-directed piece about the style icon and national treasure known as Twiggy, shouldn't be the point. He's written another jukebox musical, with all the colour-popping jollity that involves, the energetic chorines giving it their all and building an affectionate rapport with the audience. Except, what he's written is more a hybrid: a musical-as-documentary with lumpy exposition and an "And then this happened, and then this" approach.
What isn't there is the grubbier side of the Sixties "scene" (again, who used that word?) that gave birth in 1965 to skinny Saturday girl Lesley Hornby from Neasden as the new face of British fashion. There are no drugs, for starters. Not that Twiggy is known to have indulged, but they aren't mentioned anywhere. Neither are Courrèges and Mary Quant, the inventors of the mini-skirt. It's a selective, tourist's eye view of the era and one of its prime movers. And the Sixties are only half the story, as we sweep on to her film and stage career in the 1970s.
The script regularly twists itself in knots even so, getting characters to point out that things were different then, and that now we call things like the young model's six-year relationship with her self-styled manager, Justin de Villeneuve (it started when he was 25, she 15), "toxic". But it would have been a more interesting book had Elton taken that story more seriously, instead of rendering De Villeneuve, played by Matt Corner, a 2D buffoon.
This being Elton, much is made of the horrors of bygone Britain: "white, straight, binary" and hemmed in by a rigid class system — he even uses a still from the Frost Report sketch about class featuring John Cleese and the two Ronnies to ram the point home. Twiggy becomes a Cinderella (a role she later played in panto), kickstarting a social revolution where all people were treated as equals. Norman, her sweet Lancastrian dad (Steven Serlin), scoffs at the dictum "You can't get there from here," noting that his youngest daughter actually did just that.
But the Hornbys become a seaside-postcard family, with a tough-love mum, Nell (excellent Hannah-Jane Fox), whose personality changed irrevocably when the family home was bombed in 1940 — or was it when the nasty male doctors made her endure electric shock therapy for her postpartum blues after little Lesley's birth? The script zigzags between the two. Fox supplies the shadings for Nell Hornby with immense comedic skill. But overall this is a piece that raises knotty topics only to whoosh past them, usually with the standard "things were different then".
The exception is Twiggy's first marriage, to the American actor Michael Witney (Darren Day, pictured below with Skye) in the 1970s, which was blighted by his alcoholism and outstays its welcome. She eventually left him, though later allowed him access to their daughter Carly. The six-year-old witnessed his death at 52 of a heart attack, at a diner where he had just bought her nuggets and fries. Elton doesn't know what to do with this predictable story of binge/recover/binge/recover, repeatedly bringing poor Day on in a terrible wig to sing Harry Nilsson and Carpenters songs that sum up his love for Twigs. How traumatised little Carly might have been isn't registered.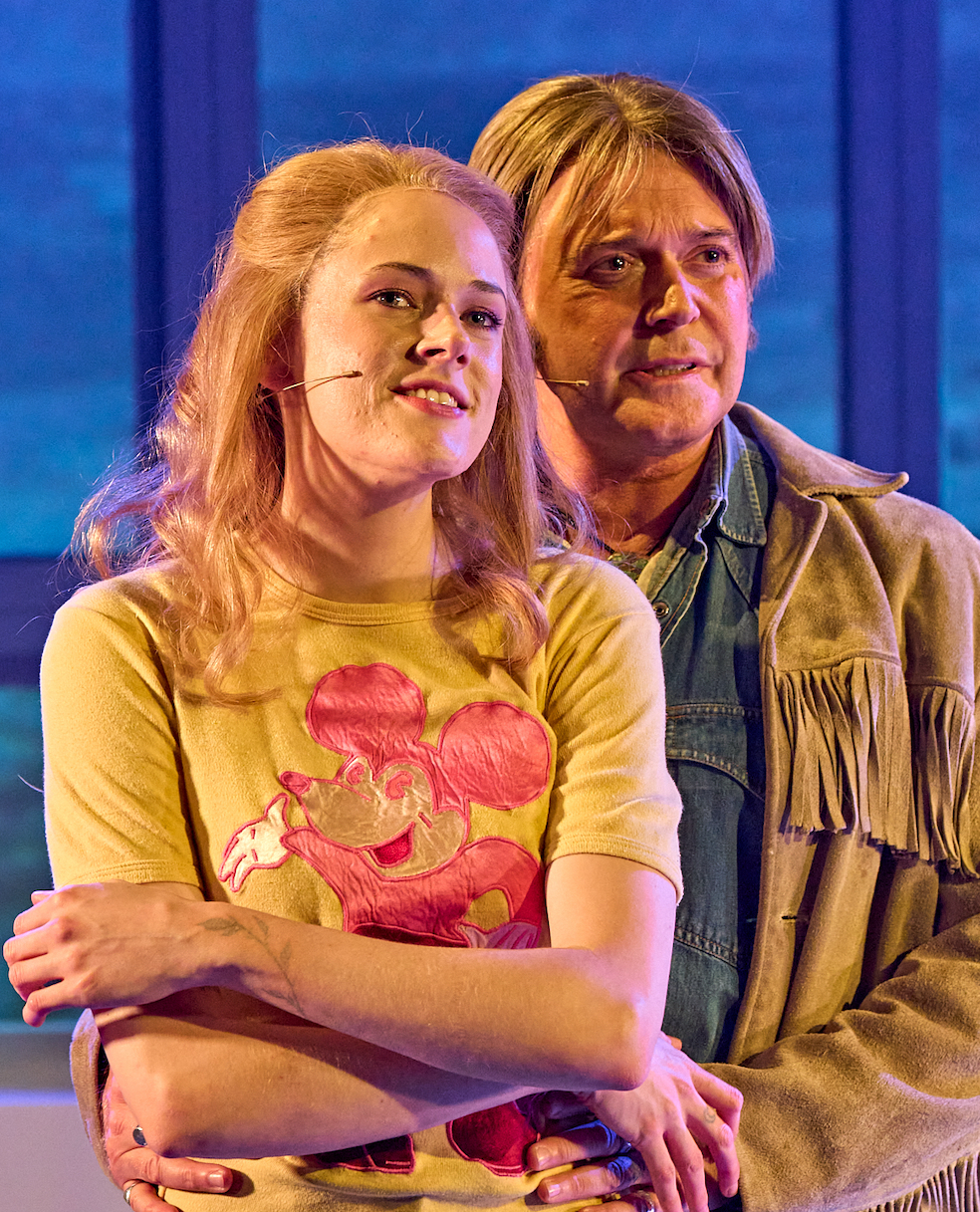 That's the MO of the piece: find a song you can legally cover from the year being depicted, and let its lyrics, with slight tweaks, do the talking. So when Norman meets Justin, he sings "Take Good Care of Our Baby": When Leonard of Mayfair gives Twiggy's mid-length hair its signature crop, all in the salon sing "Just One Look".
That track actually is by a British band of the 1960s, the Hollies, whose "All I Need is the Air that I Breathe" features heavily in the Witney section. but the jukebox choices are a surprising mix — Dinah Shore and the Andrews Sisters for Twiggy's parents, Wilson Pickett for the gymslipped Twiggy and her schoolmates. If you go expecting music by the British bands that forged a key moment in the history of popular music, think on.
Still, we get Jefferson Airplane's "Somebody to Love" over the eye-catching first scene, of Twiggy being mobbed in New York in 1967 to an accompaniment of popping flashbulbs; and there's a stonking rendition by Fox of Pat Benatar's "All Fired Up" from 1988 in the finale (where a red-blooded alternative musical all too briefly hoves into view). In between come songs by Manfred Mann, Kris Kristofferson, Randy VanWarmer, Dusty Springfield, Stealer's Wheel.
Elton's staging works well — simple picture-frame shapes on the backwall for displaying projections, and a gap at the side for whizzing sofas and chairs in and out so scenes move along smartly. And the cast are tiptop, Elena Skye's Twiggy giving the piece warmth, a strong singing voice and that down-to-earthness of your basic Twigs.
But that's the problem. Twiggy is (righty) presented as such an admirable, decent type that there isn't enough grit to spawn a pearl here. Elton has the sense to show footage of her takedown of Woody Allen, who was attempting to patronise her. Magic: more, please! But mostly the script makes her deliver barely disguised exposition or introduce scenes with tired phrases like "Little did I know this meeting would change my life."
It's like a cross between a girls' magazine comic-strip and a young person's guide to The Past, with the occasional topical barb lobbed in. There's lovely though grainy footage of Twiggy dancing with Tommy Tune on Broadway in My One and Only, for which she was Tony-nominated, and of her singing on Top of the Pops. But these glimpses of the real Twiggy only made me want to see more of her.
This is a piece that raises knotty topics only to whoosh past them
rating
Share this article