Cats, The Shows Must Go On review - a purr-fectly theatrical experience |

reviews, news & interviews
Cats, The Shows Must Go On review - a purr-fectly theatrical experience
Cats, The Shows Must Go On review - a purr-fectly theatrical experience
This filmed version of Andrew Lloyd Webber's musical captures its eccentric charms
Hiss-tory in the making: the 1998 'Cats' company
Cats is, declares composer Andrew Lloyd Webber, a show that doesn't really have a story, but was beloved on stage because it's "the ultimate theatrical experience".
That's the point which Tom Hooper's grotesque, nightmarish
movie
adaptation so profoundly missed, with its computer-generated monstrosities and ham-fisted attempts at miring this fanciful material in leaden reality – albeit one in which relative size warps every second, and Judi Dench wears the carcass of another cat.
A great relief, then, to revisit Cats as it was meant to be seen – still inarguably eccentric, but with a clear vision channelled by a crack creative team: Lloyd Webber, the witty, whimsical and occasionally poignant poetry of T. S. Eliot, director Trevor Nunn, designer John Napier, and, crucially, the ground-breaking choreography of Gillian Lynne. With just one set throughout, and only a tenuous narrative thread, this sung-through show gets its dynamics, its heft and its soul from Lynne's still glorious movement (pictured below), which revolutionised the British musical.
The grand finale to Lloyd Webber's 'The Shows Must Go On' streaming series, this is the 1998 filmed (and slightly trimmed) version of Cats, featuring performers from the original 1981 London cast and subsequent international productions. Napier's set was specially re-created at the Adelphi Theatre, and the action captured with 12 cameras. It's a slick fusion of stage and screen, under the steady hand of video director David Mallet, and though we of course miss some of the live theatrical experience – not least the cats creeping into the audience, which so thrilled me as a young theatregoer, and the shifting perspective offered by the great New London Theatre revolve – it's a pretty strong approximation of this unique show.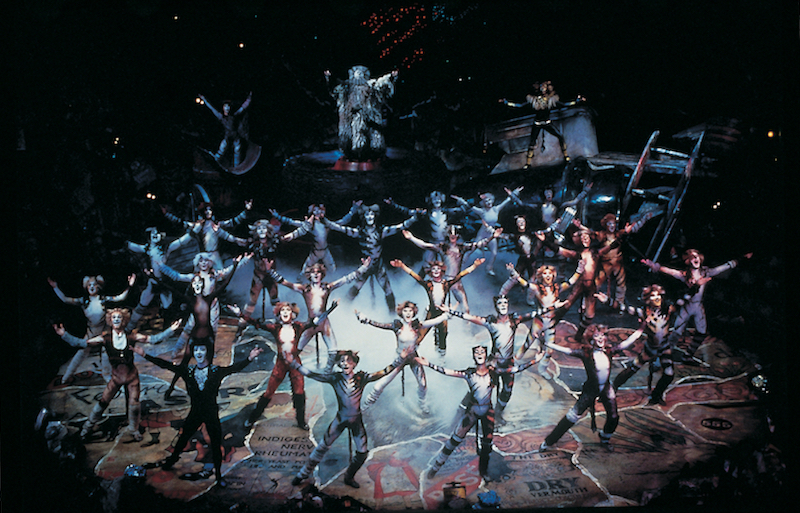 Here is where I would normally offer a summation of the plot, but, well…it's about cats. Cats of various character and occupation, imbued with sly Eliot social parody, plus a jellicle ball, and one cat ascending to the 'Heaviside Layer'. For further insight, do try streaming the show accompanied by Lloyd Webber's commentary – which I really can't recommend highly enough. It's a kind of musical theatre Gogglebox, in which the Lord offers delightfully candid observations, shares backstage memories (including a priceless Barbra Streisand anecdote), and takes catty potshots at the ghastly film. Though not explicitly naming James Corden and Rebel Wilson, he's particularly infuriated by their "unfunny", "coarse", "silly" and "un-Eliot" interpolations that "stop the flow of the lyric". "I did manage to get the worst removed," he confirms. The mind boggles.
It's rather special witnessing the show through Lloyd Webber's eyes, seeing his pride in their accomplishment, his genuine pleasure in revisiting favourite moments, and his effusive praise for his collaborators' work, especially Lynne's complex, challenging and transcendent movement. The white cat solo, danced here by Phyllida Crowley Smith, is mesmerising – somehow both ethereal and earthily animalistic – while Jacob Brent's Magical Mr Mistoffelees is genuinely astonishing, Rosemarie Ford and Aeva May are purr-fectly slinky as they sing about "the Napoleon of Crime", and John Partridge's Rum Tum Tugger has raunchy, rock star swagger. (Apropos of nothing: Lloyd Webber is bewildered to discover that Partridge has since gone on to win Celebrity MasterChef. "He doesn't look like a master chef.")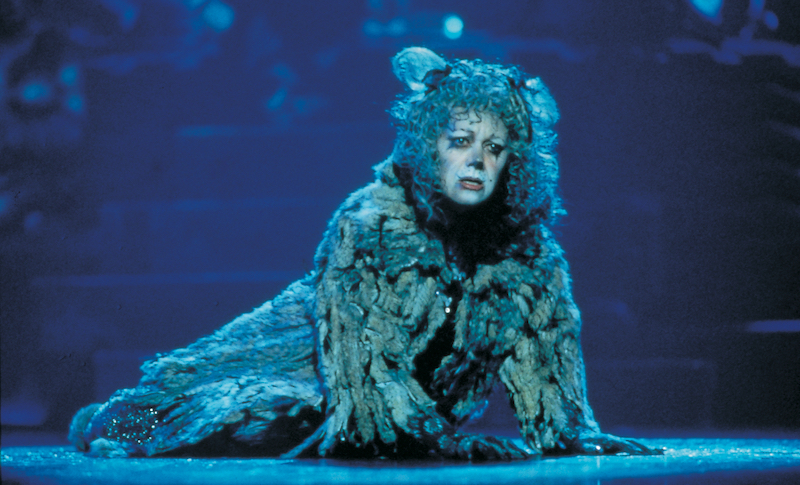 Though the dancing and the synth-boosted score are the main draws of Cats, it does have some great acting moments too. Sir John Mills is almost unbearably moving as Gus the retired theatre cat – perhaps even more so now, while us theatre cats wonder when we can return home – while Elaine Paige (pictured above), the late replacement for an injured Judi Dench, gives us real paws for thought with her stirring rendition of the show's breakout hit, "Memory". Paige, notes Lloyd Webber, is particularly effective because she honours Grizabella's inner strength, as well as her much-faded glamour.
The production's theatrical ingenuity also impresses. Napier's rubbish dump set is a treasure trove of props, and both he and Nunn understand that you only need a few physical elements: the audience's imagination does the rest. The classic example of that is the cat costumes, with punk-ish wigs and those iconic furry leg warmers. Immediately, we understand that these are humans with feline qualities, and it's that layering of make-believe which is key to the show's success. Surrender to its peculiar charms, and you'll discover that Cats is, per Lloyd Webber, a joyful experience. As is seeing its creator reminisce, with cameo appearances from his actual dog and cats. Actually, is that the real secret here? As a nation of animal-lovers, we just can't resist this glimpse into their secret lives.
Cats is available to stream in the UK until 7pm tonight
The show gets its dynamics, its heft and its soul from Gillian Lynne's still glorious movement
rating
Share this article