Brighton Festival: The Encounter, Attenborough Centre for Creative Arts
Brighton Festival: The Encounter, Attenborough Centre for Creative Arts
A magical aural journey into the Amazonian jungle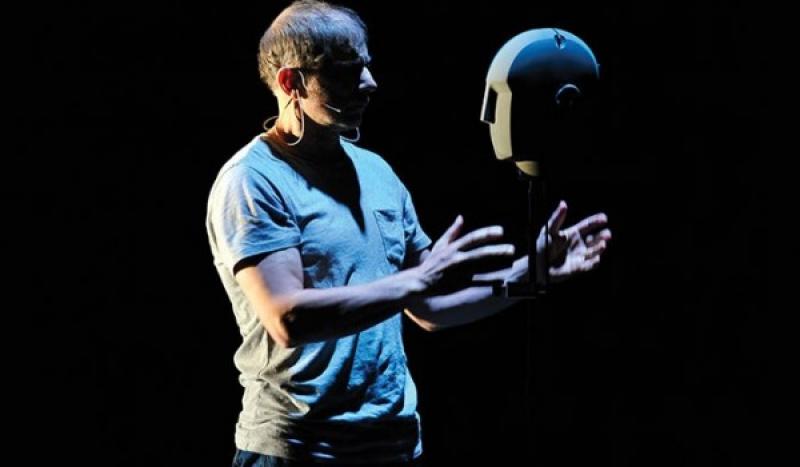 Simon McBurney's The Encounter stages a play inside his audience's own heads
Simon McBurney and Complicite have made plays about many things – maths, circuses, immigration, Japan, old age – but, at core, they're all really about the same subject: storytelling. Their latest project is no different.
The Encounter
takes its audience into the remote depths of the Brazilian rainforest, beyond language and civilisation, but the narrative that emerges is one about tale-telling and the connections we forge through stories, empathy and imagination.
Taking the story of American photography Loren McIntyre, and his extraordinary account of his expedition to document the Amazon's Mayoruna tribe, as his starting point, McBurney weaves a one-man show with many, many voices. The Encounter puts the art of Foley centre-stage, giving its audience both the aural illusion and the physical reality at the same time.
There are rewards to both the literal and the imagined narratives, and really everyone should see the show twice
Close your eyes and you'll find yourself plunged into the warm, wet jungle, complete with persistent mosquitos, leaves soft underfoot and a Babel of bird and animal life. Open your eyes and you'll see McBurney himself, equipped with little more than a few water bottles, a packet of crisps, a pile of unravelled video tape and some microphones.
There are rewards to both the literal and the imagined narratives, and really everyone should see the show twice – once in each way. Close your eyes for too long though and you miss the details of Michael Levine's barely-there set, with its delicate evocations of place and its eye-bending illusions, and Paul Anderson's precise lighting. But dominating it all is the multi-layered complexity of Gareth Fry and Pete Malkin's sound design.
Using binaural technology (audio tailored to each ear individually, giving a sense of spatialised sound – a concept made wonderfully literal by the head-shaped microphone that is McBurney's only stage-companion throughout), they are able to stage the show in their audience's own heads, to enter through our ears via headphones and set up elaborate dramatic scenarios in our imaginations. As a process it's exhilarating, like the best bed-time story with all the voices ever, but as a narrative it's less sure.
McBurney's story is part science, part fantasy, part creation myth. There's an unquestioned and unquestioning awe here for the mysterious ways of the Mayoruna, for the sophisticated insight and lived philosophy of these primitive people. Take away the technology and you're left with more than a dash of noble savage, a naivety that sits awkwardly with McBurney's delicately self-aware portrait of his own world, his own family.
But there's no denying the magic of a show that weds the simplicity of storytelling with some of the most sophisticated technology available, creating a fusion that fulfills our need both to imagine and to have scenes imagined for us. It's at once active and passive, a process that strips away theatre's illusions while also creating astonishing new ones. If, at the end, you leave more fascinated by the how than the what, then that's a flaw that's bound to work itself out in another iteration of Complicite's ever-evolving theatre.
There's no denying the magic of a show that weds the simplicity of storytelling with some of the most sophisticated technology available
rating
Explore topics
Share this article