The Bodyguard, Adelphi Theatre |

reviews, news & interviews
The Bodyguard, Adelphi Theatre
The Bodyguard, Adelphi Theatre
Latest screen-to-stage transfer descends into dopiness
Thursday, 06 December 2012
Down for the count: Heather Headley and Lloyd Owen (centre) co-star in 'The Bodyguard'
It's Academy Award season within the showbiz-centric world of The Bodyguard, but even the greatest of Oscar obsessives - count me among them - would be hard-pressed to toss many a trophy in the direction of the 1992 film or toward the largely stillborn stage musical that it has now spawned.
Widely panned at the time of release (the film received more Golden Raspberry nods for the year's worst than it did golden statuettes), its pulpy narrative looks even more threadbare on the West End stage, notwithstanding the news value of the return to the musical theatre after a dozen years of Broadway actress-singer Heather Headley, following in the screen shoes of the late Whitney Houston.
For some, the opportunity to hear the Hdisouston songbook re-packaged will be enough, and the show to some extent renders critical discourse as irrelevant as the likes of the West End Ghost, Dirty Dancing, and Flashdance did before it. Thea Sharrock's production is better than the above-named trio, largely due to the coolly commanding Headley (pictured below) and to a physical production that is simultaneously sleek and slick, its cinematic dissolves tipping a nod to the celluloid source. Tim Hatley's design offers up moneyed chic, Oscar-night glitz, and the rural appeal of a log cabin retreat, all with an effortlessness not glimpsed elsewhere.
But all the vocal pyrotechnics and technical know-how on offer can't put right the vapidity at the core of a plot that could have been written on the back of an interval drinks order. If your idea of scintillating dialogue runs towards the following - Q: "What the hell has gotten into her?" A: "The bodyguard" - then read no further. This is the show for you.
The rest of us are left to ponder the shifts in a story of mutual distrust turned to togetherness and lust that go completely undramatised in Alexander Dinelaris's book, adapted from the Lawrence Kasdan screenplay of the Warner Bros. film. Scarcely has the eponymous bodyguard Frank Farmer (Lloyd Owen, inheriting Kevin Costner's screen role) shown up at the LA mansion of six-time Grammy winner Rachel Marron (Headley) before she is sniping at him while he dispassionately stares her down. (Owen's performance, in fact, is defined by many a firmly held gaze and this actor's inimitably deep voice.)
The two might continue indefinitely on their jointly antagonistic path were anxiety not building about the looming presence of an assassin (played by a mostly mute Mark Letheren) who on this evidence has a thing for sequins and a knack for infiltrating heavily secured awards jamborees. Indeed, quite how this gunman ends up crashing the Oscars and brandishing a weapon in full view is anyone's guess, credibility evidently not of paramount importance.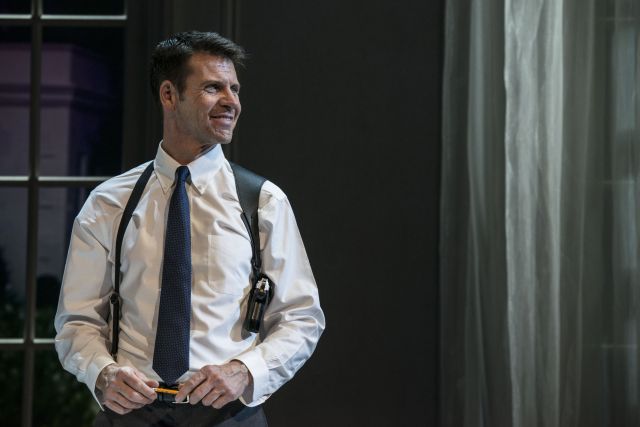 But scarcely have lines been uttered on the order of "do you think he's out there?" before Frank and Rachel are making love, not war, their rapprochement abetted by a night out at an LA karaoke bar at which Rachel goes entirely unnoticed, her superstardom apparently not enough to render her recognisable to the women at at an adjoining table. So much, I guess, for gawker.com, while all it takes is one "C'mere!" delivered sotto voce by Frank (see Owen pictured above), and Rachel falls into his protective arms. And so what if at least two others among the male ensemble look far more physically apt than Owen for the role?
Stabs at characterisation make room for the back story about Frank and his late mother, who apparently had a thing for Barry Manilow (that says it all!), and make much of the competition felt between Rachel and her sister Nicki (Debbie Kurup), an accomplished singer in her own right who has an eye on both Rachel's career and her man. An alumna of Sister Act, one of the happier transfers of late from the world of two to three dimensions, Kurup evinces easily the fullest, ripest personality of anyone on the Adelphi stage, and it's somewhat disconcerting that for much of the first act, she outsings Headley, as well.
Making a widely anticipated stage comeback (and West End debut), Tony-winner and onetime Disney go-to gal Headley comes into her own after the interval, even if one can't help but feel that this performer's innate wit and intelligence are sold short by writing that takes a Wolfgang Puck joke to be the last word in funny. She submits gamely to the jukebox musical demands of an event requiring Rachel to rise up off the stage so as to better commune with the Houston faithful who have come to hear "I Will Always Love You", "I Wanna Dance With Somebody", or (name your song), the story fading out by means of a screen montage in case you spent the preceding two-plus hours at the bar and were only interested in the inevitable curtain call mega-mix. (Headley fans take note: Gloria Onitiri plays Rachel at certain performances.)
At some point before that, we've had flashing lights and a stage floor breathing fire, in an attempt to replace substance with spectacle. (There's also a "Jesus loves me" sequence that should play well in the American heartland.) In context, it's a good thing, I suppose, that the flames made it past health and safety: this show needs all the heat it can get.