Bingo, Young Vic Theatre |

reviews, news & interviews
Bingo, Young Vic Theatre
Bingo, Young Vic Theatre
Edward Bond's play about a tired, rich Shakespeare who spends his money unkindly
Saturday, 25 February 2012
Not quite slipping the surly Bond of earth: Sir Patrick Stewart as Shakespeare
Bingo: Scenes of Money and Death is the misleading, jokey title of a play about Shakespeare in his ignoble last years, unable to write further, isolated from his beloved London, and hemmed in by local politics. Shakespeare is invited to become a town councillor! To take sides in a dispute about land enclosures! It's a cracking re-visioning of the genius whom films and myth have preserved in the aspic of lusty, piratic eloquence.
In Edward Bond's creation of 1974, Shakespeare is a middle-class capitalist literary squire, who sits in his big Stratford garden, rich, lionised and 52 (old, in those days), hasn't written anything for five years since The Tempest, has a moaning wife he can't abide, a nagging daughter, an oversexed old gardener, a brash landowner neighbour, and a fear that without his words he's dying. He is asked to get involved in other people's desperate lives - a vagrant woman living off prostitution begs for help, an angry young man urges the peasants to resist enclosures - but Shakespeare signs up with the landowners to buy himself peace and quiet.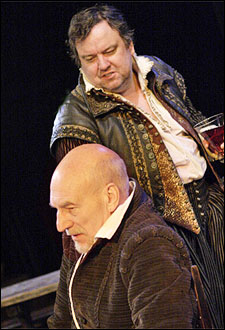 Bond was 40 when he wrote the play, and perhaps that's why the attacks he sets up upon his Shakespeare feel like that of a son vigorously trying to land a telling blow on his father. It almost works, because in Sir Patrick Stewart's performance you can so easily believe in the life portrayed. Writer's burn-out is both risible and tragic - cocky Bond wants to suggest that moral burn-out was a relevant factor. In the fleetest and best scene, a jealous Ben Jonson (charismatic Richard McCabe in enormous, swelling breeches) beards Shakespeare in a Stratford pub, getting him drunk, taunting him with his air of superiority over other playwrights, with sitting in his rich man's garden while the Globe burns down, with losing his touch. "You've been writing some peculiar stuff lately - what was The Winter's Tale about?" he jeers. Stewart just sits and stares at him through narrowed eyes, saying nothing, and draining another goblet. (Stewart and McCabe, pictured right)
It's a damn good set-up, not nice but plausible - still I'm not sure that this really adds up to a play about characters who change, rather than a tiptilted hommage. The simple-minded gardener (struck accidentally by an axe in someone else's fight - a ghoulishly funny idea) has shades of Poor Tom about him as Shakespeare has shades of Lear. The stand-off between the religious-zealot son and Matthew Marsh's excellently smug landowner, Combe, is a black-and-white affair.
Bond guns the social issues, but stumbles over the necessary language to make these ancillary characters sparkle - they prate, they strike attitudes (proto-feminism, proto-socialism), they're even boring. He boldly gives Shakespeare monologues, musing on his distraction and sickness, or berating his daughter Judith with his hatred for her pettiness, or recalling the horror of walking into the Globe via an arch of 16 severed heads, but the speeches are much more interesting for what they say than how they say it, the language refusing to fly.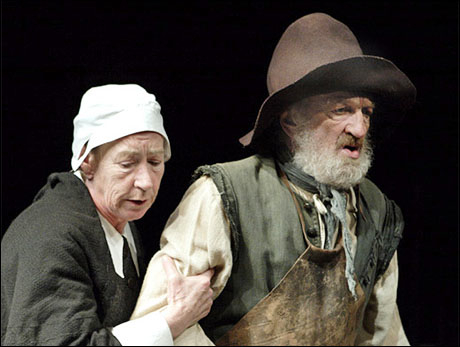 The playing is rich, thoroughly understood by Stewart, by Ellie Haddington's housekeeper, John McEnery's gardener (the two pictured left) and Catherine Cusack's much-put-upon Judith, in particular. They all performed this in its Chichester Festival Theatre origination in 2010. But do I believe in it? There's the rub. Bond's Shakespeare is passive, self-serving and not very poetic. While Stewart is marvellous at listening - sometimes he's blocking the noise out, sometimes he's absorbing it - that no-nonsense set of the mouth does radiate a natural forcefulness that contradicts any impression of self-absorption (or "serenity", mocks Ben Jonson).
This may be because the ensemble, under Angus Jackson's direction, plays it fast and light. There are scenes of jet-black comedy - Shakespeare in his sickroom refuses to let his screaming wife and daughter in, pushing his will under the door to them while his housekeeper doesn't know whether to laugh or cry. And Judith's impotent revenge, ignoring her father's death-throes to rifle hysterically through his papers for a more obliging will, makes a biting punchline to this dysfunctional family tragedy.
The notion of a Shakespeare spoiled and emasculated by adulation and power is a good one - in a sense that's Lear too. But Shakespeare's Lear is devastatingly moving while Bond's Shakespeare is not. I'd put it down to the language: Bond's got the plot and the character, but not the songs, the poetry. I don't hear an original lyrical power of Bond's own there, so he doesn't make it matter to me that this Shakespeare has fallen silent.
Patrick Stewart with Ricky Gervais on Extras
It's a damn good set-up, not nice but plausible - still, I'm not sure that this really adds up to a play
rating
Share this article
Subscribe to theartsdesk.com
Thank you for continuing to read our work on theartsdesk.com. For unlimited access to every article in its entirety, including our archive of more than 10,000 pieces, we're asking for £3.95 per month or £30 per year. We feel it's a very good deal, and hope you do too.
To take an annual subscription now simply click here.
And if you're looking for that extra gift for a friend or family member, why not treat them to a theartsdesk.com gift subscription?