Ava: The Secret Conversations, Riverside Studios, Hammersmith review - about Ava Gardner's effing |

reviews, news & interviews
Ava: The Secret Conversations, Riverside Studios, Hammersmith review - about Ava Gardner's effing
Ava: The Secret Conversations, Riverside Studios, Hammersmith review - about Ava Gardner's effing
Elizabeth McGovern is glamorous but unrevealing as the gloriously foul-mouthed Ava
Thursday, 27 January 2022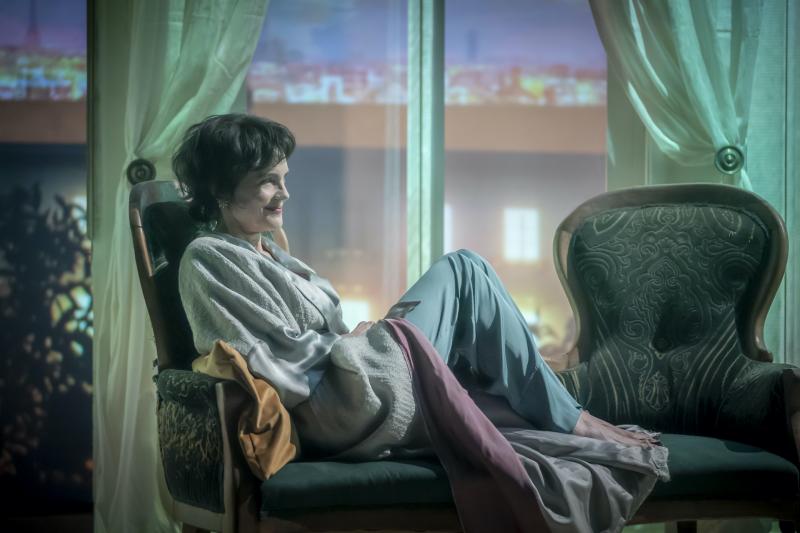 Barefoot Countess: Downton's Elizabeth McGovern conveys some of Ava Gardner's irresistible heedlessness
"The penis. Have you or have you not discussed the penis?" The question that haunts every journalist commissioned to ghost the memoirs of a Hollywood legend (female). Get the dirt on the boyfriend and forget the childhood stuff.
To be sure, we all want to know about Frank Sinatra's penis – 10 pounds man, 110 pounds meat, it was thought. And Ava Gardner would know more about that than anybody. Ava and Frank were the world's most famous love affair, 1951-1957, her third marriage (by the age of 28), his second.
She also swore like a navvy - there are more eff-words in this show than anything I've ever seen. Even the hard-nosed Daily Express journalist ghosting her proposed autobiography in the 1980s, Peter Evans, blanched at the amount of her routine cussing. When he sheepishly showed her the draft chapters of their conversations, she yelled at him to clean it up. "I HATE FOUL-MOUTHED WOMEN!"
Ava – once hailed justifiably as the world's most beautiful woman - wanted to talk to Peter about her recent recovery from two strokes and her bladder control. He, ordered by his agent Ed Victor to get the sex stories (see above), wanted to talk about Mickey Rooney, Artie Shaw, Howard Hughes, Ernest Hemingway, Humphrey Bogart, Sinatra, all Ava's men.
McGovern plays the effing diva with insouciant elegance, if more barefoot Countess than contessa
The play has a rather dog-eared provenance, having been created from actual taped conversations with Evans for a ghosted autobiography that Ava pulled the plug on, once she discovered he'd been sued by Sinatra in the past. After her death in 1990 Evans published the "secret conversations", and after his death Elizabeth McGovern, Downton Abbey's chaste materfamilias, adapted them for this lightly comic two-hander, where she plays the effing diva with an insouciant elegance and sympathy, if more barefoot Countess than contessa.
The effective boxy set (by 59 Productions) makes us voyeurs, peering through a top-floor window to see the legend in her Ennismore Gardens flat (where she was living when she had her stroke aged 62), with video projections of the London roofscape and mesmerising film of the glory years. There are clips of Rooney at his most obnoxiously self-satisfied, the handsome Shaw mellifluously tootling his clarinet, a dazzled Sinatra cheek to cheek with Ava.
McGovern holds her own against the magical Gardner footage, slinking about in satin pyjamas by Fotini Dimou with her own tomboy glamour, endlessly smoking and boozing. She doesn't glint with hellfire, her voice lacks roaring depths and surely the real Ava was far more calculated, but she convincingly switches back to past episodes, conveying some of the heedlessness driving Gardner's phenomenal attractiveness.
Anatol Yusef (pictured right) has a trickier role as Peter Evans, an unattractive character who comes off here quite lightly. His slide into infatuation with his evasive, shocking, gorgeous subject isn't at all unlikely, and one imagines McGovern spotted that, though it's less believable that Ava didn't see through Evans' ruse of role-playing her three husbands in order to get her to talk freely.
Short, shaven-headed, his jacket a wee bit tight, Yusef shows no vanity as the oozingly ingratiating hack, and adapts smartly to Rooney's sex-maniac egotism and Shaw's pretentious bullying ("Ava, have you read the Hegel I gave you?"), before putting on a black fedora and eliding smoothly into the enslaved Sinatra. Sinatra said of their marriage that you could win a war against a country but never a woman, that all that he could hope for was the occasional truce.
That's such an interesting thing to say, but the play's material depends on a much less interesting man than Sinatra. Here's Evans's limited view of the usual stand-off between the legend narrative and the gossip, where the film star realises (surprisingly late, in this instance) which is more in her interests.
The secret remains intact. Hollywood must have overflowed with naive, working-class kids like Ava, with fabulous, monetisable beauty or a voice or chutzpah, sucked into devil's pacts with disposable fame, disposable marriages, disposable luxury, spat out at the far end of her life, bankrupt and incontinent, with her only currency her ability to talk about Sinatra's equipment.
McGovern's stylish final tableau suggests that Ava Gardner's last words on that would have started with another eff.