Antigone, Regent's Park Open Air Theatre review - Sophocles rewritten with purpose and panache |

reviews, news & interviews
Antigone, Regent's Park Open Air Theatre review - Sophocles rewritten with purpose and panache
Antigone, Regent's Park Open Air Theatre review - Sophocles rewritten with purpose and panache
Inua Ellams adds contemporary political thrust to a well-loved classic
Wednesday, 14 September 2022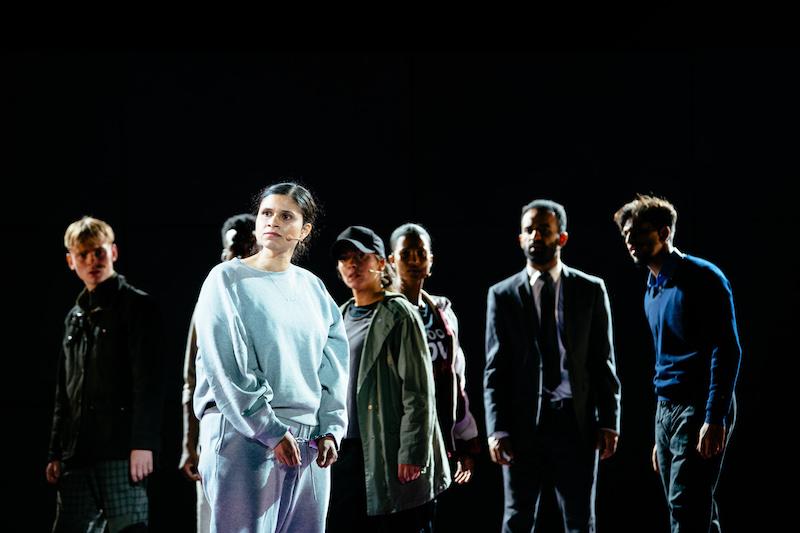 Antigone (Zainab Hasan) after her arrest, with members of the ensemble
Antigone, the forceful young woman who takes on the male establishment, has long resonated with idealists; Sophocles' play, written about 441 BCE, has been revived and adapted frequently, often reflecting different times and causes. Among others, Polly Findlay's National Theatre production a decade ago referenced contemporary politics, including terrorism.
So, Inua Ellams' version, focusing on the experience of British Muslims, although comprehensively rewritten, is part of an established tradition. Sophocles' Antigone fearlessly confronts her uncle, King Creon, who has decreed that her brother Polyneices, killed fighting in battle against the state by his brother Eteocles, is to remain unburied, while Eteocles is to be given a hero's funeral. Antigone is unwavering, prepared to die if necessary, to get the decree reversed. Creon, meanwhile, the pragmatist, is harsh but, faced with a difficult political situation – he can't be seen to give in to a solitary young woman – is equally immovable and ultimately also becomes a tragic figure, unable to control circumstances.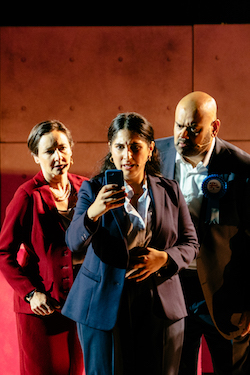 Ellams' version of this ancient play, following his Nigerian take on Chekhov's Three Sisters, which was well received at the National in 2020, could scarcely be more timely (although he says he began writing it about five years ago). Creon, here Home Secretary, then elected as the first Muslim Prime Minister by appealing to the far right, declares that Polyneices, who has been killed by his policeman brother Eteocles while carrying out a terror attack, must be posthumously stripped of British citizenship and remain unburied. Eteocles, one of Polyneices' victims, is to be given a state funeral. Their sister, Antigone, a youth worker and lover of Creon's stepson Haemon, takes up the case with her customary vigour and determination and defies the law to prepare Polyneices for burial. We have already seen her energetically fighting Government cuts to save her youth centre; she is not someone easily cowed.
Background emerges: after being radicalised, partly, it's suggested, by the wrong-headedness of the Prevent programme, Polyneices, (incidentally played by deaf actor Nadeem Islam who signs while he speaks) has gone to Syria but returned, only to have his children refused citizenship. The children have since died of starvation. If this looks like special pleading, an excuse for an outrage, Ellams is subtler than that. Antigone never forgives Polyneices for killing her other brother; she merely fights unrelentingly for the right to human dignity in death. Nevertheless, the case of Shamima Begum inevitably comes to mind. Increasingly throughout the play, the cry "This is England", meant to suggest a place where civilisation and fairness can be assumed, takes on an ironic tinge.
As Antigone, Zainab Hasan is thoughtful as well as fervent, never merely strident. She and Shazia Nicholls as her sister Ismene (pictured above, centre with Pandora Colin as Eurydice and Tony Jayawardena as Creon), who to begin with is part of Creon's election team, express the closeness and complication of family ties. Their relationship to Islam is also complicated, another way in which Ellams ensures that no opposing positions are simplistically right or wrong. Antigone has ceased to worship regularly, but she turns to an imam for help and advice and occasionally dons a hijab. Tony Jayawardena's Creon is unsympathetic, but also a rounded, troubled figure: although blinded by ambition, he believes he has no choice but to stand up to terrorism, however closely his own family is involved. As his English wife, Eurydice, Pandora Colin relishes the expanded role as a feminist voice of reason within her political family.
The truth-telling soothsayer Tiresius (Eli London, pictured above, right with Islam and Hasan), according to mythology, spent seven years as a woman and here becomes a non-binary know-it-all data-cruncher and analyst, coming into their own only near the end of the play. Before that they appear occasionally looking down unseen on proceedings, a distant puppeteer. This transformation of the role is perhaps a little too pat, although, as their information fed to Creon's persuasive PR has led to his espousing certain far-right policies, it does show the politician as yet further compromised by what he sees as the requirements of his career. When his stepson Haemon (passionately played by Oliver Johnstone) calls for nuance rather than extremism in politics, however, we might all wish to cheer, but he is quickly slapped down.
The strength of Antigone as a political thriller, with its inevitably tragic ending, is enthusiastically embraced by Ellams and given pace and variety of tone by directors Max Webster and Jo Tyabji. The young Chorus, rhythmically choreographed by Carrie-Anne Ingrouille, move to music by composer Michael "Mikey J" Asante and deliver Ellams' zinging, rap-style poetry with terrific commitment. Language is relished: brutal, lyrical, sly as the occasion demands. Youthful humour and energy provide some diverting moments in the tragic rush.
Ellams' version of this ancient play could scarcely be more timely
rating
Explore topics
Share this article