Remembering Sir George Christie (1934-2014) |

reviews, news & interviews
Remembering Sir George Christie (1934-2014)
Remembering Sir George Christie (1934-2014)
Memories of Glyndebourne's Chairman for 42 years, and son of its founders, from a long-term colleague
Deep knowledge and understanding of opera: George Christie in 1977
I started work at Glyndebourne in 1962 at the age of 20 and remained there for 27 years, for the last seven of which I was General Administrator. Throughout that period George was Chairman of Glyndebourne Productions, and my ultimate boss.
George was six and a half years older than me, and had already been Chairman for three years in 1962. He was still working full time at the Gulbenkian Foundation and he and Mary, with their first child Hector, were living during the week in their Godfrey Street house in London. They were, however, in Glyndeboune every weekend. So George was a regular presence. Despite his relative youth, he had a natural air of authority. This was attributable to his deep knowledge and understanding of opera, his passionate commitment to the work of Glyndebourne, his demanding standards, and his impeccable judgement, as much as to his charismatic personality.
George was a very determined young man (portrait of the boy George by the lake with flamingoes, courtesy of the Glyndebourne archive) and combined this with absolute clarity of vision, two indispensable attributes which further strengthened over the years. They were very strong already when, in 1966, the idea which became Glyndebourne Touring Opera took root. Despite internal opposition and external scepticism he went for it, and together "team George" made it happen. He was a magnificent leader who led from the front. But he trusted his generals, and though very "hands on" he was never "hands in". This made for an ideal balanced relationship, and an extraordinarily free creative environment. We know that such skill is only too rare.
The next great project, that only a man of George's character and strength of purpose could accomplish, was the building of the new house. His management of the hostility that greeted his idea, when first proposed in 1985, showed once again the determination of this man. He never for a moment doubted the rightness of the vision and put the opposition to flight with a mixture of logical persuasion and sending the message that it was going to happen anyway (pictured below, George and his wife Mary at work on the site by son Gus).
George was as fine a judge of singers as I have encountered. Throughout the 1970s and 1980s we made annual visits together for auditions in New York which George and Mary combined with fund raising activities. Together on those trips we found a whole generation of American artists who later became household names globally, after making their Glyndebourne debuts. George and Mary sealed the deals on substantial support through the recently set up Glyndebourne America Association.
Whilst there was much fun and partying over the years, George's serious purpose was never in doubt. His balanced approach to life was a powerful weapon. He combined a deeply professional application to his job as Glyndebourne's leader with exceptional ability to build lifelong friendships.
I owe my whole career to our friendship and professional partnership. He pushed me forward to run the touring company in 1966, and he advised the Chairman of the Wexford Festival Sir Alfred Beit that it would be alright to allow this 25 year old to take over from its founder in 1967. Then, after 20 years of working together, he appointed me to the top job at Glyndebourne in 1981. His son Gus (pictured below with George by David Fernandes in 2011) took over the chairmanship from him in 2000.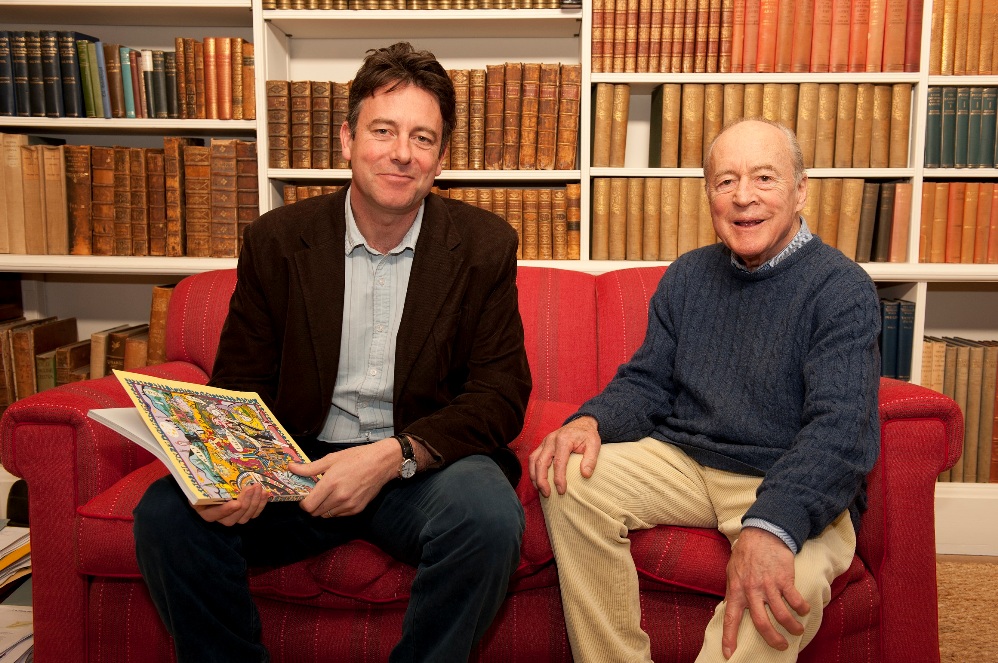 His counsel was always wise, and he never held back from delivering a candid opinion however unwelcome. I count myself extraordinarily blessed to have had the privilege of working alongside this lovely man and perfect professional colleague for all those years.
I last saw him just two weeks ago. He was his old combative self, undiminished in delivering a sharply worded but carefully considered opinion. We will miss him so much.
Before Thursday night's Barbican excerpts from Der Rosenkavalier, Sarah Connolly - singing the role of Octavian - had written that she was dedicating the performance "to George", who had been listening to Act One of the 1965 Glyndebourne recording the night before he died
He combined a deeply professional application to his job as Glyndebourne's leader with exceptional ability to build lifelong friendships
Explore topics
Share this article