In The Realms of Sorrow, London Handel Festival, Stone Nest review - disappointed love has all the best tunes |

reviews, news & interviews
In The Realms of Sorrow, London Handel Festival, Stone Nest review - disappointed love has all the best tunes
In The Realms of Sorrow, London Handel Festival, Stone Nest review - disappointed love has all the best tunes
Incandescent, subversive celebration of doomed infatuations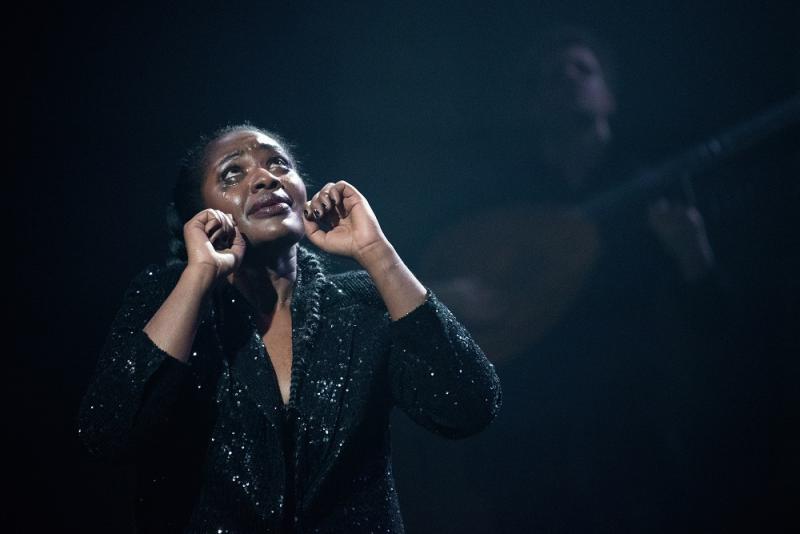 Nardus Williams as the abandoned Armida
Raw, muscular, visceral, haunting – this was Handel as you've never experienced him before. In this striking entry for the London Handel Festival, an uncompromising production by Adele Thomas with conductor Laurence Cummings took four of the composer's early cantatas about thwarted love and mined them for all their incandescent rage and poisoned wistfulness.
The staging took place in the acoustically and architecturally exquisite Stone Nest on Shaftesbury Avenue – a nineteenth century chapel with an umbrella dome that closed in the early Eighties to become a nightclub. That decadent past – complete with its whiff of blasphemy – seemed all too fitting for Handel's cantatas, exquisite operas-in-miniature which were composed in Rome at a point when opera itself was banned by Papal decree.
Though ironically the production itself chose to distil that rebellion against censorship by invoking Weimar Berlin. The orchestra stomped on stage in black with tears painted below their eyes as dark glittery triangles followed closely by James Laing's countertenor, our devilish MC for the evening with his dinner jacket, slicked back hair and stylishly-deployed cigarillos.
The first cantata, Il delirio amoroso, was based on a text written by one of the Vatican's more worldly cardinals in the early eighteenth century, Benedetto Pamphili, who was clearly besotted by Handel – comparing him on one occasion to Orpheus. It seems apposite then that, though the story's ostensibly about a lovelorn shepherdess Chloris who goes to hell to retrieve her lover Thyrsis, only for him tragicomically to reject her even there, here it was played as a story of gay obsession.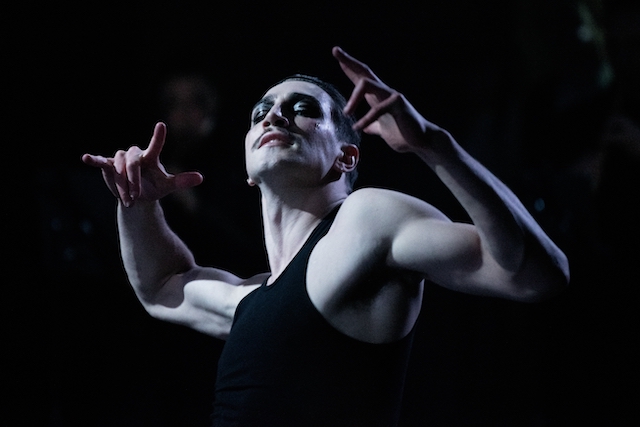 It was a glitteringly dynamic opening to the evening in which it became clear straight away that the instrumentalists were no mere accompaniment to the action, but actors who at times performed their music as if it were part of the dialogue. Oonagh Lee delivered the yearning, playful opening theme on the oboe from centre-stage shortly before Jonathon Luke Baker's dancer (pictured above – who played the object of dis/affection for all four cantatas) quite literally stamped his mark on the evening with taut muscular choreography.
As his rejected lover, Chloris, the countertenor Patrick Terry was a whirlwind of emotion – going from honey-sweet yearning to tempestuousness and back again. When – as he frantically wondered where his love's soul had gone – he considered that it might have gone to paradise, the sublime lift of his voice sounded heaven-bound. After tracking Thyrsis down to hell – he protested "I left the sunlight for you and now that I have found you, you want to leave me,"- here his agony cut like a blade.
It was part of the inspired musical innovation of the evening that the cantatas were interspersed with musical passages by Héloïse Werner, introducing a whispering atonality that subtly heightened the sense of subversion and tortured emotion. This helped the cantatas flow into one another to create a plaintive meditation on disappointed love; once Il delirio amoroso had finished we were plunged straight into Armida abbandonata HWV 105, which kicked off unforgettably with the lyrics "Ungrateful bastard – How dare you…"
Soprano Nardus Williams took on the role of Armida here in a performance that was as visually striking as it was richly lyrical. Dressed in a glittering dark suit she prowled the auditorium and the balconies, at points seeming on the point of throwing herself into oblivion. Yet despite her rage – which was hilariously reflected in surtitles that went into capitals as her emotions heated up – there was a compelling mellifluousness to her voice, which intensified as she became more reflective. Josh Pharo's lighting design contributed to the mesmerising conclusion, in which she knelt alone on stage, lit so that her silhouette fell on either side of her, framing her in her isolation.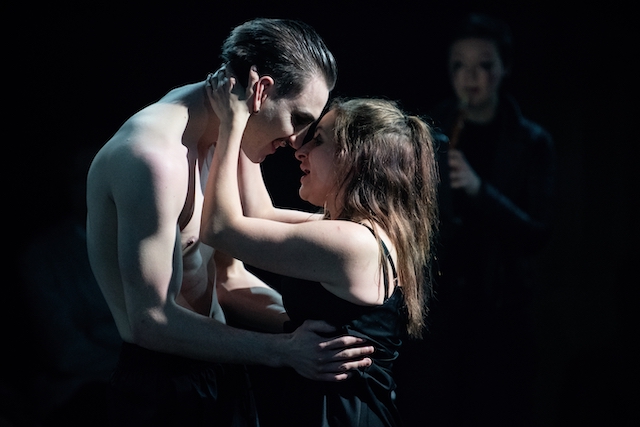 After the interval Soraya Mafi (pictured above) took on the role of Ero, bereft as she grieved over the corpse of her drowned lover, Leander. The vigour and effortless range of her voice would have been impressive at the best of times. Here it was made more so by the fact that she was wrestling to lift Baker's inert body from the ground and bring him back to life – a physical feat that would have left most people breathless. As she denounced the "unholy sea, cruel waves" you could almost hear the elemental agitation of the water in her delivery. In Emma Woods' choreography we truly felt the muscular anger at the physical loss of her lover, adding to the poignancy of Ero's own eventual death.
In an evening which seemed to prove that it's not the devil, but disappointed love, that has all the best tunes, the culmination was in Claire Booth's extraordinary appearance as Agrippina, the mother sent to be executed by her son Nero (pictured below). She strutted on to the stage in stilettos, a long fake fur coat, and a platinum blond wig that made her look part Marilyn Monroe, part Cher at the end of Mamma Mia! Here We Go Again.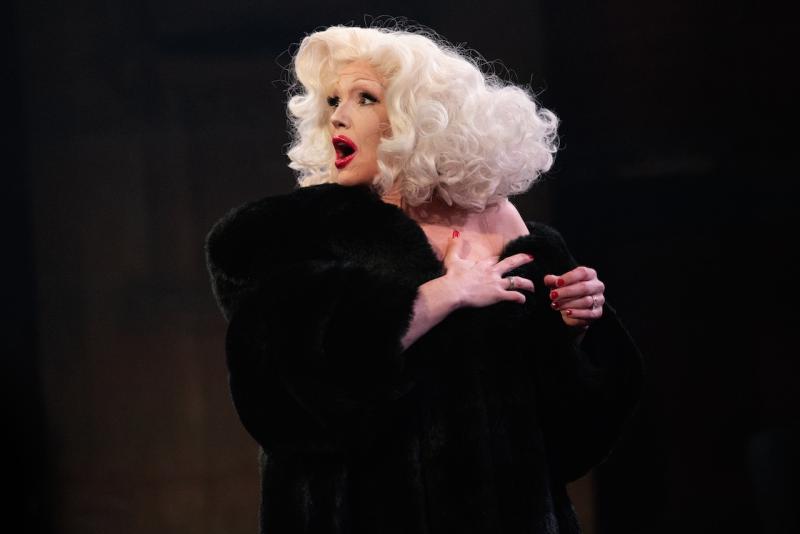 As Baker danced around the auditorium and balconies wearing little more than a vast mane-like black headdress, Booth taught us the meaning of disintegration-with-style. She was a woman incinerated by her rage, tilting between manic laughter and singing that was nothing less than full-blooded in its fury.
Throughout, Cummings – the festival director – kept a tight rein on the evening's stampede of emotions with his elegant direction from the harpsichord. There was much to savour in the musicians' individual performances, not least Jonas Nordberg's lively theorbo accompaniment and Rosie Moon's vigorous bass, which at one point doubled up as a drum. Between the dry ice, the rebellious surtitles and the extraordinary performances, we left the venue feeling both shaken and profoundly stirred. Hopefully there will be a chance beyond this festival for audiences to witness this extraordinary evening again.
Music by Héloïse Werner introduced a whispering atonality that subtly heightened the sense of subversion and tortured emotion
rating
Explore topics
Share this article