Radamisto, English Touring Opera review - propulsive, lively Handel |

reviews, news & interviews
Radamisto, English Touring Opera review - propulsive, lively Handel
Radamisto, English Touring Opera review - propulsive, lively Handel
More atmosphere than drama in a modest but effective staging of Handel's early opera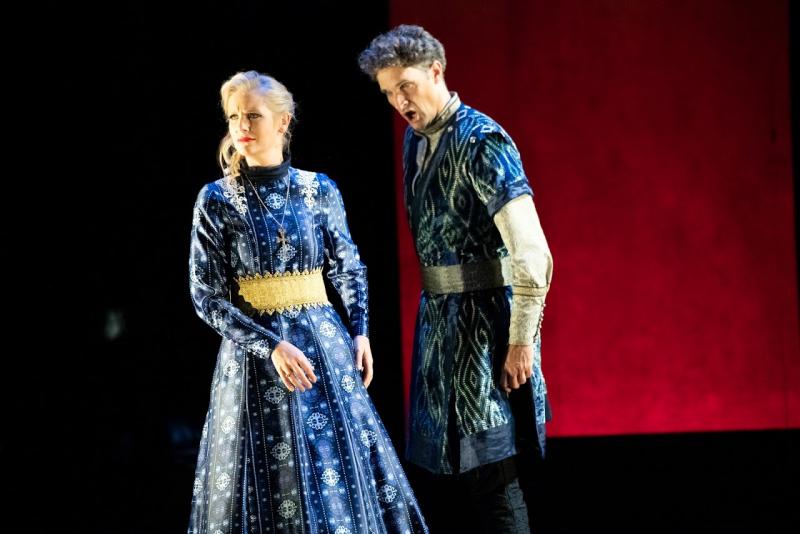 Ellie Laugharne and William Towers
Baroque repertoire doesn't seem to register on most British opera company's schedules these days, so it is good to see ETO devoting their autumn season to Handel, Purcell and Bach, with some additions from Carissimi and Gesualdo for good measure. Their first production, Handel's Radamisto, is a good choice for touring, a compact six-hander with strong characters and great music.
The staging, by General Director James Conway, with designs by Adam Wiltshire, is colourful and atmospheric, though clearly on a scale for touring. And musical standards are generally high, with a strong and engaging cast and propulsive, lively accompaniment from the Brook Street Band.
The setting for Radamisto is first-century Armenia, though Conway and Wiltshire take the modest liberty of updating it by a few centuries into the Christian era. We first meet Polissena (Ellie Laugharne), sister of Radamisto (William Towers, main picture, with Ellie Laugharne), daughter of Farasmane, King of Thrace (Andrew Slater), and wife of Tiridate, the King of Armenia (Grant Doyle). Tiridate covets Radamisto's wife, Zenobia (Katie Bray, below left), and has seized power in Radamisto's absence on campaign, deposing and imprisoning Farasmane. Add in an unfaithful ally of Tiridate, Tigrane (John-Colyn Gyeantey), and that's the full cast.
Although all freelancers, the singers make for a coherent and integrated cast
The simple set for the first act consists of an arch that dives to form a rampart, where we first meet Radamisto and Zenobia. The second act begins in the mountains, where the pair have taken refuge, this cleverly represented by an escarpment embedded into the otherwise uniform backdrop. Zenobia attempts suicide by throwing herself, Tosca-like, from the summit (it's a river in the libretto), before Tigrane appears with a scheme for Radamisto to return, disguised as a servant to announce his own death.
The interval is placed mid-way through the second act, which makes sense dramatically, and allows the second half to take place in a gilded Byzantine temple, an impressively atmospheric setting. Tiridate is taken in by Radamisto's disguise, but when his cover is blown, a cycle of revenge and violence begins to unravel. Fortunately, an elegant twist in the narrative – I won't give it away – allows Radamisto to gain the upper hand, and despite this mostly dour narrative, the story ends happily, with a spectacular ensemble for the full cast.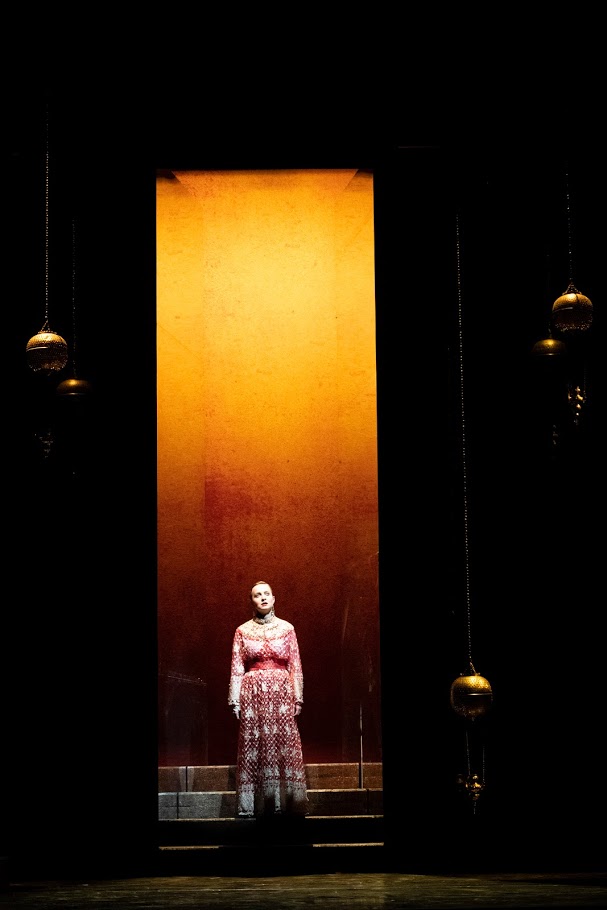 That final number is the only ensemble of any kind in the entire opera, apart from a short duet for Radamisto and Zenobia at the end of the second act. So it's a conventional musical structure, even by Baroque standards. Conway opts for a static approach, with few visual distractions from the musical acrobatics (ironically, the company's slogan this season is "Opera that moves"). The staging is short on levity too, especially in the scene where Radamisto appears in disguise – plenty of comedy potential there. Instead, it is mostly serene, and while much of Handel's score agrees, the sheer musical energy coming from the pit is often at odds with the staid visuals.
Although all freelancers, the singers make for a coherent and integrated cast: there are some familiar names from previous productions, and the same cast will appear in each of the operas on tour. Countertenor William Towers is a commanding presence in the title role. Handel is clearly writing to showcase a virtuoso singer here, and Towers is secure in all the runs and ornaments. He also has a sweet, round tone, even in the highest register – the sort of countertenor you'll warm to even if you don't like countertenors.
Ellie Laugharne is similarly commanding as Polissena. She acts as a voice for Tiridate's conscience, and her two major appearances frame the opera. Laugharne has a narrow soprano voice, which she bolsters with a delicate vibrato, to particularly emotive effect in the last act. Katie Bray brings a purer tone to the role of Zenobia. This is a wide-ranging role, and some of the lower passages sit uncomfortably, especially given the power Handel demands, but otherwise her voice is an excellent complement to Towers'. Grant Doyle is an ideal Handel baritone. Dramatically, his Tiridate is a little constrained, so never ventures into comedy villain territory. Andrew Slater has a less focused tone, but is serviceable in the role of the aging Farasmane. And John-Colyn Gyeantey is a small-voiced tenor, perhaps too sympathetic a presence for this subsidiary role, but secure and engaging nonetheless.
Conductor Peter Whelan leads an animated and often brisk interpretation. He is a dynamic presence – we often see a head and arms gesticulating over the top of the pit, and when he sits, his harpsichord dominates the continuo. The orchestra plays with character and verve, particularly relishing the oboe obbligato lines and the rasping horn interjections, which dominate the finale. No doubt there are cuts aplenty, and many da capo arias lose their repeats, even Radamisto's "Ombra cara", the opera's big number. But the result is a well-proportioned and evenly paced evening, building steadily to that radiant and memorable finale.