The Makropulos Affair, Welsh National Opera review - complexity realised brilliantly on the stage |

reviews, news & interviews
The Makropulos Affair, Welsh National Opera review - complexity realised brilliantly on the stage
The Makropulos Affair, Welsh National Opera review - complexity realised brilliantly on the stage
Janáček's collisions spark an evening of powerful conflict
Saturday, 17 September 2022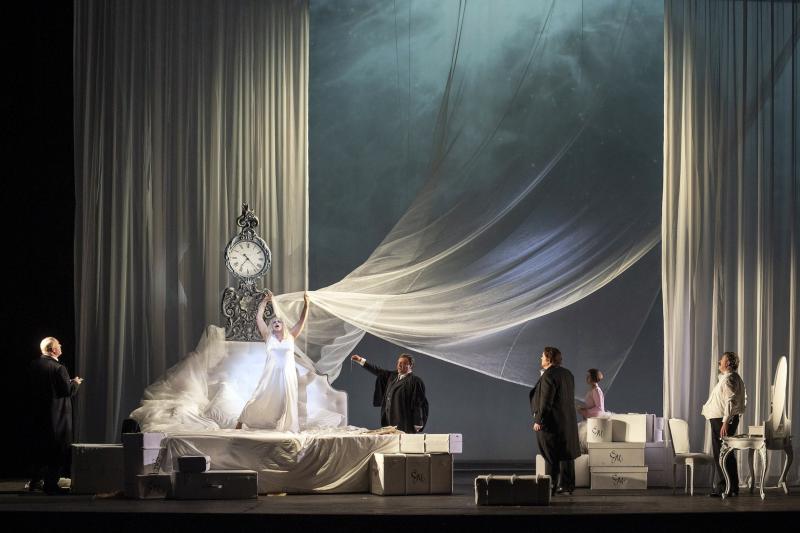 Marty (Ángeles Blancas Gulin) in her final throes
What, anyway, is The Makropulos Case all about? Is it simply about the horrors of unnatural longevity; or does it expose the limitations of the rational mind confronted by the irrational; is it about love of a distorted ideal, like some updated Hoffmann tale?
Or is it simply a well-made
play
disrupted by theatre of the absurd and turned for good measure into a tragic
music drama
?
The truth is that it's all these things and more, a work of stunning complexity both dramatically and, especially, musically. And the best thing I can say about Olivia Fuchs's new production is that it takes account of all these issues, all these levels, and in the process convinces me, for one, that this is Janáček's most powerful and innovative, if not greatest, stage work.
The complexity begins with the prelude, conducted here with terrifying ferocity by Tomáš Hanus: an image of quarrelling lawyers and helpless passions, always in conflict. When the curtain rises on the lawyer Kolenaty's office, we tumble into a world of imbecilic rationality, epitomised by Kolenaty's gabbled explanations of a century-old dispute over an inheritance, into which the 300-year-old Emilia Marty (pictured below, far fight) intrudes with her apparently impossible, fraudulent claims to an intimate knowledge of the original events and documents of the case.
It hardly seems like an operatic subject at all: far too many words and narrative details. Its nearest equivalent might be the verbose ramblings of Baron Ochs in Der Rosenkavalier, and no doubt Janáček had that music somewhere in his head while composing his own first act in 1924. But there isn't much Strauss, or anything German, in Janáček's score otherwise. Where German music up to Schoenberg is shapely, coherent, governed by strict rules of phraseology and vocal-orchestral balance, Janáček is all collisions, broken phrases, rhythmic and harmonic disruption; his orchestra often sounds as if it's been upended and turned inside out, with the bottom registers masquerading as the top, and the lyricism made awkward by the choice of instruments.
This is Janáček's voice, and it works in its own way. At the end of Makropulos, where Marty finally discards her centuries-old frigidity, her emptiness suddenly erupts in a passionate soulfulness that precisely contradicts her claim that her soul has died; music, after all, can't do soullessness (at least good music can't), and this closing monologue, with its wonderful expressive warmth complicated by a deliberately rough-grained orchestration, is one of the great original moments in all opera. After all Marty is a horrible, unsympathetic figure: but we weep for the humanity she has lost.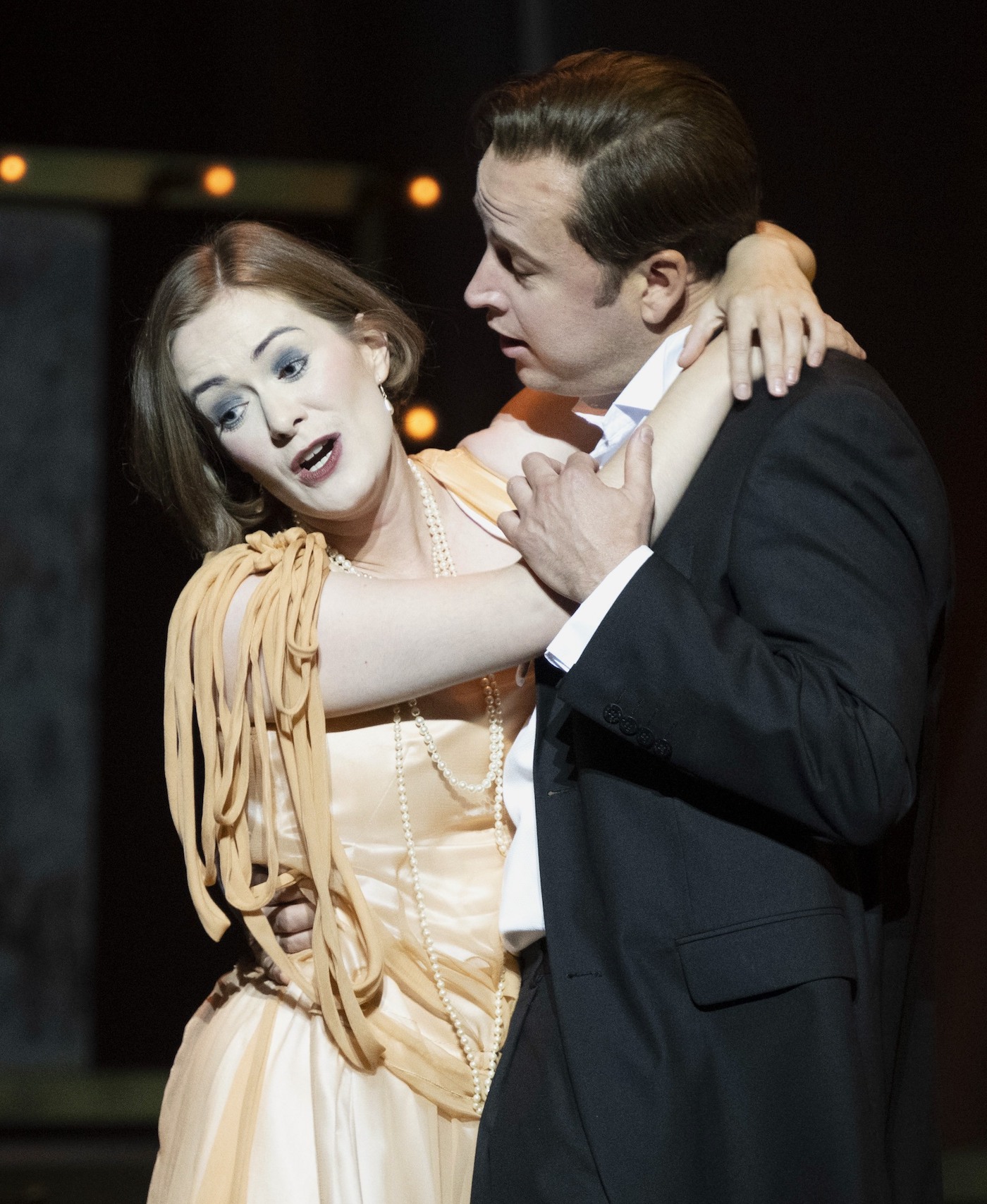 Ángeles Biancas Gulin's performance here is beyond praise, superbly controlled, deeply moving. Earlier she plays the beautiful, embittered diva to perfection, cold and unfeeling, visibly in decay from the start, yet vocally as commanding as poor, starstruck Krista describes her. Harriet Eyley (pictured right with Alexander Sprague) is excellent in this small but crucial role, and in fact this is in general a cast with no weak link. Nicky Spence is a burly but vulnerable Gregor, the losing plaintiff, reduced by penury to believing Marty's unbelievable assertions and falling in love with her into the bargain.
Gustáv Beláček is a suitably dry, precise Kolenaty (incidentally, the only Czech singer in this Czech-language production); David Stout is a well-observed Prus, a tragic grandee, the unwitting cause of his son Janek's suicide, failed lover, and ultimately (I suppose) loser in the case - though all that gets forgotten in the emotional Götterdämmerung of the final scene. Alan Oke does Marty's demented ex-lover Hauk touchingly, without overplaying the lunacy, though it's true that Gulin responds a shade half-heartedly, as if by no means certain who this curious revenant might be. Mark Le Brocq sets the ball rolling as the Danton-admiring solicitor Vitek, and also gets the unusual task of explaining the plot to the audience between the first two acts. He does it well and amusingly, but the thought inevitably occurs: why not simply play the opera itself in English, as here in the past?
Whatever it's about, Makropulos isn't a work that suggests the wilder flights of directorial reworking: its context is too factual, and Fuchs rightly gives us a proper lawyer's office (designer Nicola Turner), a proper theatre backstage, and a proper (or slightly improper) hotel bedroom, while leavening these realities with vague back-projected images of a shadowy past (by Sam Sharples), like the shadowy figures Marty begins to see in the present as her own presence recedes. Robbie Butler's subtle lighting is an important factor here. Fuchs also gets right the balance between the prosaic and the fantastic, so that the scenes with Hauk and the faintly improbable love-making episodes, are drawn out of the main plot almost like divertissements in a baroque opera. This is a gripping affair in all its aspects.
Not excluding the orchestral playing under Hanus, which is superb as usual in Janáček at WNO. It must be hard for an orchestra to adapt its sound to Janáček's idiosyncratic ear, and who knows, maybe this wasn't what the composer thought he was writing at all. But genius can be instinctive, never, surely, accidental. And this is unmistakably music of genius.