The Magic Flute, English National Opera |

reviews, news & interviews
The Magic Flute, English National Opera
The Magic Flute, English National Opera
Mozart's Oz becomes black-and-white post-nuclear Kansas as the Complicite style falls flat
What darkness here: Tamino and Papageno resist the Three Ladies in the Amsterdam premiere of Simon McBurney's production
There's a scene in Mozart's most metaphysical opera which Ingmar Bergman, creator of what is still the richest of all Magic Flutes, describes as "at the outermost limit of life". Hero Tamino seems to have reached a point of no return and no going forward. "When will this darkness end?", he asks, and voices reply, "Soon, soon or never".
We must believe the extremity in that rite of passage. But not only are the vital choral responses unmysterious and perfunctory in this new ENO production; Complicite director Simon McBurney has it that the page of a giant video-projected picture book has already turned a new leaf. Ah, a bestiary – so we're already on to the next stage in the story, Tamino's Orpheus-serenade to the beasts, or rather his female counterpart's from the ENO orchestra, when we need to be in the moment. It's information overload as usual.
This is both the most restless and the most lightless of interpretations. If Mozart's rainbow-hued score is Oz in excelsis, full of warmth and wit as well as profundity, here we're stuck in a mostly black-and-white, poker-faced, post-nuclear Kansas of strip-lit underground bunkers peopled by sinister men in suits and a cult-leader Sarastro in reflector specs. The singers over-project and force tone with an attitude the very opposite of the composer's easy-seeming naturalness. What promises so much at the start, with a raised pit where instrumentalists are set to become equal participants with the singers as they fizz in newcomer Gergely Madaras's account of the Overture, quickly becomes overdrive both orchestral and vocal with grim, charmless ladies and a speed through the sublime music of the Three Spirits who take over their guidance on a magic journey.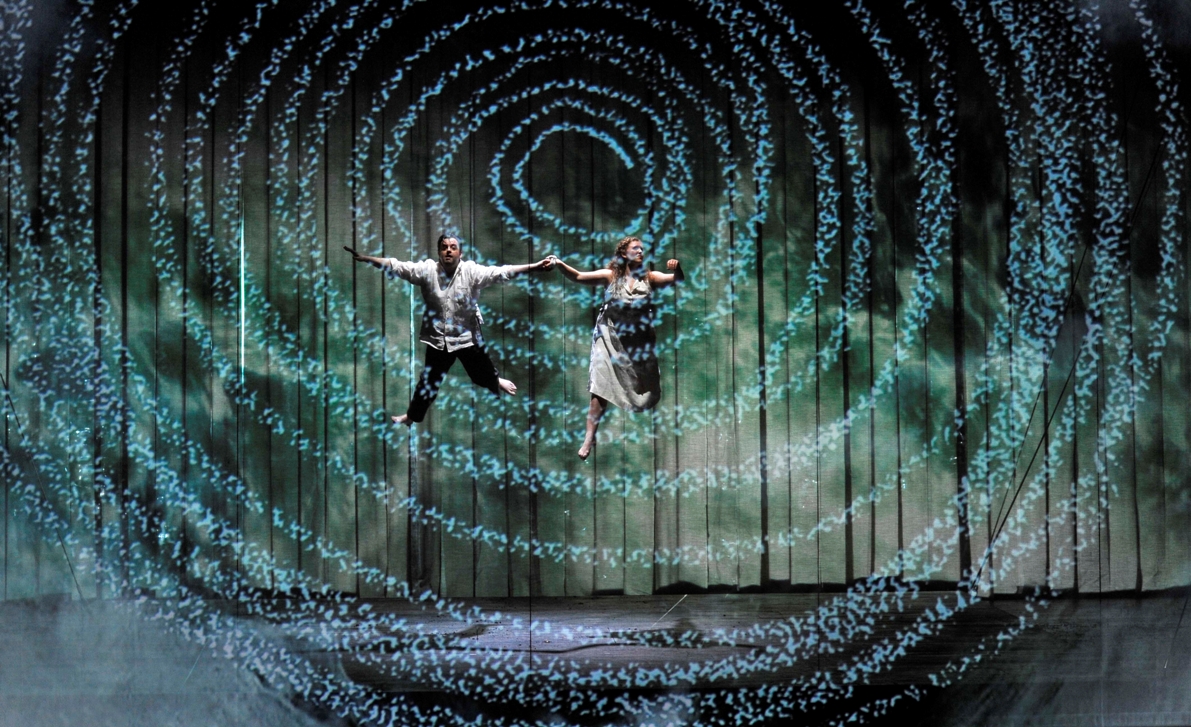 McBurney's mesmerising production of the Bulgakov-adapted novelty A Dog's Heart at ENO proved that video design in opera was not the outworn cliché it seemed by then to have already become; this time, for all the valiant efforts of the stalwart Finn Ross, it constantly has you asking whether so much might be more magically done with the more conventional means at music-theatre's disposal. There are moments of customary Complicite invention: the trials in which Pamina leads Tamino through fire and water (Ben Johnson and Devon Guthrie pictured above in the first of two ENO production shots by Robbie Jack) respectively blaze and bubble with hallucinatory intensity, and the sun puts in a luminous appearance – I won't spoil the effect by explaining how it's represented– at the end.
Unfortunately it's too little light too late, as is the belated humour of Roland Wood's overspread-baritone Papageno in a genuinely funny scene with wine bottles and a reluctant glockenspielist/glockenspielerin (she deserves a programme credit as much as flautist Katie Bedford). Such moments are not, alas, as redemptive or show-saving as Calixto Bieito's crucial string-quartet coup in his much maligned Fidelio, and would that the video images in conjunction with Michael Levine's bare set design anywhere equalled the haunting photographs of Robert and Shana ParkeHarrison reproduced in the programme.
No one is vocally in top form, though given the distractions it's not surprising. Ben Johnson delivers his aria of enchantment at Pamina's portrait with a forcefulness verging on the heldentenor-esque; his true love come to life, Devon Guthrie, is equally gutsy and determined, reminding us that it's a strong, good woman who redeems the secret brotherhood. Yet she only really hits the heights when facing Sarastro or grieving at Tamino's apparent turning away. Tuning is a problem for Cornelia Götz's crippled, Miss Havishamy Queen of the Night – though she pips out all the notes in her coloratura bar a weaker top F with luminous accuracy – and for Steven Page's Speaker, who needs to be in much closer communication with Johnson's acolyte.
Brian Galliford's wicked henchman Monostatos is all over the place vocally, and repellent beyond the call of duty. Ladies and boys – done up as skeletal old men - do a fine vocal job and James Creswell, so good earlier this season as Rocco in Fidelio, makes an imposing impression at first, but not ultimately one of benevolence or goodness; how can he when the production insists he's creepy, manipulative and cold?
In fact those are the only terms to describe this production. Its additional annoyances are the rocking platform, creating mal de mer (in Pamina's case mal de mère) when we need stillness, and the insistent apocalyptic sound design by Gareth Fry. It thunders and rumbles through the pared-down dialogue, and there's a thrumming even in some of the musical numbers which creates an air of restlessness as irritating as a Carnegie Hall audience (in my experience, I should add, since a commenter forces me to qualify) .
The 14 actors are noisy and distracting, too, above all in their paper-fluttering birds (pictured above with Mary Bevan as Papagena and Roland Wood as Papageno), and the final nail in the coffin is the dismal translation by Stephen Jeffreys. I thought the stressing of one chant at the Barbican demonstration which I attended beforehand was odd enough – "SOME Russians ARE gay – GET over IT" – but this was more seriously awry; the text just doesn't fit the vocal lines. Anyone expecting a fresh alternative to the durable, colourful Hytner predecessor at ENO may find hopes dampened; best stay at home with either the Bergman classic movie or even – and it's surprisingly good, if not quite on the same level – Branagh's First World War fantasia.
How can James Cresswell's Sarastro make a benevolent impression when the production insists he's creepy, manipulative and cold?
rating
Explore topics
Share this article