Listed: 10 Great Trouser Roles |

reviews, news & interviews
Listed: 10 Great Trouser Roles
Listed: 10 Great Trouser Roles
As Der Rosenkavalier opens Glyndebourne, we count the women who play boys and men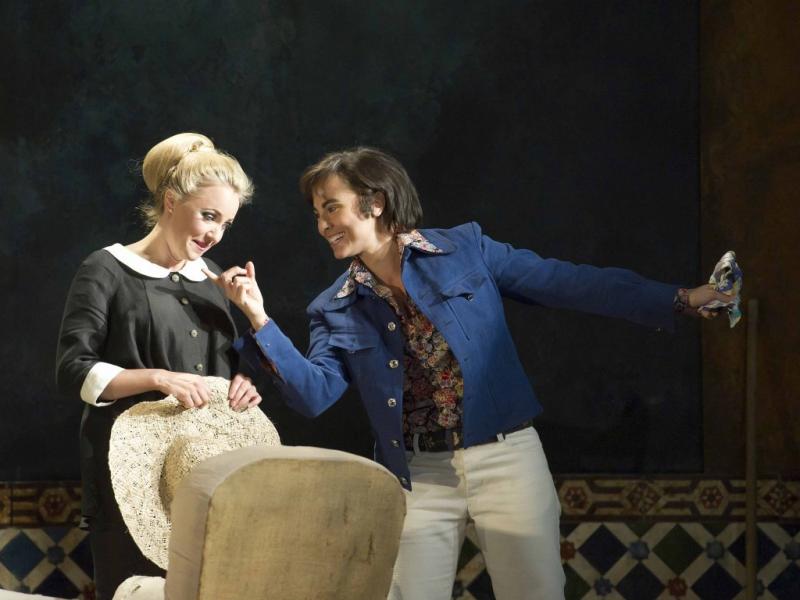 Isabel Leonard's Cherubino with Lydia Teuscher as Susanna in Glyndebourne's 'Le nozze di Figaro'
It's the genre of gender-bending and cross-dressing, where women play warriors and men sing like women (while playing warriors). But when it comes to opera, who really wears the trousers? For at least 300 years the answer has been pretty definitive. Women have donned breeches and boots to play opera's many "trouser roles" in music from Handel and Mozart to Massenet and Offenbach.
This month Irish mezzo-soprano Tara Erraught takes on one of the repertoire's very finest trouser roles, making her Glyndebourne debut as the lovestruck young nobleman Octavian in Richard Strauss's
Der Rosenkavalier
. In honour of this new production Alexandra Coghlan, David Nice and Edward Seckerson pick some of our favourite trouser-wearing female roles in opera.
Sesto (Handel, Giulio Cesare)
A rare Handel trouser role originally written for a woman rather than a male castrato, there's a special pathos and febrile fragility to this angry young adolescent. With his father Pompey beheaded by his enemies, the young man vows revenge with extravagant, demonstrative virtuosity, before revealing a new-found emotional maturity in the exquisite aria "Cara speme". AC
Serse (Handel, Serse)
The original macho operatic warrior, Serse (or Xerxes, as we know him better) was a star vehicle for temperamental castrato Caffarelli. Nowadays more often sung by a female mezzo than a countertenor, the role confounds any expectations or stereotypes of gender. No one who has heard Ann Murray or Sarah Connolly (pictured with Rebecca Evans by Tristram Kenton) in the role could wish for a more masculine or seductive hero. AC
Cherubino (Mozart, Le nozze di Figaro)
Count Almaviva's page is a dynamo of adolescent hormones which could alone power Mozart/Da Ponte's human comedy through its hectic 24 hours. The breathless aria "Non so più cosa son" says more about sexual infatuation in three minutes than most operas do in an entire evening. A singer like Frederica von Stade (see video below) made it all sound so effortless. ES
Sesto (Mozart, La Clemenza di Tito)
The noble Roman torn between love for a schemer and devotion to his clement emperor is an aristocratic role to which Mozart lends several of his greatest arias. "Parto, parto" in Act One, with a superb obbligato role for basset clarinet, is a taxing showstopper. There's also a second trousers role, loyal friend Annio, a launching-pad for promising young mezzos. David Nice


Orsini (Donizetti, Lucrezia Borgia)
Best mates with luckless hero Gennaro (son and lover – it's complicated – of the vicious Lucrezia herself), Maffio Orsini is a plucky young man whose close relationship with Gennaro creates a subversive frisson in the opera's many scenes of male camaraderie. He also gets a particularly fine drinking song "Il segreto per esser felici". AC
Ascanio (Berlioz, Benvenuto Cellini)
The operatic embodiment of the Florentine-born, Rome-based goldsmith's apprentice gets two rollicking numbers in Berlioz's testosterone-charged masterpiece, finally to receive its due in Terry Gilliam's impending English National Opera production. The second was the much-encored hit of a stormy 1838 premiere; it's not hard to hear why. DN
Fyodor (Musorgsky, Boris Godunov)
It's not a big sing, but the touching role of the conscience-stricken tsar's son can be crucial, especially as the tsarevich's presence counterpoints the other child murdered - the opera assumes - at Godunov's instigation. The nursery music can be sung effectively by a treble; in Calixto Bieito's recent production the mezzo was dressed as a schoolgirl in pigtails (and yet still called "tsarevich"). DN
Le Prince Charmant (Massenet, Cendrillon)
French musical parfumier Jules Massenet composed a spirited sequel to Le nozze di Figaro, Cherubin, successfully resurrected in the 1990s with the delectable Frederica von Stade in the title role. But it's Cinderella's Prince Charming who gets the most ardent mezzo music, good enough for Alice Coote to steal the recent Royal Opera show from Joyce DiDonato (both pictured left by Bill Cooper). Recordings and performances persist with a tenor in the role, but the voices don't mesh so well in the two love duets. DN
Octavian (Strauss, Der Rosenkavalier)
The title role in Strauss' epic comedy is a young nobleman in love with the aristocratic Marschallin. She is married and knocking on a bit (in her 30s - well, this is the 18th century) and elects to bow out gracefully when Octavian falls for the much younger Sophie von Faninal. When a singing actress like Sarah Connolly gets hold of the role there's a very real sense that the sweet but airheaded Sophie will never be enough for him (see video below). Why else would Strauss have followed the sublime Trio with such a saccharine duet? ES


The Composer (Strauss, Ariadne auf Naxos)
In the Prologue of Strauss' opera-within-an-opera the Composer (not Strauss) is summarily informed that in order for a firework display to start on time his magnum opus, an opera seria, will now be performed simultaneously with the burlesque that was to have preceded it. Who'd have thought that high and low art would eventually find such kinship? Not this Composer but Strauss and his librettist Hugo von Hoffmansthal, of course. Fond memories of Ann Murray in the role. ES
No one who has heard Ann Murray or Sarah Connolly in the role could wish for a more masculine or seductive hero
Explore topics
Share this article