The Lighthouse, English Touring Opera |

reviews, news & interviews
The Lighthouse, English Touring Opera
The Lighthouse, English Touring Opera
Peter Maxwell Davies' macabre mystery story creates a very satisfying piece of theatre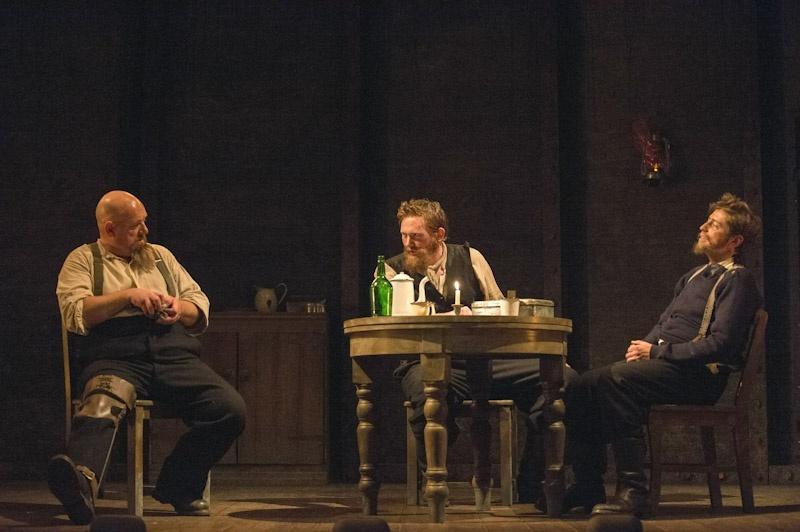 Three men in a lighthouse: 'All too close in this prison to keep any secrets'
Confinement is a thread running through English Touring Opera's autumn season. In Albert Herring it is in the priggish village; in The Emperor of Atlantis it is in the circumstances of its creation within the Terezín concentration camp; in The Lighthouse, it is one room with curved walls and the interminable wait for the relief ship.
This 1979 chamber opera by Peter Maxwell Davies, who also wrote the libretto, is based on real events: in 1900 a supply ship stopping at the lighthouse on a tiny Outer Hebridean island found it in good shape but deserted, with no sign of its three keepers. The first half of the opera dramatises a board of inquiry, in which the three officers who found the abandoned lighthouse give evidence on what they found – the details are hazy, but an open verdict is returned. For the second half, the officers are transformed into the lighthouse keepers, and we bear witness to their gradual descent into madness as the foghorn sounds, the mist creeps in and their nightmares edge reality out.
In this world of oilskin and shadows everything is geared towards a murky atmosphere
A genuinely Poesque denouement (no spoilers ahead) suggests that the composer could have had a side career as a macabre mystery writer.
Musically, it may be a little hard to love. By the time of the opera's composition, eight years of Orkney air had blown the arch-modernism out of Davies' music, but we are still dealing with a fairly cold and abstract sound world. We see the composer working with a fine paintbrush, creating sparse textures with little sustained forward motion. The diverse instrumentation eschews the comfort of a familiar orchestral sound, throwing up snippets of guitar, crotales, flexatone, jangly out of tune piano. A deafening climax, when it comes, is all the more surprising. It may not be emotional music, but it is certainly atmospheric, and it is easy to see why The Lighthouse maintains a position in the repertory (four separate productions international this year alone).
The three men, Adam Tunnicliffe (Sandy), Nicholas Merryweather (Blazes) and Richard Mosley-Evans (Arthur), sing strongly and bring off the acting too. The poisonous chemistry between them – "All too close in this prison to keep any secrets" – is what the drama hinges on, and they do extremely well in rubbing each other up the wrong way.
Overall it is a very satisfying piece of theatre which this production (designed by Neil Irish and directed by Ted Huffman) gets the absolute best out of. No arbitrary updating here: in this world of oilskin and shadows, everything, from lighting to costumes via the characters' chain smoking, is geared towards a murky atmosphere, entirely faithful to the piece.
It may not be emotional music, but it is certainly atmospheric
rating
Share this article