Le nozze di Figaro, Glyndebourne review - fabulous singing and a classy production |

reviews, news & interviews
Le nozze di Figaro, Glyndebourne review - fabulous singing and a classy production
Le nozze di Figaro, Glyndebourne review - fabulous singing and a classy production
Superb music making against the backdrop of a sumptuous Sevillian set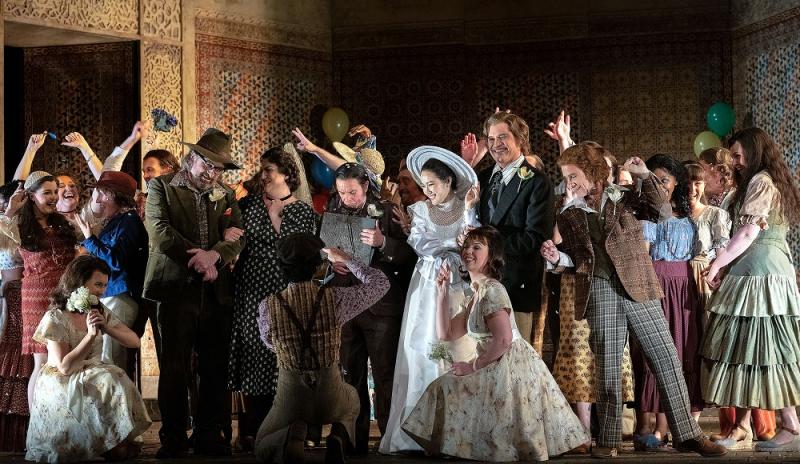 A wedding at last - but what lies ahead?
After two years of Covid-affected performances – even though there was a full season last year – Glyndebourne's annual festival is finally back in full glory. Following the big blaze of Saturday's The Wreckers, Sunday welcomed back Michael Grandage's durable production of a signature treasure, Mozart's The Marriage of Figaro.
With a remarkable cast, phenomenal sounds from the pit and a sumptuous set, this was a very classy performance indeed. Set in 1960s Seville, the set – clearly inspired by the city's Moorish architecture – was awash with muted colours and golden hues, and was a beautiful backdrop to the characters' antics. The London Philharmonic Orchestra, under the baton of Giancarlo Andretta, opened with a light and ebullient sound, at once conveying the opera's witty humour, so much so that the slight technical hitch with the revolving stage during the Overture seemed all part of the fun.
American bass-baritone Brandon Cedel is a brilliantly funny Figaro, though his portrayal of darker emotions was perhaps less convincing, with some slightly hammed-up anger and insincere sorrow. Vocally, though, he was excellent throughout, as was his bride Susanna, sung with crystal clarity by Hera Hyesang Park (pictured above, with Cedel). Emily Porgolec's Cherubino certainly embodied the attributes of an excitable and somewhat randy teenage boy, though some of the jokes of the acting didn't quite land with me; maybe being a bit of a pest was considered cuter in the 1960s than it is today.
Count Almaviva's advances towards Susanna, however, are never particularly okay, though the humour of the piece is still very much to the fore as the other characters collaborate to outwit him. Mexican baritone Germàn Olvera gives a wonderfully sleazy portrayal, and his outfit of Paisley patterned flares with a red velvet waistcoat and jacket was one of the best on stage. His long suffering wife the Countess was sensitively sung here by soprano Amanda Woodbury, who performed the aria "Porgi, amor" with a heartfelt tenderness as she laments her husband's jealousy and infidelity.
As beautiful as the production is to look at, it didn't exactly scream Sixties. The word "groovy" appears in the supertitles, which, last time I checked, isn't in most translations of Da Ponte's libretto. The bridesmaids' outfits had a touch of the Mary Quant look about them, but the wedding dancing, which was made a lot of, looked like a mix of moves from Saturday Night Fever and the Macarena, neither of which are from that decade. It did, though, show how Pierre Beaumarchais's 1778 play on which the opera is based reveals universal human truths which continue to be relevant, and humour which will always endure.