Hansel and Gretel, ENO, Regent's Park Open Air Theatre review - into the broomstick woods |

reviews, news & interviews
Hansel and Gretel, ENO, Regent's Park Open Air Theatre review - into the broomstick woods
Hansel and Gretel, ENO, Regent's Park Open Air Theatre review - into the broomstick woods
Enchanting chamber-musical score, fine balance between fairytale and horror story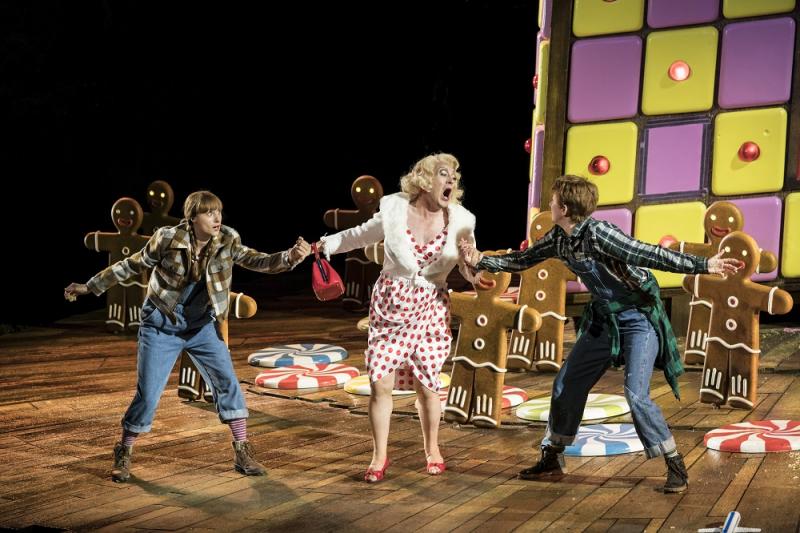 Not-so-sweet 'Rosina Lickspittle' (Alasdair Elliott) entraps Gretel (Susanna Hurrell) and Hansel (Rachel Kelly)
Shoving a child-eating drag-queen witch into an oven can't be good for any kid's psyche. Director Timothy Sheader doesn't let us forget it in a production which nevertheless treads a fine line between the darkness of the Grimm story and the fairytale incandescence which is a given of this masterly opera.
There's deep magic in an amphitheatre of
real trees
complete with birdsong – the onstage wood is made of witches' planted broomsticks – with performances of a uniformly high standard from the first of two casts, and bewitching sounds from select players of the
English National Opera
Orchestra in Derek J Clark's superb arrangement of the original, gorgeous Engelbert Humperdinck score, airily conducted by Ben Glassberg in perfect co-ordination with the singers.
The two houses – the shack of Hansel and Gretel's impoverished parents and the gingerbread bait of an especially horrid witch (Alasdair Elliott, pictured below) – are present in Peter McKintosh's clever set at the centre of a wooden revolve, ingeniously deconstructed for the scene where the children get lost in the wood. As often in Regent's Park, there's some counter-intuitive natural and stage lighting: a blackbird takes over from screeching parakeets in the Angel Pantomime, only to have gone to bed when Gretel evokes it in the dewy morning of Act Two. But the ideas both for sweet dreams and the new "daylight" scene, when the confectionery house and its gingerbread "guards" light up are so brilliant that we go with the illusion.
What to do with those sugary heavenly emissaries, who don't finally protect the children from the ultimate trauma? Sheader gives us Angel Wings Airlines from 14 bleached-blonde stewards and hostesses, the full safety routine, take-off and in-flight blandishments worked out in the wonderful Lizzi Gee's choreography, which plays a major role throughout (she also gets the commited choristers of the Pimlico Children's and Foundation Choirs to jive convincingly in a very lively happy end). For the very characterful performers from Bird College Conservatoire for Dance and Musical Theatre and Arts Educational Schools London, it's also quite a transformation from the deeply sinister multiple witches who lurk throughout Act One.
Believable children from grown-up opera singers are a must, and glamorous Rachel Kelly's transformation into a feisty boy is utterly convincing; she's also the most sheerly lustrous singer of the evening. Susanna Hurrell hits the high notes as Humperdinck's Act Two asks more of its Gretel. Gillian Keith's Sandman and He Wu's Dew Fairy are perhaps more memorable for their looks – Wu has an entourage of en pointe lookalikes – than any gorgeousness of sound, but the accomplished miking can flatten out the glow; under the circumstances it's remarkably good, and helps with the clarity of the diction (I heard nearly every word).
No kids in the audience are going to be troubled by the randy drunk father, Duncan Rock in buoyant form, well complemented by Rosie Aldridge's worn out, pill-popping mother (pictured above). That role is sometimes doubled with the Witch (Susan Bullock is about to handle both at Grange Park Opera). Here we get the more often favoured tenor, a real fright from Alasdair Elliott, drag name "Rosina Lickspittle", giving us nasty-queen realness when the wig comes off. As the children quickly realise, this is definitely a "he". Not so many laughs there, but it's good to hear the character tenor singing it all so artistically, again with the high notes fearlessly taken.
The production need fear no comparisons, for those of us able to remember it, with David Pountney's classic ENO production. His translation, toughening up Adelheid Wette's impossibly pretty original, brings back happy memories and gives a queasy edge to the music at its most beautiful, which is usually when the string septet led by the superlative Janice Graham is singing its heart out. After the too-grim meat-racks of Caurier and Leiser's Royal Opera production and the all too vague commitment to a "family friendly" Hansel in Antony McDonald's successor there, this mostly delightful, sometimes ever so slightly unsettling evening hits the gobstopper bullseye.
Alasdair Elliott's Witch, drag name 'Rosina Lickspittle', gives us nasty-queen realness when the wig comes off
rating
Explore topics
Share this article